Highlights From The Final Day of The 2017 Volcom Pipe Pro
SOLI BAILEY DEFEATS DE SOUZA, IRONS AND COLAPINTO IN THE FINALS TO WIN THE 2017 VOLCOM PIPE PRO
Finals Day at the Volcom Pipe Pro was unpredictable! We kicked off the morning early with the two remaining heats of Round 3, then we immediately got into Round 4 competition. Waves started off slow as the sun rose over Sunset Elementary, but it wasn't long before sets started rolling in and guys started dropping some big scores. The first 9-point ride went to Brazil's Adriano De Souza on a heavy Backdoor wave in his first heat of the competition to secure himself into Round 4. Along with Adriano, Ian Crane, Benji Brand, and Luke Shepardson advanced to the next round. Round 4 saw similar off-beat scores from the inconsistent, yet improving sets, but boys made it happen. Brian Toth kicked off Heat 2 with a solid 6-point ride, while in the last minute of the heat, Kiron Jabour dropped to third place after Soli Bailey secured solid 6.13 score.
Heat 3 we saw Mitch Coleborn bag a solid Pipe wave earning himself a 6.17 to push himself into the lead, and right behind him, Koa Smith took off on a similar Pipe wave, although not as deep as Coleborn, and earned himself a 5-point ride. John John Florence once again delivered, dropping a 7.5 score right off the bat, then following it up with a 5.17 and 6.83 to hold the heat. Also getting through Heat 4 was Hawaii's Hank Gaskell.
Heat 5 saw Brazil's David do Carmo pull off a rocky bottom turn on a Pipe wave and miraculously got spit out with his hands in his air to earn a well-deserved 6.83, while crowd-favorite Mason Ho surprisingly went down due to lack of waves in the heat. The next heat saw more upsets with Makuakai Rothman being knocked out, as well as Yago Dora, who has been in-form the whole event. But it was Bruce Irons, Aritz Aranburu, Lucas Silveira, Luke Shepardson, Adriano De Souza, and Makai McNamara who all coupled good enough scores to move into the Quarterfinals.
During the Quarterfinals, the side wind had slightly picked up and turned things a bit messier in the lineup, but there were still some gems to be had. Soli Bailey nabbed a 6.17 on a clean Backdoor right, to add to his previous 4.0, and an on-fire Leandro Usuna from Argentina grabbed a couple mid-range scores, both enough to advance them into the Semifinals. Heat 2 saw slower wave conditions and increased wind as John John Florence, Griffin Colapinto, Mitch Coleborn, and Brian Toth tried battling through the conditions in any way possible. While they were hoping for barrels, it turned out to be turns that prevailed as John John and Griffin each found a Backdoor wave which delivered their advancement. Quarterfinal Heat 3 went nearly 15 minutes before anyone had caught a decent wave, and it was Bruce Irons who delivered the first punch on a smaller Backdoor barrel to receive a well-earned 6.33 score. Along with Bruce, it was David do Carmo to roll into the already-stacked Semifinal heats. Heat 4 was another one for turns, with a sneaky tube seen by Artiz Aranburu. While it was another low-scoring heat with the winds affecting the conditions, Aranburu dropped some heavy turns and advanced with a 11.34 and Adriano De Souza advanced with a 7.50. And there it was, the Semifinals were set!
Semifinal 1 saw Australia's Soli Bailey, Argentina's Leandro Usuna, Hawaii's John John Florence, and USA's Griffin Colapinto. John John drew first blood with a couple playful hooks on a Backdoor right, but it was Soli Bailey to find a barrel at Pipe to get the early lead with a 5.0. Things went relatively quiet, and towards the end of the heat, John John was sitting in fourth position and grabbed a one-turn Backdoor right, but it wasn't enough. Soli Bailey dropped a huge 8.17 score near the five-minute mark, and in the dying seconds of the heat, Griffin Colapinto found a clean Backdoor barrel, barely sneaking out the doggy dog, to earn a 7.37, securing his spot in the finals. Semifinal 2 competitors picked up the heat and competition went fierce. An in-rhythm Bruce Irons wowed the fans with a 6.77 barrel, and David do Carmo dropped two solid turns on a Backdoor set wave to receive a 5.83. While Aritz Aranburu and David do Carmo were able to get some solid scores, it was Adriano De Souza who advanced to the Finals, along with Bruce Irons who managed to drop a near-perfect 8.93 score.
With the resurgence of Bruce, the competitive spirit of Adriano, the rookie-hunger of Griffin, and the underdog-hopes of Soli, the final was truly exciting to watch. It started off with a strong paddle battle between Bruce and Adriano for priority, then saw Soli snag a mid-range 5.67 Backdoor tube. With the wind magically switching to slight offshore during the final, it had seemed luck was on their side, but the boys had to wait as a lack of waves keep them searching for a score. A clean-up set caught Soli inside and breaking his leash off causing him to retrieve a backup board from the beach. With nine minutes left, Bruce and Griffin were put in a combo situation when Soli dropped the highest single-wave score of the heat of a 7.33. For the remainder of the final, the waves didn't produce any additional high-scoring potential, which left Soli eagerly counting down the clock to the final second, which he did. Congratulations to all the finalists, and Soli Bailey for being crowned the 2017 Volcom Pipe Pro Champion!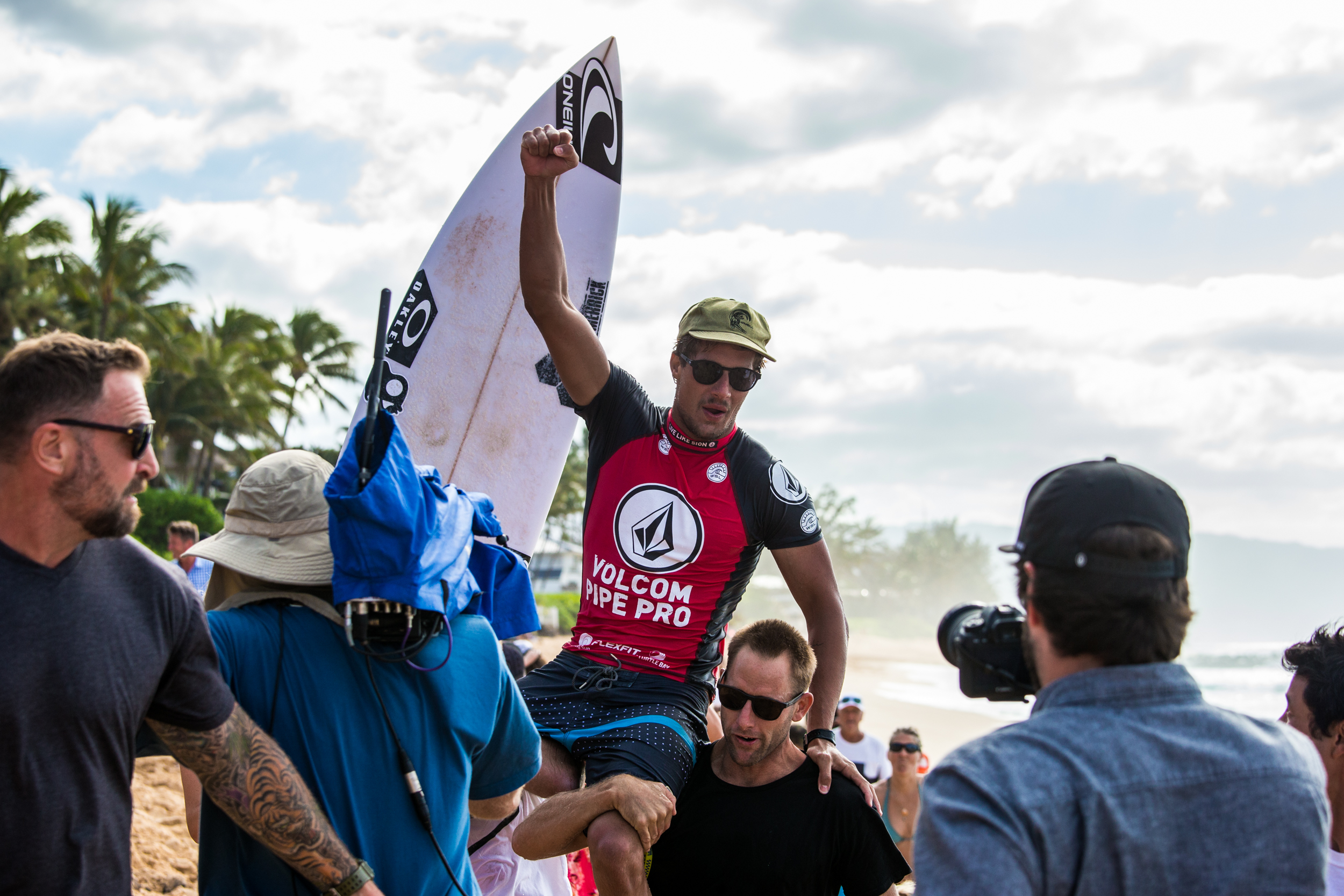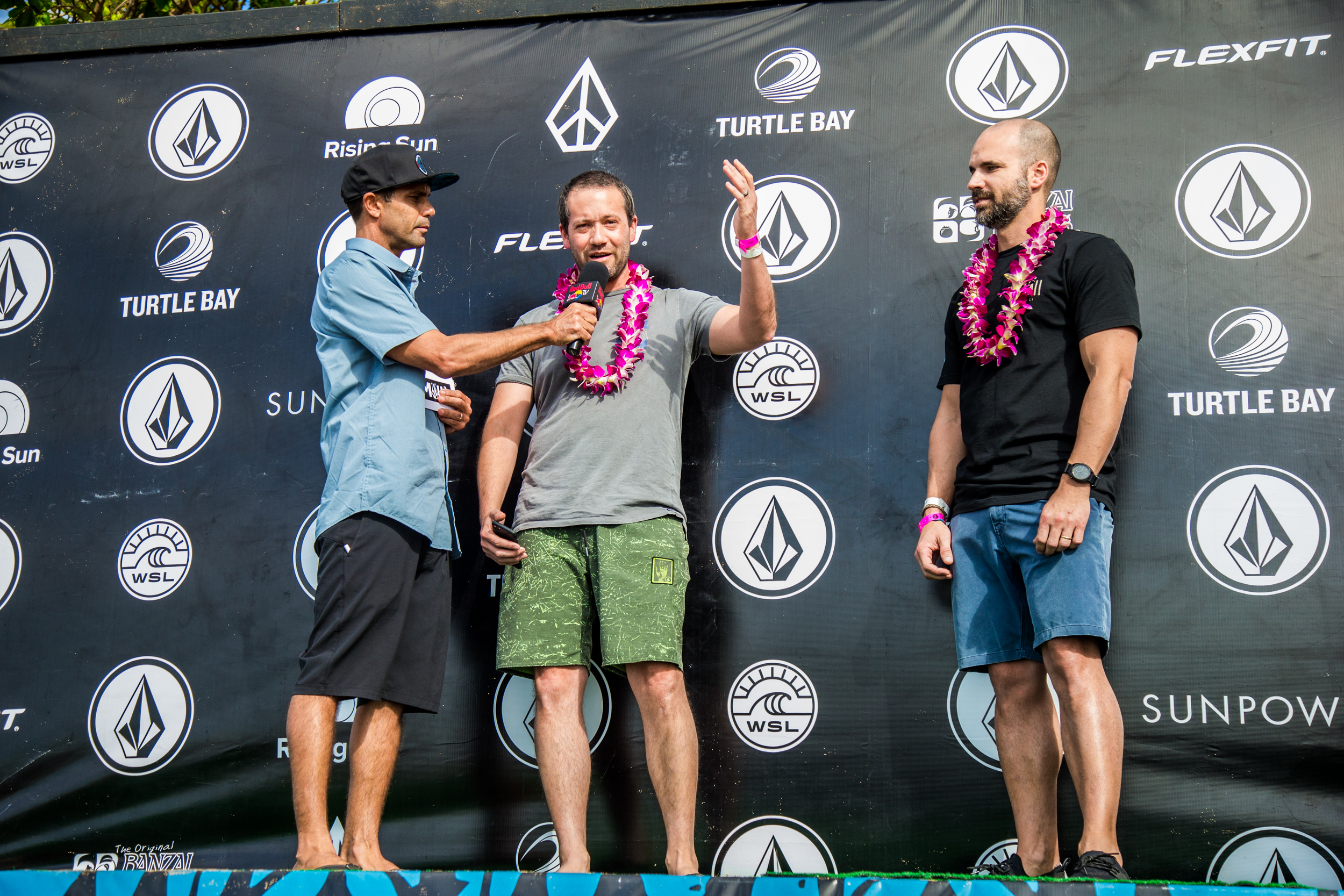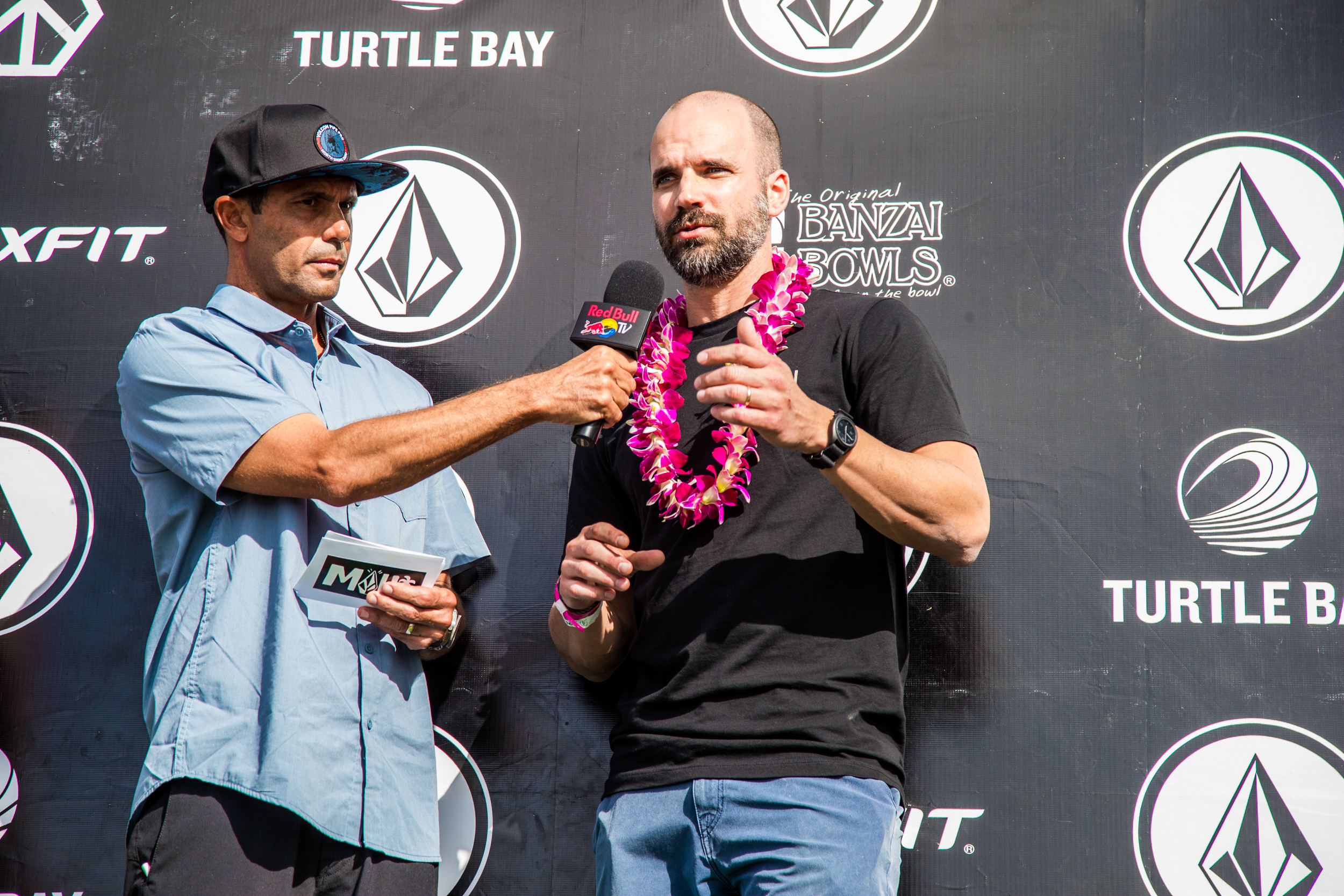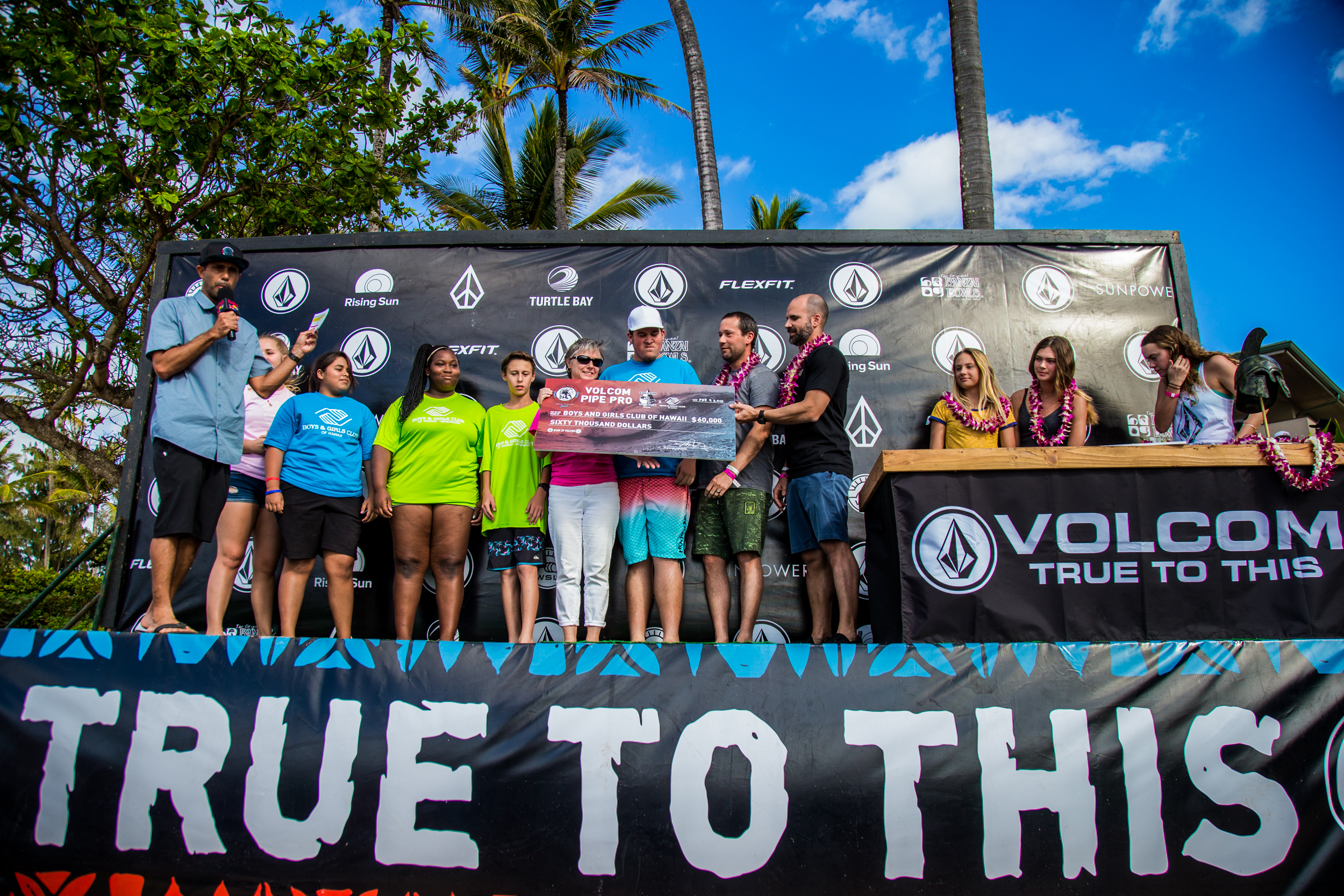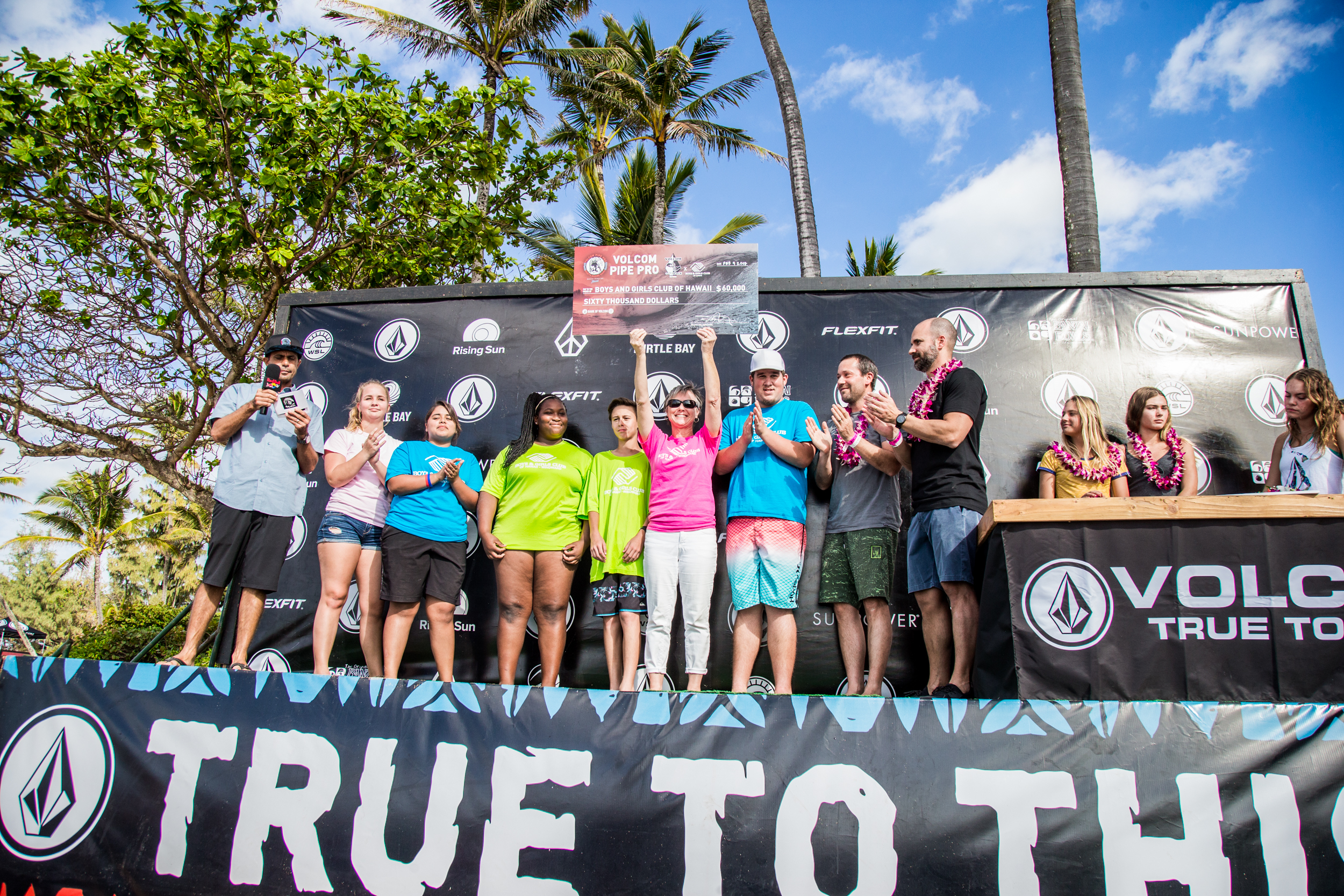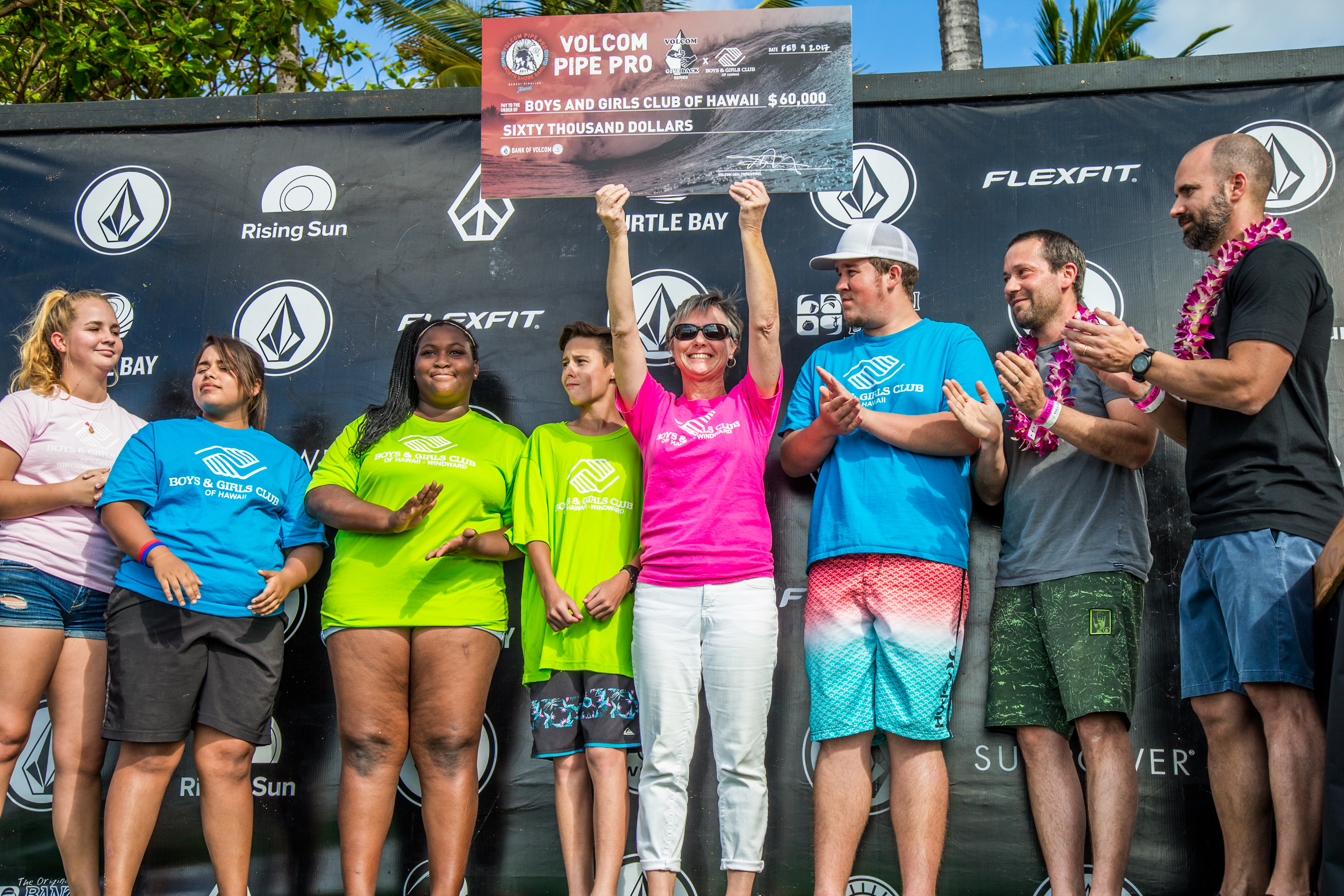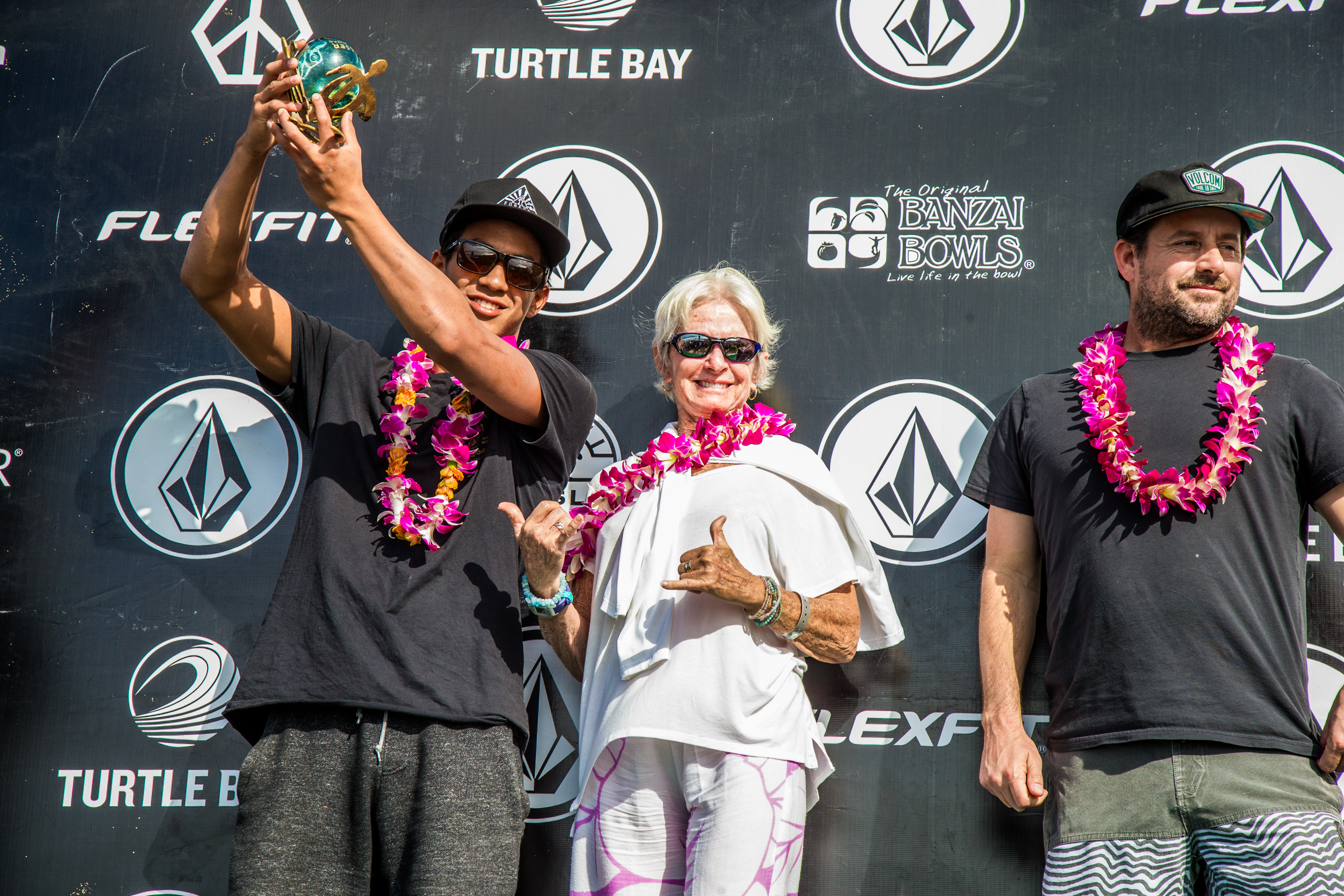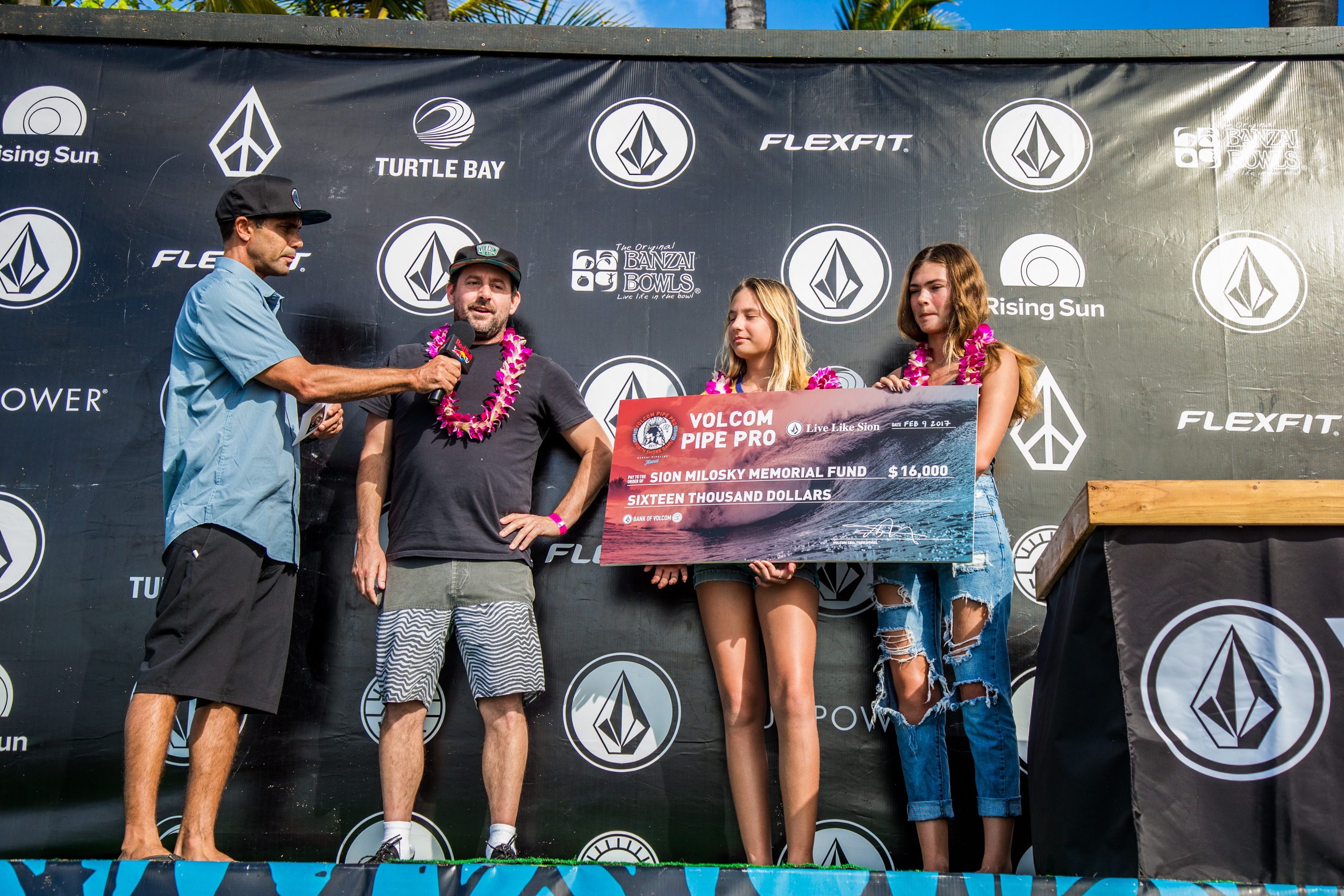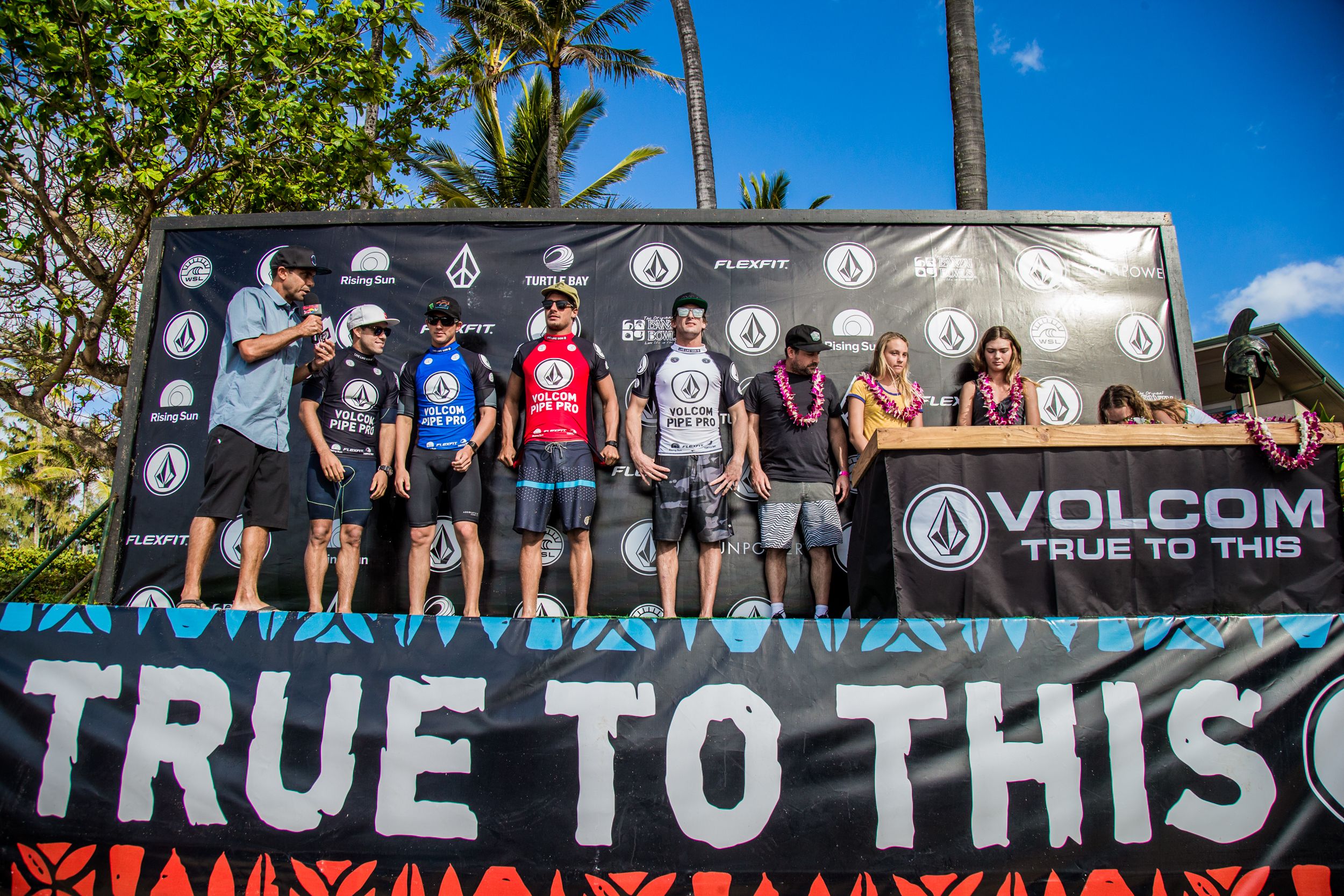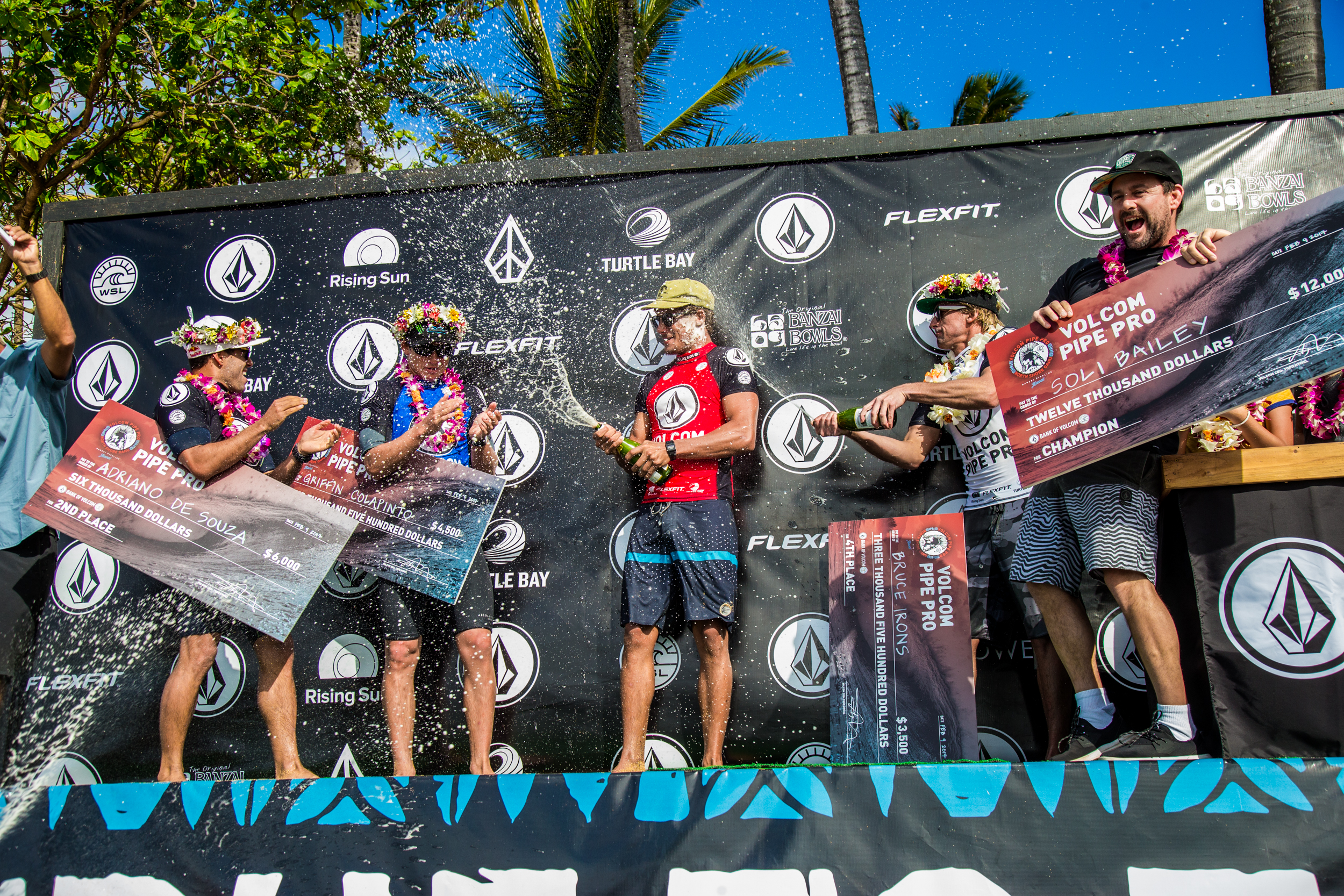 FINALS:
(1) Soli Bailey – 13.26
(2) Adriano De Souza – 8.43
(3) Griffin Colapinto – 3.90
(4) Bruce Irons – 3.66
SEMIFINALS:
H1: (1) Soli Bailey, (2) Griffin Colapinto, (3) Leandro Usuna, (4) John John Florence
H2: (1) Bruce Irons, (2) Adriano De Souza, (3) David do Carmo, (4) Aritz Aranburu
QUARTERFINALS:
H1: (1) Soli Bailey, (2) Leandro Usuna, (3) Hank Gaskell, (4) Koa Smith
H2: (1) John John Florence, (2) Griffin Colapinto, (3) Mitch Coleborn, (4) Brian Toth
H3: (1) Bruce Irons, (2) David do Carmo, (3) Luke Shepardson, (4) Makai McNamara
H4: (1) Aritz Aranburu, (2) Adriano De Souza, (3) Lucas Silveira, (4) Seth Moniz
ROUND 4:
H1: (1) Leandro Usuna, (2) Griffin Colapinto, (3) Billy Kemper, (4) Nathan Florence
H2: (1) Soli Bailey, (2) Brian Toth, (3) Kiron Jabour, (4) Jeronimo Vargas
H3: (1) Mitch Coleborn, (2) Koa Smith, (3) Balaram Stack, (4) Tom Whitaker
H4: (1) John John Florence, (2) Hank Gaskell, (3) O'Neill Massin, (4) Koa Rothman
H5: (1) (1) David do Carmo, (2) Seth Moniz, (3) Miguel Tudela, (4) Mason Ho
H6: (1) (1) Bruce Irons, (2) Aritz Aranburu, (3) Yago Dora, (4) Makuakai Rothman
H7: (1) (1) Lucas Silveira, (2) Luke Shepardson, (3) Ian Crane, (4) Marco Giorgi
H8: (1) (1) Adriano De Souza, (2) Makai McNamara, (3) Benji Brand, (4) Wiggolly Dantas
ROUND 3 (CONTINUED):
H15: (1) Benji Brand, (2) Ian Crane, (3) Lucca Messings Novaro, (4) Michael Ridrigues
H16: (1) Adriano De Souza, (2) Luke Shepardson, (3) Finn McGill, (4) Parker Coffin
Keep cruisin'
Related content