Highway 395 Road Trip Stops and Must See Hot Springs Volcom Skate Team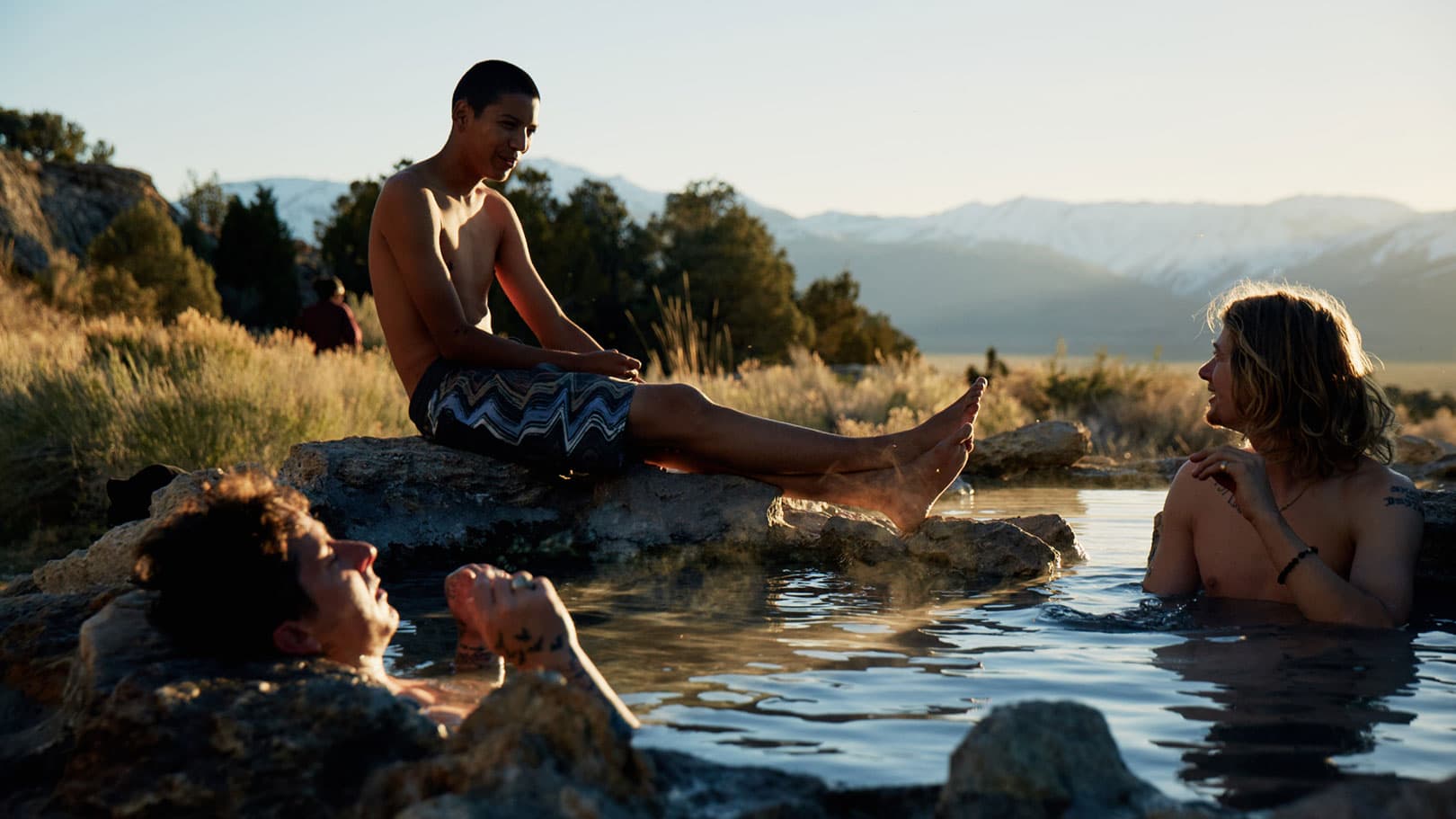 VOLCOM SKATE TEAM HIT THE ROAD IN OUR 1983 BLUE BIRD WANDERLODGE UP HIGHWAY 395 TO SKATE SOME HIGHLY-COVETED DESTINATIONS, AND FOUND SOME MUST SEE SPOTS ALONG THE WAY.
After our glorious 24-hour stay in Reno, Nevada, and experiencing all the fun the town had to offer, it was time to seriously bail. And quick. While all of our skating and (most of) our drinking was done, it was time to unwind on the Wanderlodge as it cruised back home down California's infamous Highway 395. Grant Taylor, Louie Lopez, Dane Burman, Dustin Dollin, Caswell Berry, Omar Hassan, and CJ Collins surely put in their work in Reno, but they had a couple quick last-minute stops.
We happened to stumble upon some must-see spots on the way back that didn't involve skating and didn't involve much effort (thank god). One of the top things to do outside of Reno along the 395 is to check out this old mining town called Virginia City. I think we expected it to be like an old ghost town you could quietly roam around and learn about, and for the most part, it is, with an added bonus of hundreds of drunk bikers mixed with other tourists making their way through the area. There's no open container laws in Virginia City, just like the old days, and Dustin Dollin welcomed this fascinating turn of events with arms wide open. Meanwhile, the amount of tourist trap shops we were checking out was escalating, making unconscious, questionable purchases: happy-faced and weed-graphic sunglasses.
Back on the road, Wanderlodgin', we took in all of the exquisite panoramic views that the 395 had to offer. We found an epic little hot spring called Travertine Hot Springs to try that's located right outside of Bridgeport, CA, and about 30 minutes from Mono Lake. Travertine Hot Springs is a very mellow place to really kick back and enjoy your surroundings. The road up to the springs was too narrow and bumpy for the Wanderlodge, so we ended up parking it down the way and taking a little hike.
HOT SPRINGS TO CHECK OUT IN THE AREA:
Travertine Hot Springs – Free, nice views of the Sierras, and close to town, although it does get crowded at times.
Buckeye Hot Springs – Located in Toiyabe National Forest. Lies in a babbling brook with access to small caves. Bathers are mostly campers due to the nearby campsite.
Hilltop Hot Springs – Public spring that is a local secret. Nice views of the valley and surrounding mountains. Also, it's easy to get to.
Wild Willy's Hot Springs – Also known as Crowley Hot Springs, this location is just a few miles from Mammoth Lakes and lends itself to a more natural hot springs.
Travertine Hot Springs was the last stop of the trip, so the boys took it all in until the sun went down. There are a couple hot springs in the area, and they are open to the public, so we lucked out when we found the main spring to be completely empty.
OTHER MUST-SEE SPOTS ALONG HIGHWAY 395:
Donner Pass

Bodie State Historic Park (Ghost Town)

Fossil Falls

Convict Lake

Buttermilk Country Loop

Lake Sabrina

Alabama Hills

Manzanar National Historic Site
Right around sunset, we hit the road and headed straight back to Volcom HQ in Costa Mesa – only seven more hours to go!