"Locals Mostly" Art Show At Volcom Garden Ft. Mike Aho, Alberto Kroeger, Jessica Fontenot, Manik Raj Nakra And More
WHERE
Volcom Garden
1209 E. 6th St., Austin, TX
WHEN
Opening Reception: Dec. 9
7-11pm
Show Run: December 9 – January 13, 2018
THIS SHOW WILL COMBINE AN ECLECTIC MIX OF ART FROM AN ENSEMBLE OF PUREBRED AUSTIN ARTISTS. 
WORDS BY MICHAEL SIEBEN
"Locals Mostly" is an art show featuring work by mostly Austin-based artists. I asked Alberto Kroeger to participate in the exhibit, assuming that he still lived in Austin, only to be told that he had moved to Boulder, CO. I really like Alberto (and his work) and didn't want to kick him out of the show just because he doesn't live here, so I told him he could still be included. Then my friend Kimberly Hooper suggested Sean Powell for a possible participant. Sean lives in NYC, but lived in Austin for his formative years, and I decided to add him to the lineup as well. That being said, all of the artists in this show have ties to Austin, but not all of them currently live here. However, everybody in this show is a fine human being who is making excellent work and contributing to the spiritual enrichment of the universe, regardless of where they fall asleep at night. Swing by The Volcom Garden and check this varied group show featuring mostly locals. You can also do all of your holiday shopping while you're there, assuming that your friends and family don't hate good art.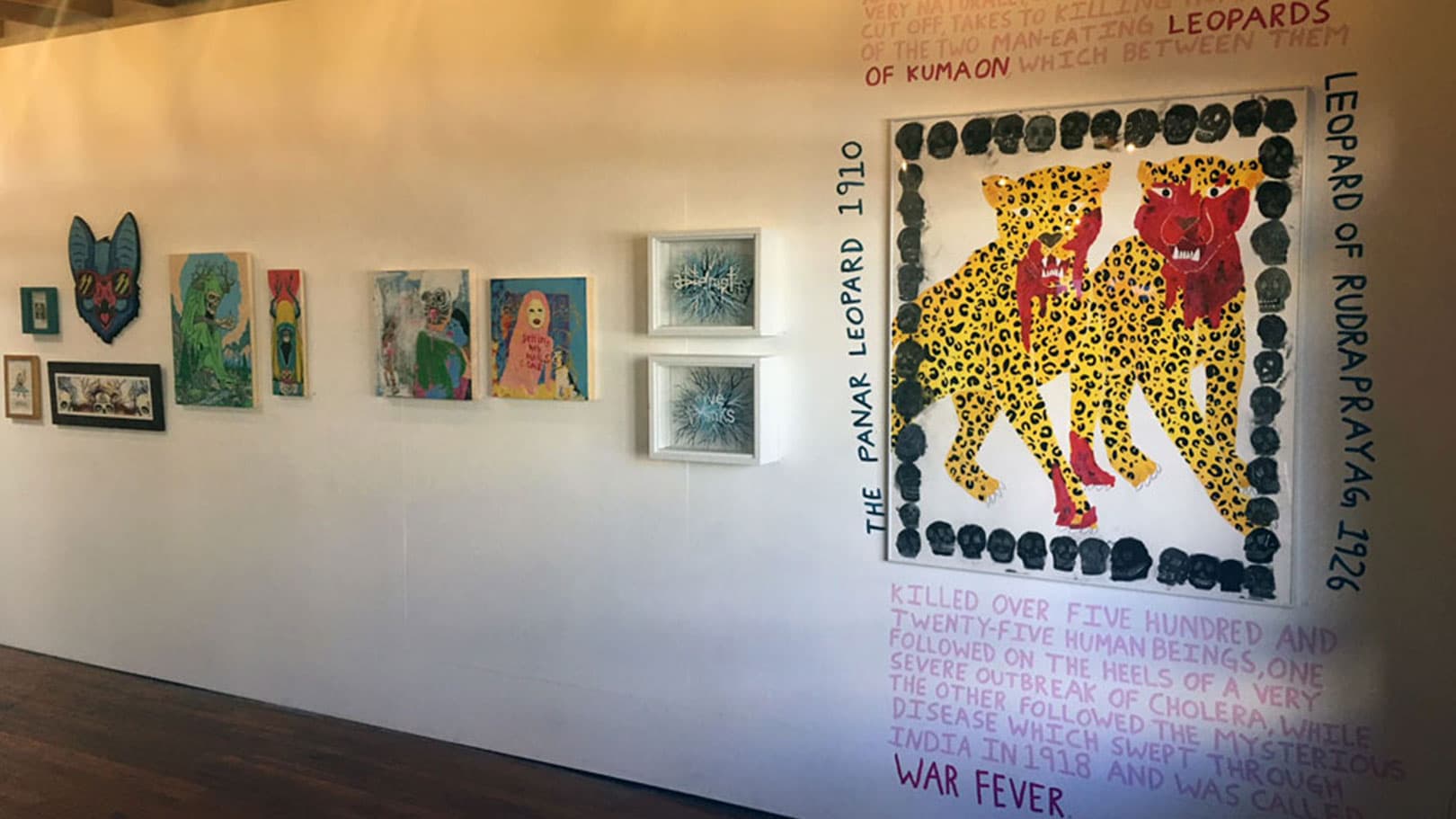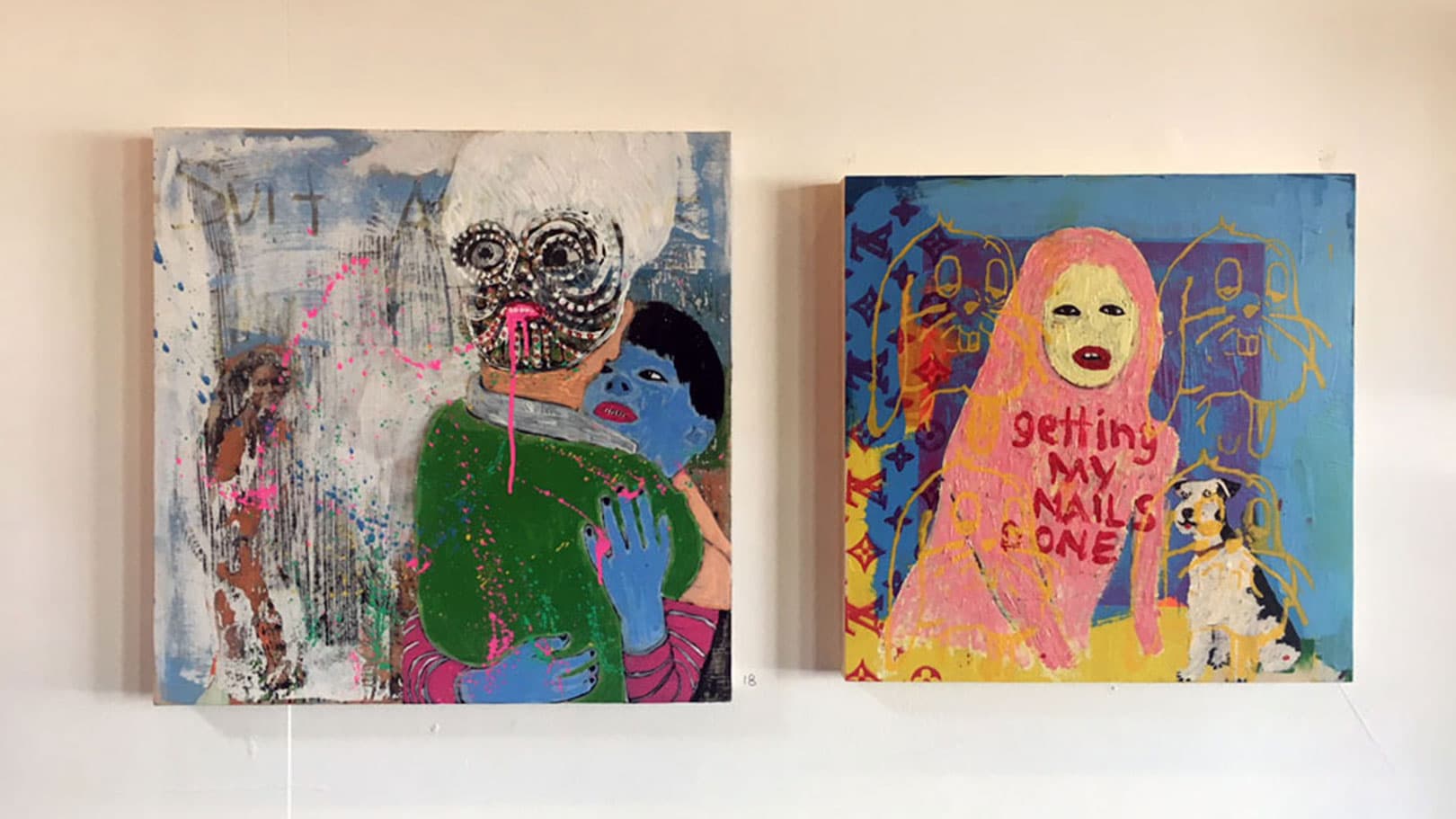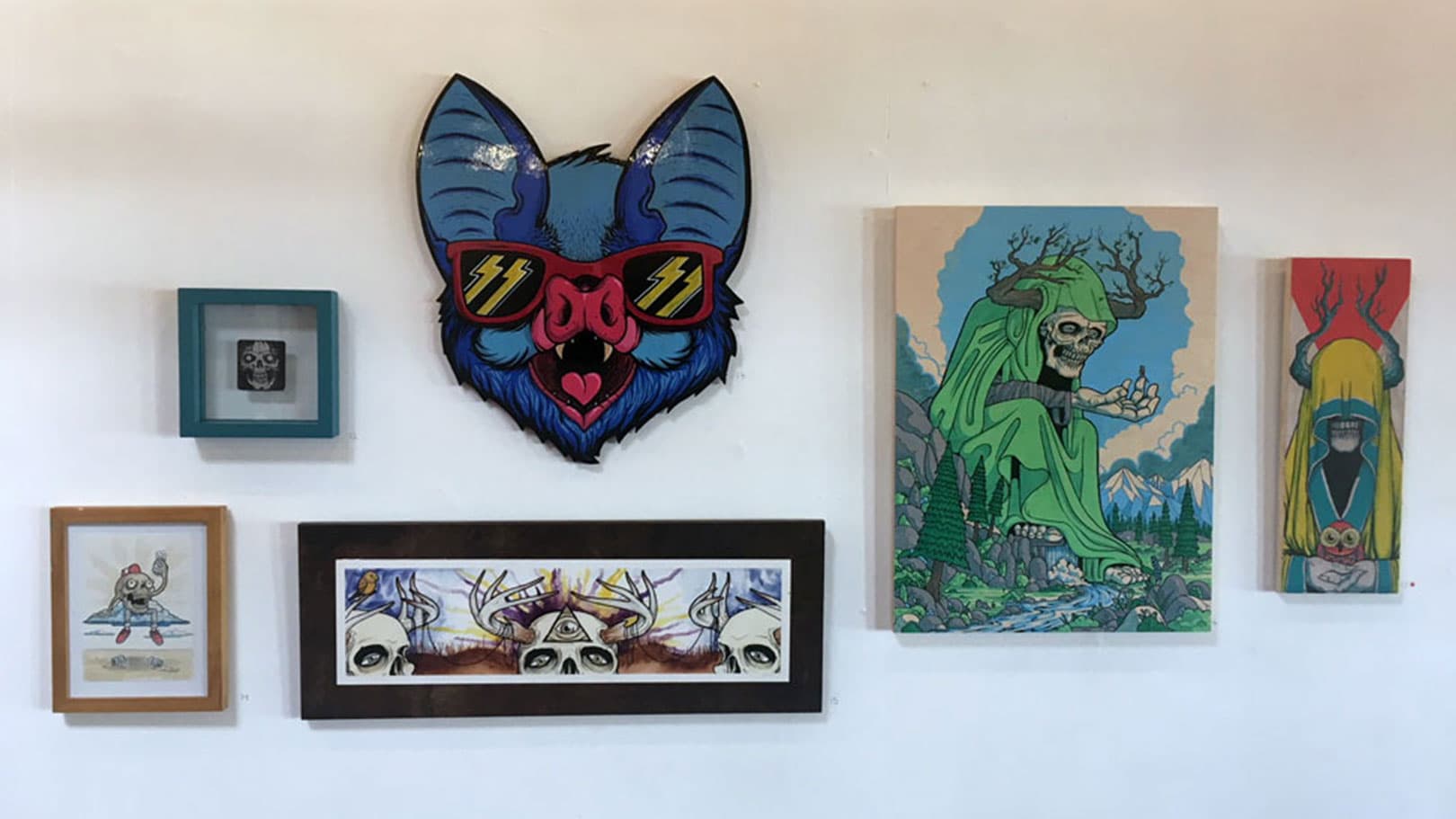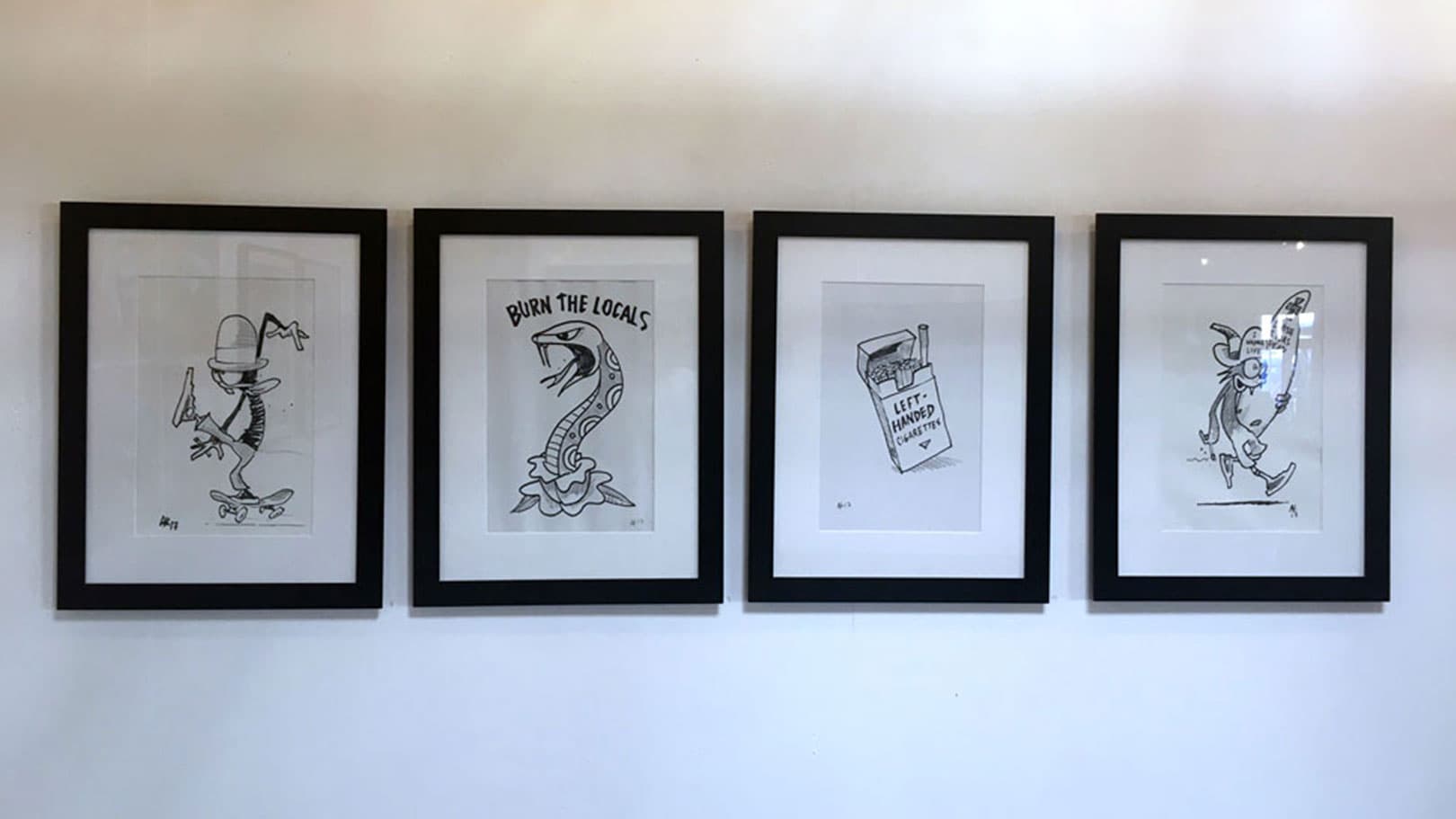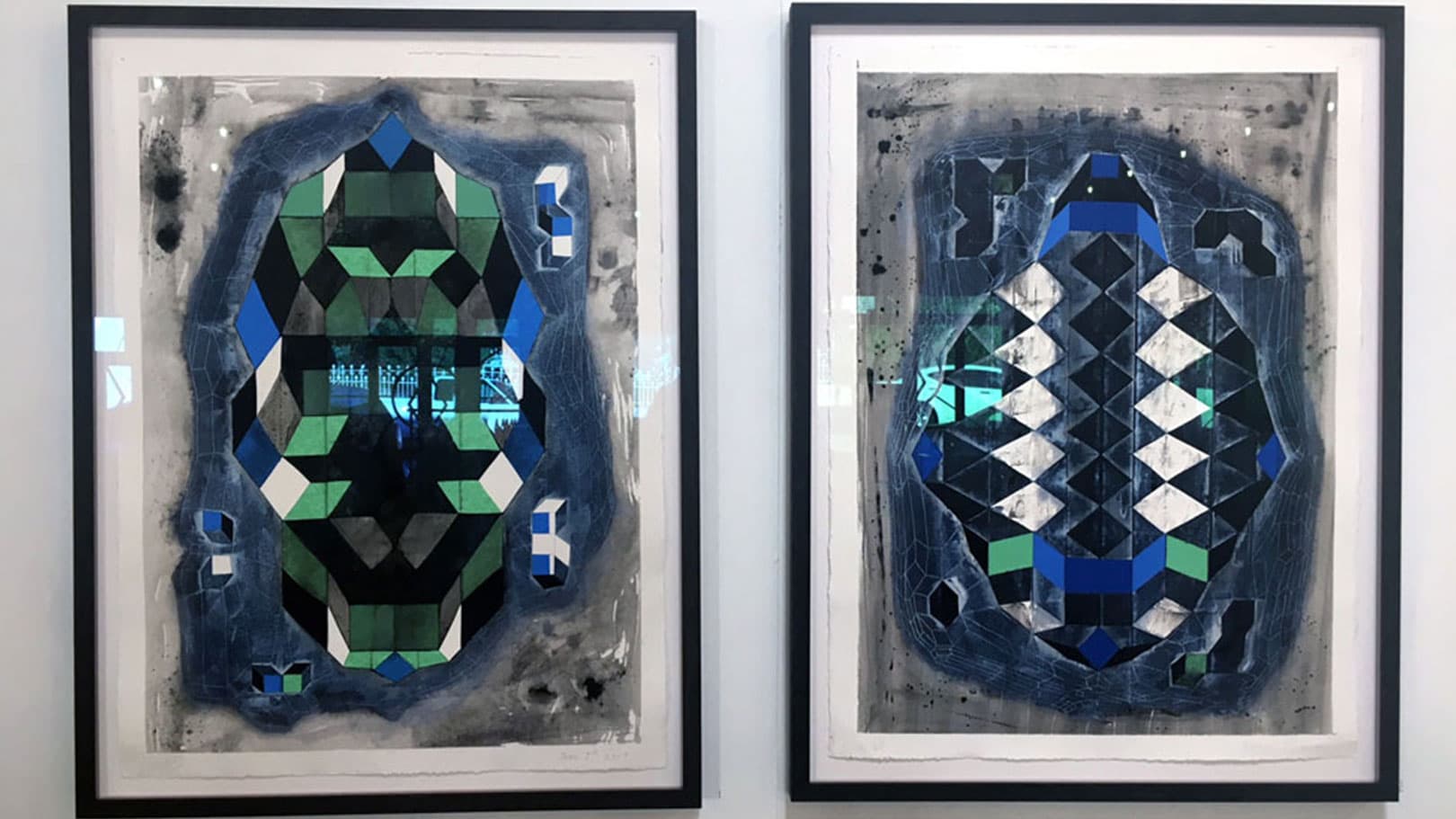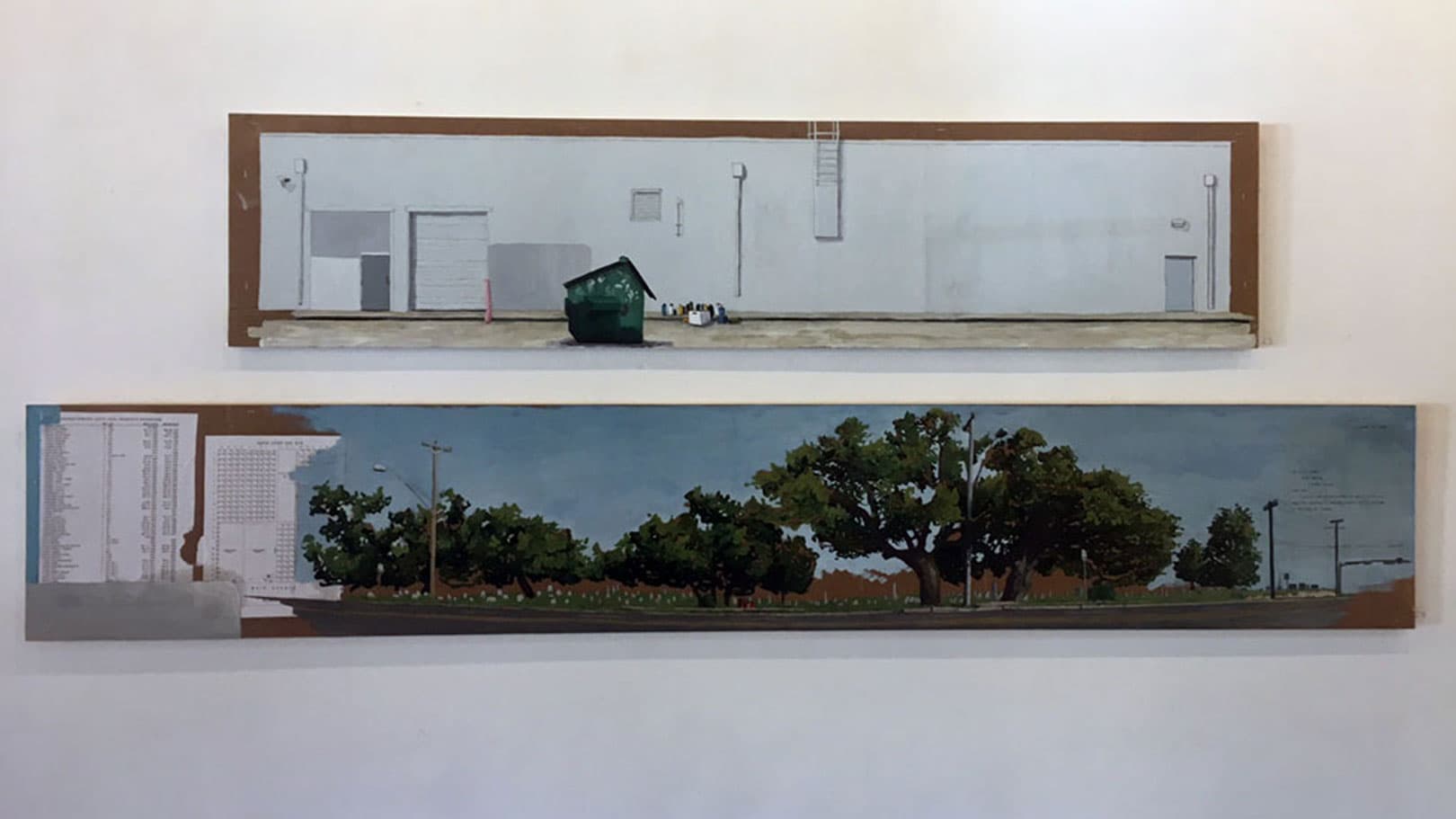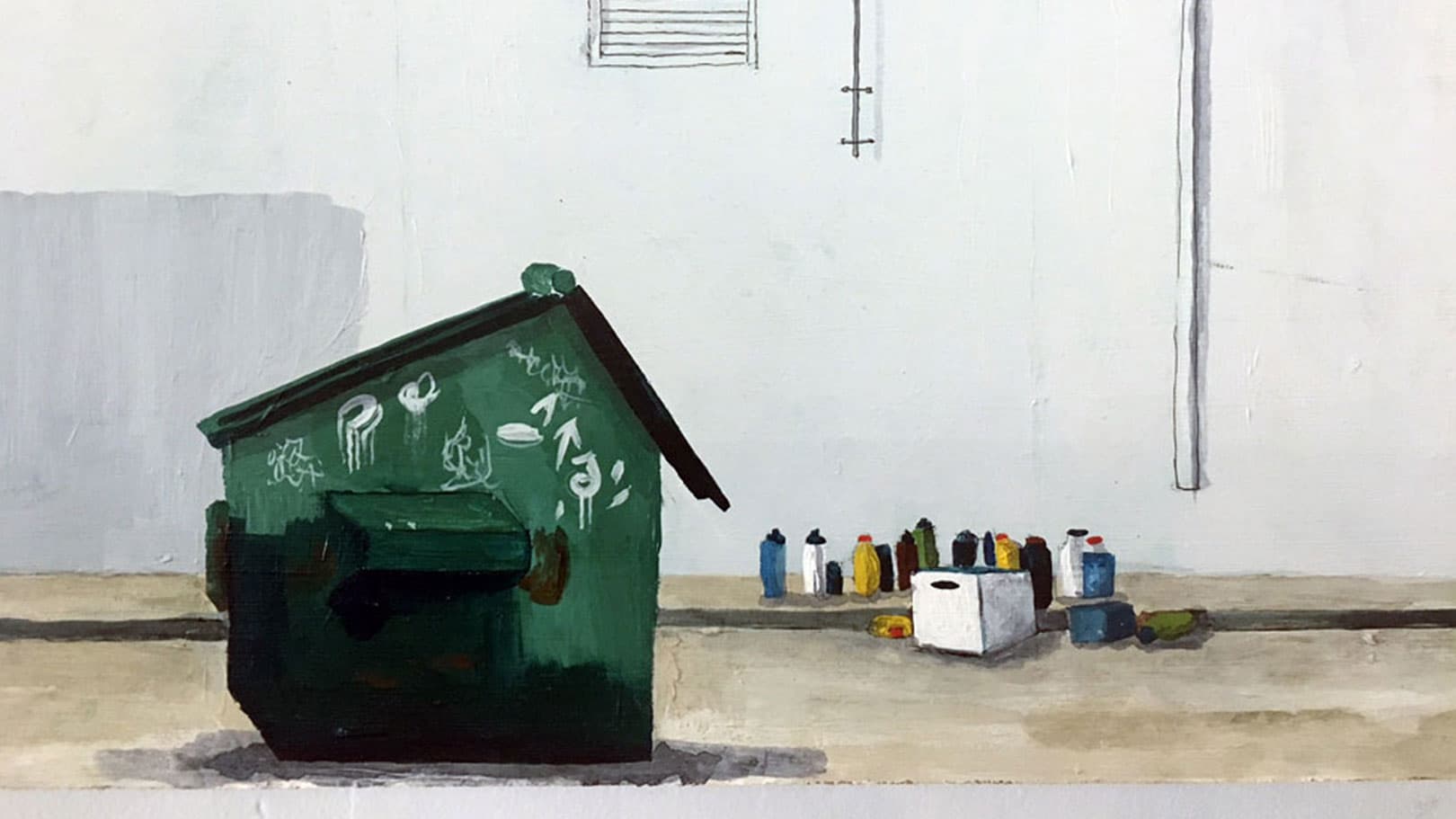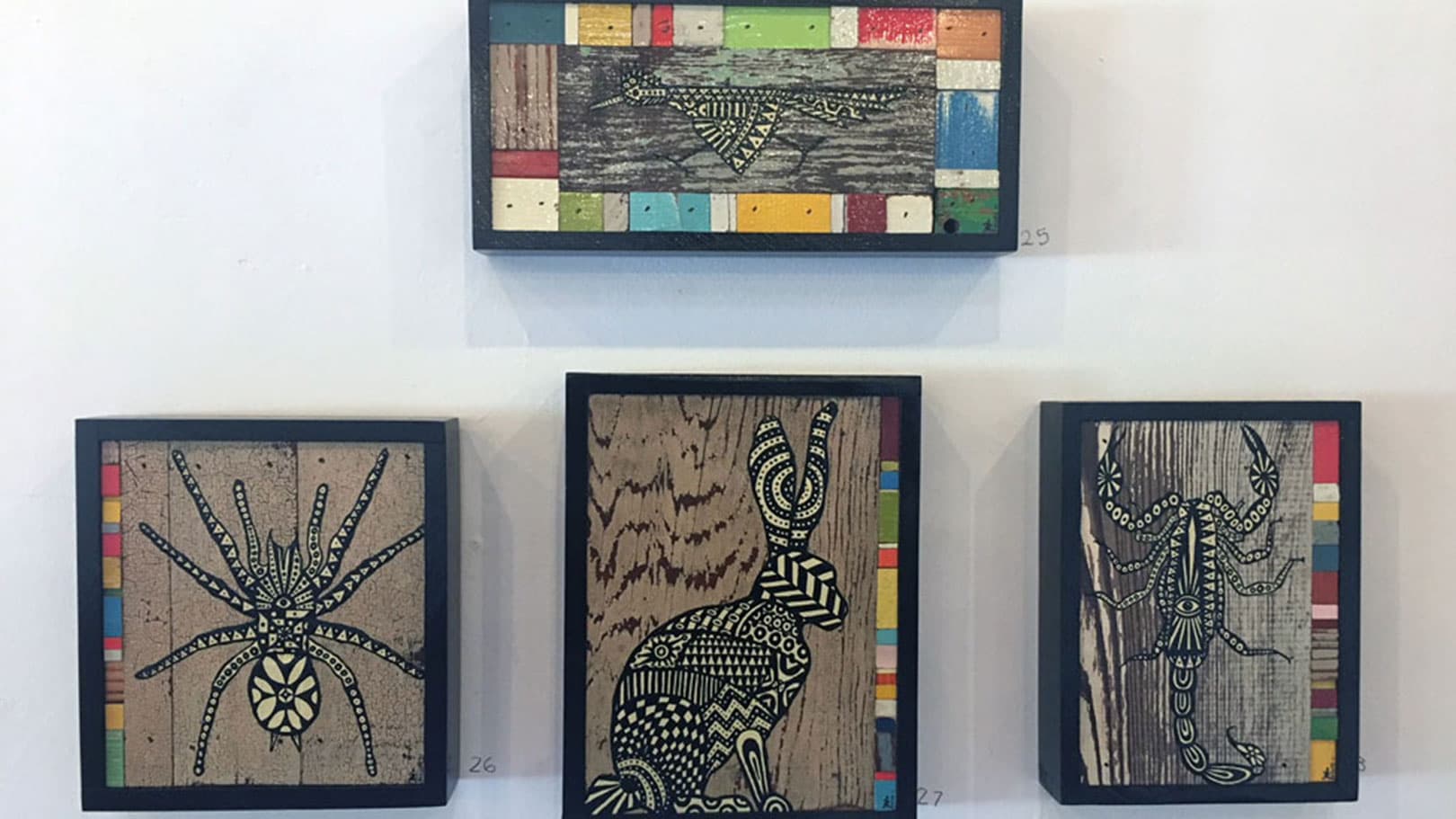 THE ARTISTS:
MIKE AHO
Instagram: @mynameismikeaho
Photo: Bryan DeLaGarza
Mike Aho is a music-maker, film-maker, art-creator and Global Creative Director for Volcom. His music has accompanied numerous skate and surf videos, his artwork has been exhibited internationally and throughout the US, and he has created music videos for noteworthy musicians such as Will Oldham, Jason Lytle, and Bill Callahan. Aho's personal artwork, often incorporating text, addresses humankind's complicated relationship to the modern age.
STELLA ALESI
Instagram: @stellaalesi
Stella Alesi began her undergraduate work at Parsons School of Design in NYC, including a year of study in Paris, and finished at the University of New Hampshire, Durham with a BFA. Her graduate work was completed at the University of Massachusetts, Amherst with an MFA in painting. In 2005 Stella was awarded a fellowship to attend a residency at the Vermont Studio Center. For the past 24 years she has resided in Austin, Texas where she has been represented by the Davis Gallery and then the Wally Workman Gallery. Currently Alesi represents herself. Stella co-facilitates the in-house Blackbox Gallery, in Austin, Texas, which exhibits local artists.
Alesi's newest body of work, created with oil, pencil, tape on paper, and a process-focused method, creates archetypical shapes which discover and explore the concepts of gender, balance, ego, and the effects of technology through a connection to the infinite.
Stella Alesi
Stella Alesi
JESSICA FONTENOT
Instagram: @jcfonte
Jessica is an Austin designer and artist best known for her sketch-like watercolor illustrations of architecture and industrial trucks. She has a fascination with the structural elements of ordinary things, mostly buildings, that create a composition of colors and shapes.
BRIAN IMLER
Instagram: @imler_bimler
Brian Imler is an illustrator/designer/person who was born in sunny California and raised in Colorado. After receiving his BFA from Western State Colorado University, Imler moved back to California and started up an apparel company with a fellow artist and friend. After years of hard work and success, the two decided to move on to bigger endeavors. Imler moved on to work for Santa Cruz Skateboards. There he honed his skills as an illustrator and designer by creating art for everything from catalogs to skateboard decks. In 2009, Imler moved to Austin to pursue his artistic career. You can find his work on t-shirts, skateboards, album covers, gig posters, gallery walls, and in his parent's house. Currently, he is a Senior Artist at Outhouse Designs and lives in South Austin with his wife, daughter and dog child.
ALBERTO KROEGER
Instagram: @pendejo71
Alberto Kroeger has been churning out dark, defiant humorous art and t-shirts for quite awhile now. Inspired by first getting an honorable mention back in the '80s by BMX Action in their annual drawing contest (and winning it the following year), he began to flood all with his skateboarding and biking scribbles. Distributing art to many zines at the time (as well as putting out a few of his own), Alberto was able to score a few art opportunities with companies like Haro, S&M, Wilkerson Airlines, 2-HIP and Gothic Laundry. Continuing to not excel at either biking or boarding, he continues to live vicariously through his art. His main motivation for t-shirt design is making something for the individual who wants to stay just that: individual.
MANIK RAJ NAKRA
Instagram: @smallest_m
With imagery consisting of teeming tropical jungles, exotic Asiatic animals, mythical kings, and ancient architecture, the paintings and installations of Manik Raj Nakra apply a contemporary lens onto post-colonial anachronisms, Indian iconography, artifacts from early civilizations, and religious myths and folklore in order to explore themes such as egoism, lust, and self-doubt. Manik Raj Nakra is an artist living, working and eating late-night Thai food in Austin, Texas. He has exhibited extensively through Texas and recently San Francisco and has worked with brands such as Converse, Facebook, Urban Outfitters, and LINE Hotel.
BRIAN PHILLIPS
Instagram: @phoondaddy
Photo: Ian Kasnoff
Brian Phillips has more than 20 years experience making art and has been a full-time artist since 2010. He's primarily self-taught: outside of high-school art classes and a couple of continuing-education courses, trial and error has been his method. With the wood and objects that he salvages for his work, he tries to see the beauty in their blemishes, mistakes, and years of use and abuse. They all have a story, good or bad. He has long been drawn to layers of paint, drips, scrapes, nail holes, and repurposed items. Folk art speaks to him in that way as well. Use whatever is available to make your art. Brian strives to make art that engages the viewer, while also hopefully bringing a smile to their face. He believes that art is about inclusion as opposed to exclusion. Share your work. Some will get it, some won't. That's the beautiful thing about self-expression. There's something out there for everyone. Embrace that.
Brian Phillips
Brian Phillips
SEAN POWELL
Instagram: @chaka_sean
Stephen Sean Powell is a Brooklyn-based artist who spent most of his formative and adult years in Austin, Texas. Never having attended art school, Powell began painting only recently, and found himself somehow in possession of a developed, coherent and original style. His bold, bright colors and child-like shapes often belie his subject matter, which tends towards despairing self-reflection, drug abuse, brooding violence and the parody of consumerist practices. He often incorporates found materials into his work. Twisted and distorted faces layered with words, eyes suggested only by blots of spray paint, partial heads rendered with just a few thick strokes of color, faces that jump off the canvas like bad dreams turned into cartoons: the paintings are immediate and unstudied, yet with a high level of visual sophistication.
Powell sold his first painting the day after he made it. Since then he's been producing works at a voracious pace – nearly two hundred finished pieces since July 2015, and selling most of them on social media or by word of mouth. He's participated in group benefit shows for the Silverlake Conservatory of Music in Los Angeles in November 2015 and the 'Fake Art for Posers' benefit for the Accabonac House at the Ashawagh Hall in East Hampton in August 2016. He recently had his first solo show at Obsolete Industries in Austin, Texas in September 2016 where he sold all the works.
Before suddenly becoming an artist, Powell was primarily a punk musician, playing drums throughout the '90s in Austin's criminally under-appreciated Fuckemos, and today in a few Brooklyn bands such as Surfbort and Ice Balloons. He is also known throughout the tattooing community and elsewhere for the originality and profligacy of the images that cover nearly the entirety of his skin.
ANDY RIHN
Instagram: @oldmanjambox
Andy Rihn was born in 1975 in San Antonio, Texas, and raised in South Texas. In the last 20 years he has founded and starred in a performance art group, recorded with a US touring faux-French rock band, hosted an interview show for Volcom Ent., released a book with Monofonus Press titled The Tiger's Last Tooth and made a lot of art work.
His installations, performances, sculptures, and drawings have shown at The Front in New Orleans, DiverseWorks in Houston, Okay Mountain, Gallery Lombardi, Common House and Arthouse in Austin. He has also had solo shows at MASS Gallery, Monofonus, and Co-Lab, as well as creating and curating shows for El Cosmico in Marfa, Highwire Arts of San Antonio, Frontera Fest, and Fusebox.
In 2011, Rihn was the recipient of a grant from The Idea Fund through The Andy Warhol Foundation, and created and directed "Texas' Longest Hammer Choir," a large-scale art, music and film happening. This happening turned into an multimedia installation shown in Marfa, San Antonio, and Austin. In addition to his personal work, Andy collaborated with Mike Parsons, Curtis Jinkins and Mick Santostefano on a series of exquisite corpse drawings for this particular exhibit, most of which are NSFW, so swing by the gallery if you want to see some naughty bits.