Office Style: Meet Katie
Meet Katie in the first edition of our new semi-regular series "Office Style" where we talk with Volcom employees about their personal style, fashion influences and what it's like to work at Volcom.
What's your job title at Volcom? What's your favorite part of the job?
KATIE: I'm a Key Accounts Manager for women's swim and footwear. I love working really closely with buyers. I get a sense of accomplishment in helping them build collections and then watching what we build, sell at retail several months later. The fact that I get to travel is a HUGE plus, too.
How long have you been with Volcom? What have you learned from your job?
KATIE: I started out interning for a Volcom sales rep in 2010, and have worked my way through different sales jobs since. I've spent most of my adult life working with the brand. Most of what I've learned has come from the passionate, unique, creative people I'm surrounded by every day. They reinforce the importance of dedication, collaboration, patience and fun on the daily. It's a pretty inspiring thing!
Katie wears our GMJ Tank and Frochickie Pant
How would you describe your personal style?
KATIE: At the moment, my personal style is a minimalist meets early-teen skateboarder meets metal head with a sprinkle of french girl for good measure. Or in short, schizophrenic cross-dresser. Does that work? (-:
Who are your biggest fashion influences?
KATIE: My influences are constantly changing. Typically, I'm inspired by strangers' street style. That's especially so when I'm traveling. I've also noticed that I emulate certain style elements of hot guys, generally skateboarders. It's so weird, like, I'll see a total babe around and then a week or so later I realize I'm wearing my pants or rolling my sleeves or wearing socks the way he does.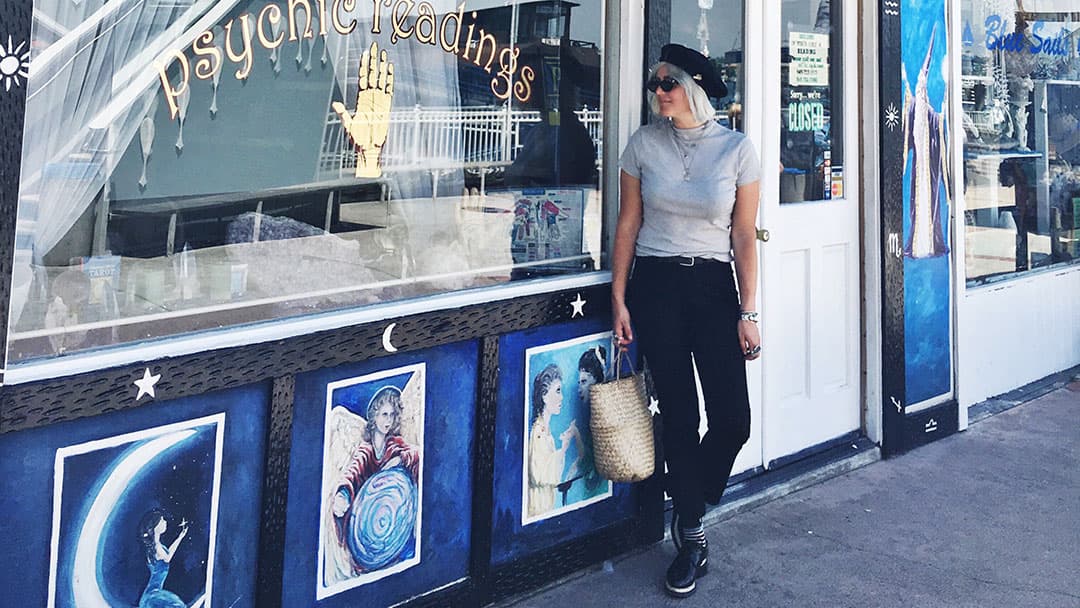 Where do you live and is there good shopping near you?
KATIE: I live in Long Beach, California. AKA paradise! My little house backs up to "Retro Row: which is for great vintage and thrift shopping. La Bomba on 4th is a must for vintage, especially during Long Beach Swap Meet weekend when they have their $4 pile sale. So, while you're at it, go to the Swap Meet. It's incredible; you can find anything there. Last month's haul included an original nude drawing, Navajo bracelet, and tee shirt screened with a photo of Elvis shaking Richard Nixon's hand.
What are your favorite pieces from Volcom Women's at the moment?
KATIE: My answer will always be the Frochickie Pant. It's our classic fit chino, made with recycled polyester so you get that feel-good eco component. They make everyone's butt look cute, too. Not all chinos do that. Georgia May's cropped black tank is another staple. I'm also really feeling the Stayin High Long Sleeve – it's got a mini mock neck and small embroidery at the center chest so you get a bit of a 90's street wear vibe.
Katie in our She Shell Tee
Fortune telling in her favorite Volcom piece, the Frochickie Pant
How does your job influence your personal style?
KATIE: I'm SO fortunate that Volcom encourages individuality and allows employees to basically wear whatever we want. That definitely helps my personal style to flourish, because I never feel oppressed by a dress code.
Do you have any styling tips?
KATIE: Only wear things that you feel confident in and dress for yourself; who cares what anyone else thinks. Use your style as a platform for self-expression. Have fun with it and trust your gut! *file this logic under my life advice, too*
Keep cruisin'
Related content