Run The Jewels 'Art The Jewels' U.K. Exhibition
Art The Jewels
Platformldn
3 Carnaby Street
London
W1F 9PB
United Kingdom
June 1st – 30th 2019
Tue June 11th 5pm – 10pm: Public Workshop
Sat June 22nd 12pm – 6pm: Kids workshop
Details
Workshops will run continuously during the times posted, admittance is on a first come first serve basis.
In their very first UK exhibition, the US hip hop super duo celebrate their iconic visual universe and deep-rooted connection to the UK as part of Soho Music Month
Volcom is proud to support Run The Jewels' "Art the Jewels UK", the duo's London art exhibition celebrating their iconic visual universe and deep-rooted connection to the UK. Art The Jewels UK will provide visitors with an opportunity to explore the duo's artwork, graphics, videos, collaborations with UK creatives, and features original work created specifically for the event.
The immersive experience is curated by RUFFMERCY; an acclaimed UK visual artist, and previous RTJ collaborator also known for his work with Danny Brown, J Dilla and Thom Yorke. Other Art The Jewels UK contributors include: Chris Hopewell (Radiohead, The Killers), Ninian Doff (Migos, Miike Snow), Sam Piling (The Weeknd, DJ Shadow), Patch D Keys (Ninja Tune, Black Acre), Peter Martin (M.I.A., Justin Timberlake) and Graham 'Paris' Dews (Coldplay, Glastonbury Festival).
Join Volcom on June 11 and June 22 for a series of screen printing workshops.
Tue 11th June: Public Workshop
Time: 5pm – 9pm
Join Volcom for a chance to print yourself a limited custom designed Volcom x RTJ t-shirt. Hosted alongside LoveNSkate, attendees can walk away with their very own limited tee! The workshop will run continuously for 4 hours, so drop in and get creative!
Tue 22nd June: Kids Workshop
Time: 12pm – 6pm
Join Volcom for a chance to create your own custom Volcom t-shirt. Attendees can design the layout and print onto their very own tee to wear with true pride. It will be an open workshop so just drop in and get creative!
Run The Jewels 'Art The Jewels' U.K. Exhibition
Run The Jewels 'Art The Jewels' U.K. Exhibition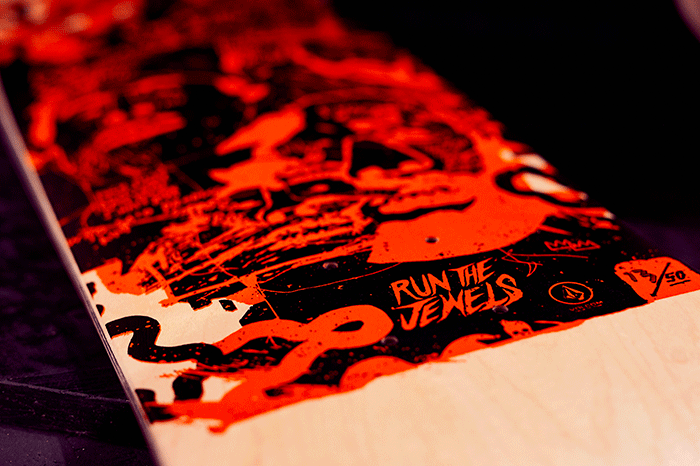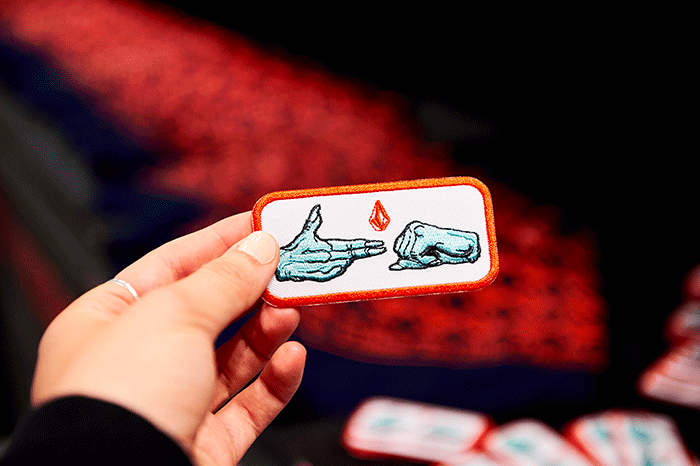 Keep cruisin'
Related content