Sound on Sound Music Festival with the Volcom Skate Team
What's it like travelling with the Volcom Skate Team? It's always an adventure that you never really want to end, even when you're packed in van with fourteen dudes who are drenched from the rain and just want to sleep in a real bed. This past weekend we travelled to the Sound on Sound music festival that was being held about 40 minutes outside of Austin, TX. Like all trips, who you have in the van really dictates the vibes. On this one we were coming in hot off a campaign shoot at the brand new Volcom Garden right in Austin, and while not everyone that was at the shoot was able to make it out to the festival, the ones who did were on a good one. Of those who were at the shoot in Austin, Alec Majerus, Chris Pfanner, Daan van der Linden and Collin Provost all hopped in the van after the shoot to make it out to the festival. On the way we picked up Ben Raemers and Jackson Pilz from the airport who were coming from Hawaii strait off Thrasher's King of the Road.
Chris Pfanner and Alec Majerus
Before we even got out to the festival we had to wait for Ben and Jackson's flight to land. It was delayed because there was no ice on board. From Ben and Jackson's account their connecting flight in Phoenix took off and flew for about an hour before turning around and heading back to Phoenix. Jackson said he "fell asleep at take off and woke up when we landed [back in Phoenix], got off the plane thinking I was in Texas". Ben told him they were back in Phoenix and had to get back on the plane. After asking the airline, they were told that they had to turn around because there was no ice on aboard, apparently "no ice, no dice", which became one of the many taglines for the weekend. Eventually they made it to Austin where Alec, Collin, Daan and Pfanner were taking some much needed downtime after a hectic three days of partying and campaign shoot antics at the Volcom Garden.
Texas was HOT and HUMID, and rain in the forecast made for an interesting weekend ahead, especially since we were camping at the festival grounds with many of the other festival goers. On the drive out we realized that not too many people in the van have ever camped at a music festival and the possibility of having a campsite with no campfire really made Daan and Pfanner question what they got themselves into. It was also Daan, Ben and Alec's first time to a proper music festival which created a weary excitement for the unknown. After a missed exit turned into a long detour we ended up getting to the festival campgrounds right before dark on the first day of the festival. It took a minute for our camping stuff to get to us as it was all in a separate van that came up earlier to set up our ramp and booth. After drinking all day in the van, or in Ben and Jackson's case, flying all day, it was slightly comical watching the team setting up their tents. They were instructed to put rain flys on their tents, as it was going to rain in the middle of the night, and they all heeded the warning except Daan who after struggling with his tent just didn't care anymore and wanted to be done with it. Did we mention it was also Ben's birthday?! Everyone shotgunned a beer with Ben after setting up camp.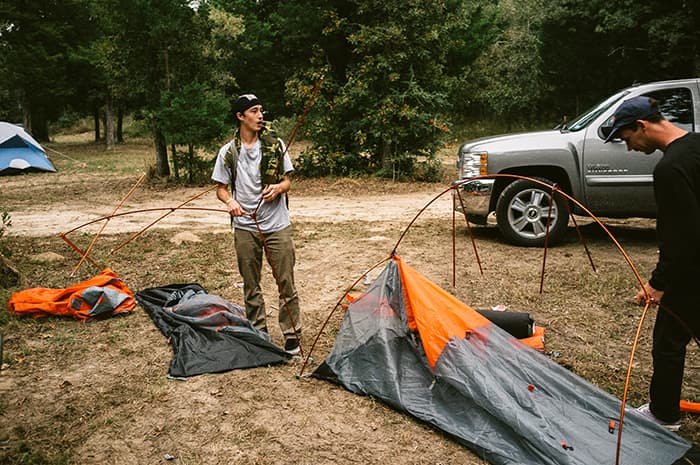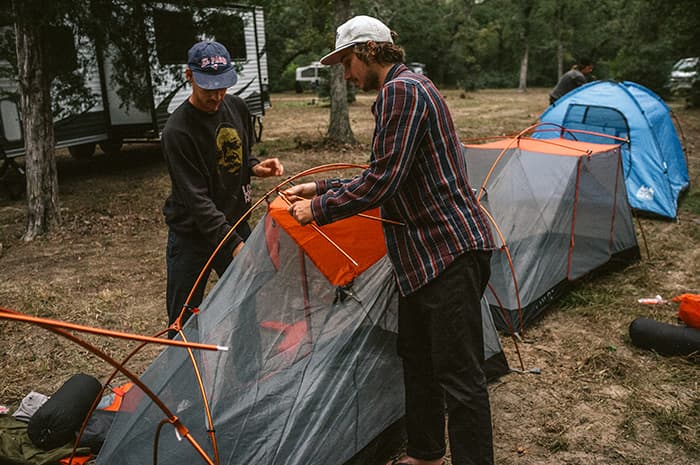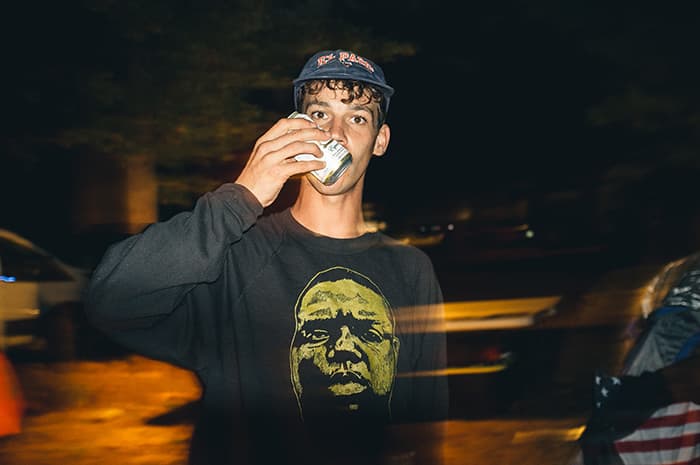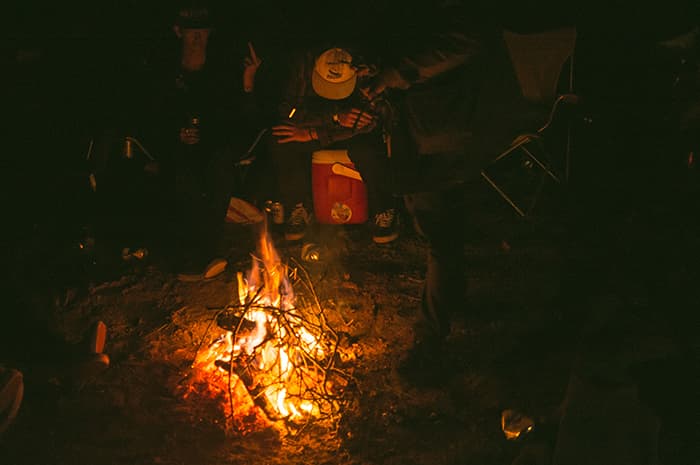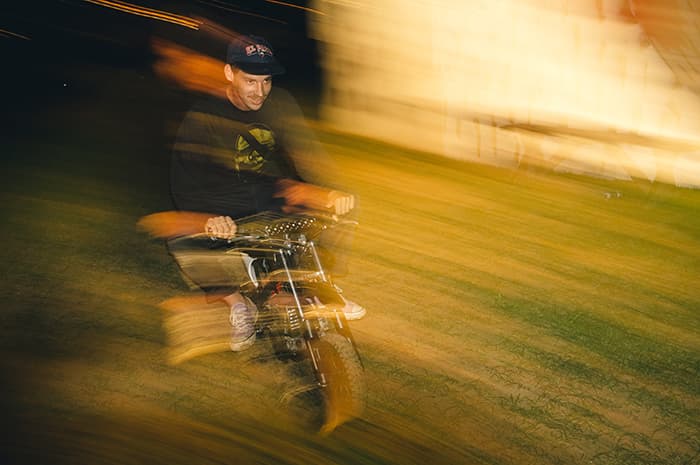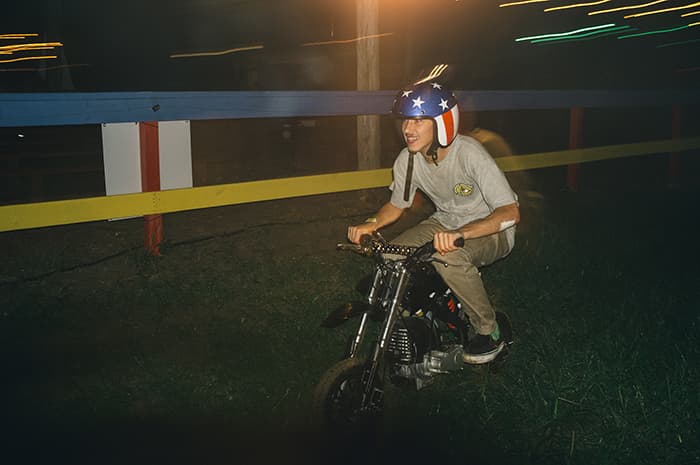 The festival was held in the 'Sherwood Forest' that was basically like the grounds of a Renaissance faire but with a Robin Hood theme. After we got situated at camp and had a couple beers, we all headed into the festival to see what we were in for. We started walking to the festival in the dark and it quickly became apparent that we were about a 10 minute walk through the Sherwood Forest from the campground to the festival and there weren't too many landmarks around that we could see. No one really paid attention to how we would get back to camp but we figured we would cross that bridge when we got to it later. The festival grounds were massive comprising of four stages with bars and renaissance faire type games scattered in between. After another quick drink at the booth, the skate team gravitated towards the ramp to give it a look. In the same area of the ramp, Zumiez had these little mini motorbikes that they were letting people ride and immediately Daan and Ben were down. Alec on the other hand wanted to test out the ramp and proceeded to destroy it blasting frontside airs and even a benihana fakie for the boys!
After the little sesh on the ramp and mini motorbikes we made our way to the main stage too see Run the Jewels. Like always at festivals we all eventually got split up and meandered throughout the grounds. Run the Jewels killed it and had the crowd hyped throughout the whole set. Shout out to Killer Mike and El-P for rocking the custom Volcom gear they got fitted for at HQ! They even played a new track off of Run the Jewels 3!
Back at the Volcom booth everyone just wanted to hang out and take it all in. Daan and Pfanner were running on no sleep after partying at our place in Austin the night before and were too tired to make the trek back to camp. Both ended up passing out in camping chairs at the booth which made them susceptible to all sorts of Collin's antics including lighting cigarettes up your nose and moving you into the wooden stone spotlight while you sleep. Thanks for being such of good sport Daan!
While the first night of the festival wound down we all made pilgrimage back to the campsite for some much needed beers and rest. We all headed back in smaller groups, I was with Ben, Jackson and a half asleep Daan. We had no idea where we were going or any clue to anything around our campsite to recognize it. After a full day of travelling and partying we were starting to lose it as every campsite looked like ours in the dark wilderness. To cheer us up (or just another sign we were actually losing it) Ben started singing the Robin Hood and Little John 'Walking Through the Forest' song from the classic Disney film. After about an hour of "Robin Hood and Little John walking through the forest oda la de oda la de golly what a day…" we finally made it back. Poor Daan immediately passed back out in his tent while others slowly filtered in around our lantern / campfire substitute.
In the middle of the night it started pouring rain as expected and continued into the next morning until about 10am when everyone started to wake up. Of course most of the tents held up but Daan ended up getting soaked trying to put his rain fly up in the middle of the night, we told you so bud! The rain died down and sun came out just enough to dry the ramp before we got into the festival. When we got there, it was on! Daan was ready to rip and so was Alec and Ben. Even Pfanner, who was still a little out of it from the days prior, got in on the action. Alec surprised everyone with his transition skills and Daan was throwing tricks out left and right. Towards the end Pfanner orchestrated an air over Daan that they landed in four tries. Ben threw out a frontside invert first try with a bruised hip. Even the locals got down on the sesh. After the sesh we grabbed a couple beers at the "Bow and Arrow Bar" (closest VIP bar) that quickly escalated to party mode and we ventured off to see Big Boi and Beach House at the main stage.
After the sets we eventually made it back to camp but on the way back we saw all of these people having an impromptu dance party at the ramp. Friends of the stone Fat Tony and DJ Ill Faded were playing all the classic jams on the PA and before you know it we had a full blown dance party on the ramp. Back at camp others we telling stories of how they also got lost on the way back. It was also decided that we couldn't camp without a fire so Pfanner made a little one where our lantern was the night before and kept it lit throughout the night. With the fire setting the mood, the stories from various Volcom trip started to be retold. Pfanner talking about walking into an old Nazi compound house on a Harley bike trip through Europe only to be welcomed with open arms and the most popular guy of the night. Or the time we went to Seattle and Milton Martinez landed three never been done tricks on three different obstacles at the infamous Jimi Hendrix High School all within 2 hours. The stories were endless, each with there own sound bite that seemed to echo in conversation throughout the night.
The next morning we woke up to white powder around our campfire. From Daan's account, he woke up at 5 AM right as Pfanner was going to bed and Pfanner kept the fire lit for him. After Pfanner went to bed Daan decided to wander off to grab a coffee and when he gets back one of the staff members from the festival grounds showed up and extinguishes the fire. Daan claimed no responsibility, he just found it like that, but 'Campfire Mike' (that's what we would call the festival grounds staffer) gave us a very stern warning. With %100 chance of rain looming over the afternoon we decided to pack up all of our camping gear and head into the festival before the rain. We got to the ramp and Daan instantly wanted to skate so he started doing some runs. He got a quick eggplant and Ben was trying to give him pointers on frontside inverts. Unfortunately it started to sprinkle and we knew heavy rain was on it's way. The 'Bow and Arrow bar" was where we met and hung out as the rain started to pour. After a couple drinks and about a half an hour we were told that the festival was being evacuated because of a heavy storm that was rolling through.
We gathered everyone up and got in the van and headed to the nearest town, Bastrop, where we all got much needed showers and naps while the storm blew over. The festival grounds were pretty flooded when we left, and after everyone got showers, the motivation to go back to the festival was diminished and we decided to head to our good friend Renate's restaurant, Justine's, to get a beyond proper meal. Between beers and wine Ben and Jackson decided that Alec was the MVP of the trip for not only ripping the ramp but for really embracing the spirit of the festival. After the best nights sleep we got all week we hit the airport where everyone flew out to their respective homes and the trip unfortunately came to an end. Overall everyone who went enjoyed the festival in their own respects and made stories to be told on future trips.