Skate Team Takes Over New York City
#TrulyLiveNYC
Skate Team Takes Over NYC
Skateboarding in New York City is Truly distinct, an experience like no other
We took Alec Majerus, Louie Lopez, Milton Martinez, Jackson Pilz, Simon Bannerot, Collin Provost and Jhanca Gonzalez to New York City to see what they could put down on some crusty east coast spots. We opted not to rent a van or any sort of automobile but rather push our way around the city and utilize the NYC public transit system to get truly immersed in the city.
Milton Martinez Lipslide the entire barrier! As seen in August '19 issue of Thrasher Magazine
Jhanca Gonzalez frontside wallride
Jackson Pilz wallride yank out
Go Skateboarding Day in the city
Our time in NYC also coincided with Go Skateboarding Day so we decided to attend the events Adidas was putting on at the LES skatepark and on the rooftop of a school nearby. Jhanca and Simon walked away with a couple extra bucks in their pockets after putting down a few in the cash for tricks portion. After the contest the plywood run up to the infamous "piss hubba" was still there so Alec Majerus decided to hit it. After a battling the uneven landing for a minute he made a backside noseblunt right before the Parks Dept. came and took out the plywood.
Alec Majerus BS Noseblunt slide at the piss hubba
Simon's Wallride shuv was a crowd pleaser at Adidas' Go Skateboarding Day event
Simon Bannerot is a true skate rat, he doesn't care who's watching, he skates for himself. He cruised around the LES Skatepark all day and when it was time to move to the Adidas rooftop skate event he was leading the charge, pushing and skitching on the back of cars all the way there. Simon really liked the wallride obstacle they had on the roof and he just wanted to hit the top bricks. He wasn't event aware there was a contest even going on until it was announced on the mic that he'd got $100 for this shuv-it he was trying in the middle of the wallride. After he pulled it, the crowd went wild and shut it down for that obstacle. Simon definitely gained some fans that day!
Milton Martinez is an absolute animal!
Milton is one of those skaters that you get scared watching sometimes. If you're unfamiliar with his skating, he likes to go big, but most of all, likes to go FAST! When he wasn't trying to skitch every car that he possibly could, he would be looking for a hill to bomb or the gnarliest spot to barge. At a park in Brooklyn there's long bank with two skate stoppers that are supposed to stop you from going down them, but that didn't stop Milton! After a quick test run, he rolled in, hopping the bars on the way down, then he kickflipped into it in 5 tries, making the little ollies over the bar and flying into the park. At the infamous Con Edison banks he was skitching a car going down a hill and pushing when he let go and absolutely blasted off of the side of the bank and over the bench. It was one of the rare times he's claimed something he did was "sketchy". He also did a manual down the biggest hill on the east side of Manhattan, the look on his face was priceless.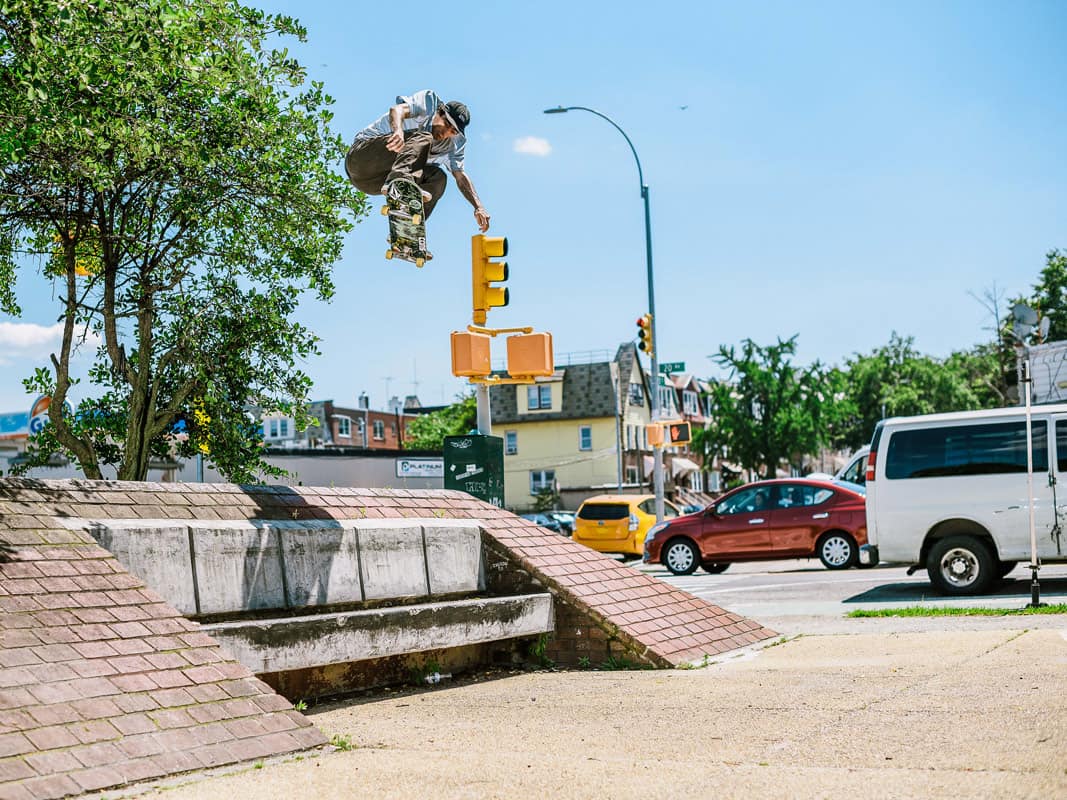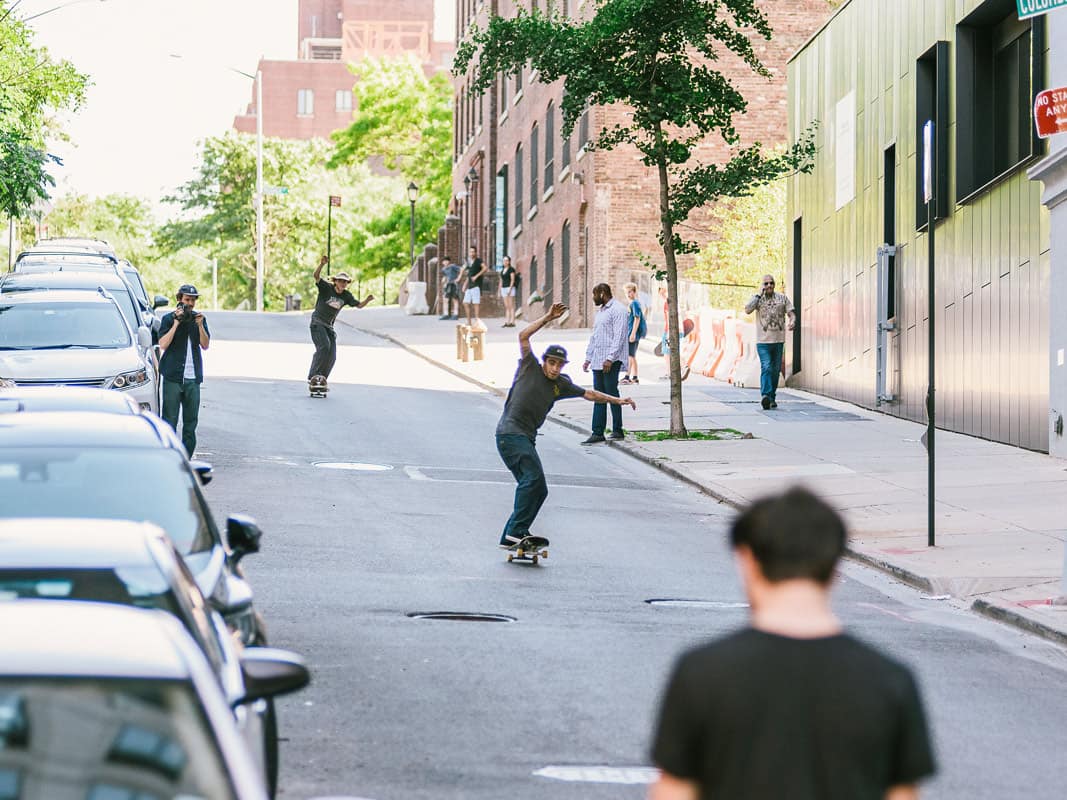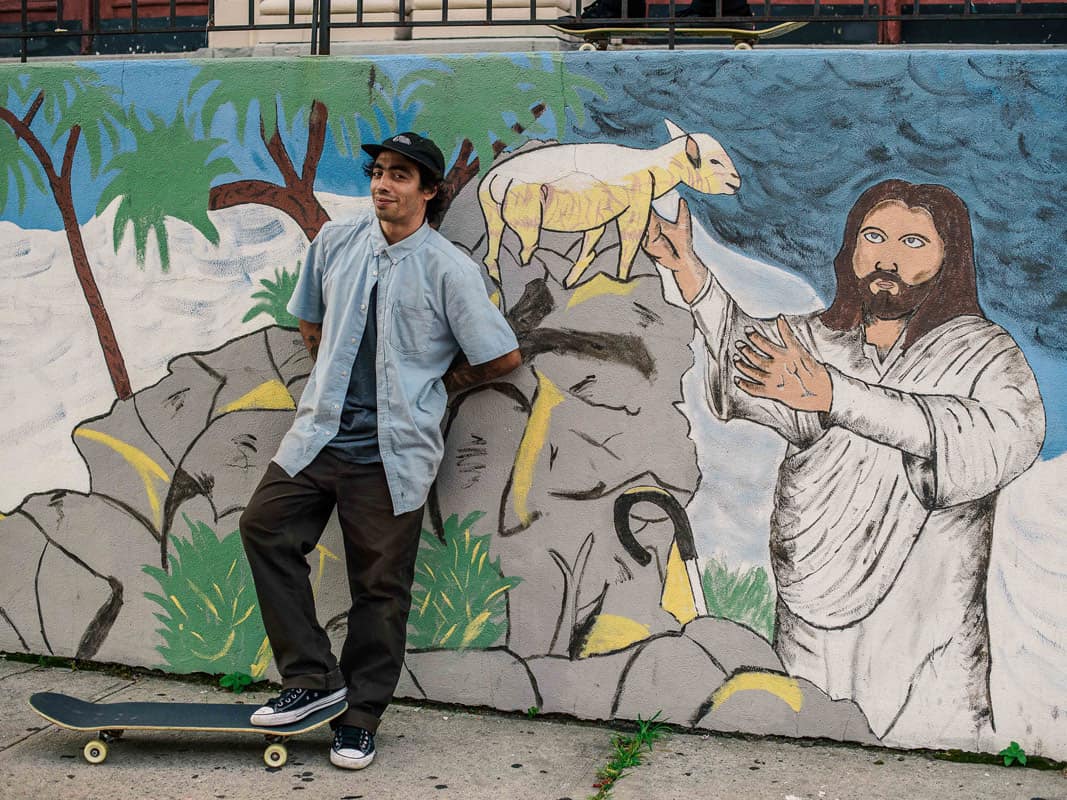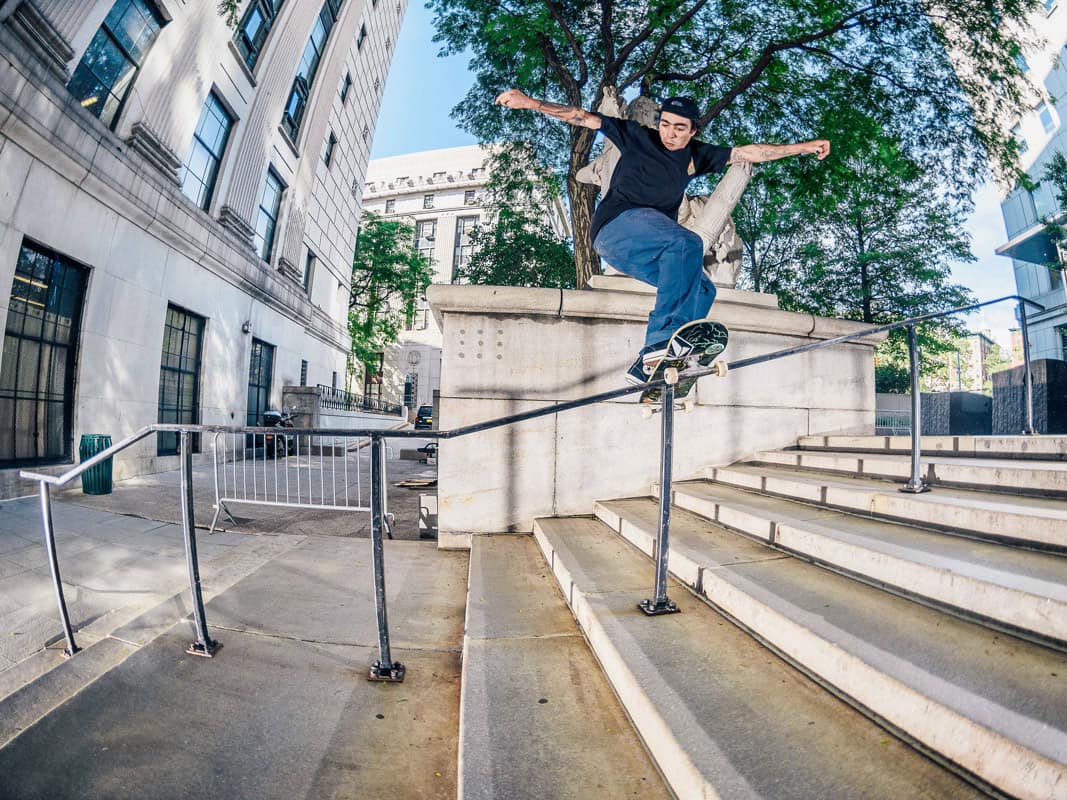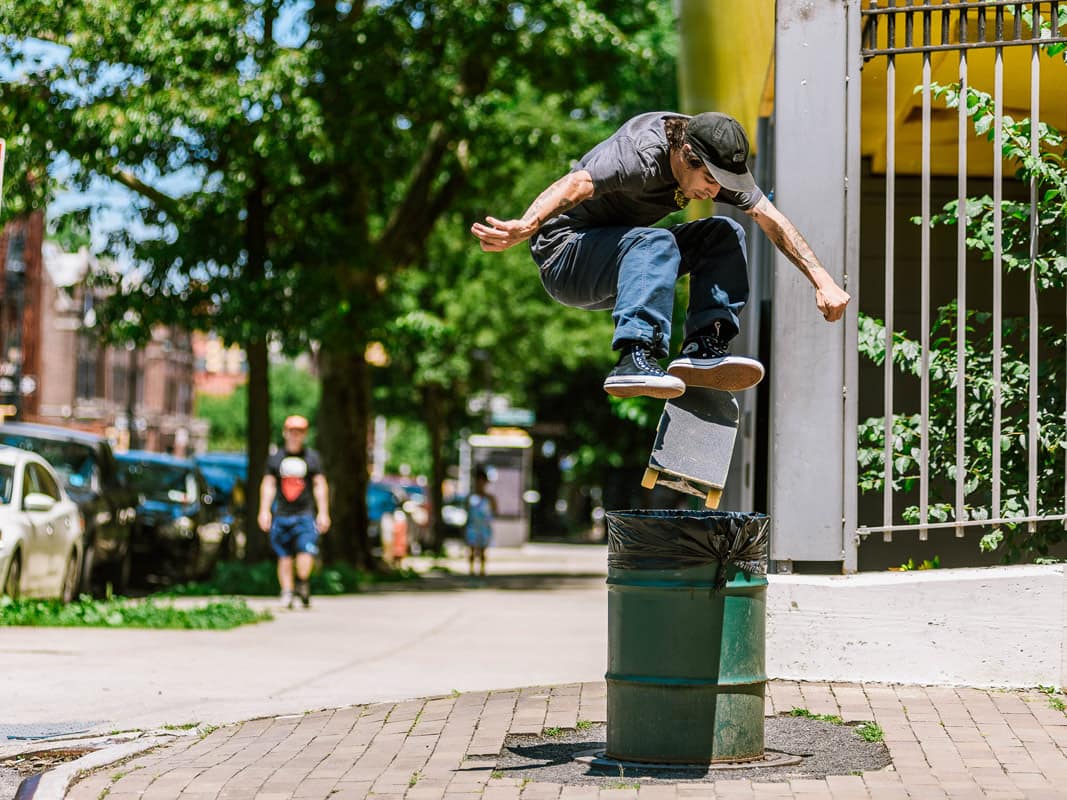 The Jerome Ave. Banks
Located deep in the Bronx, the Jerome Avenue Banks are a set of 4 staircases with banks on both sides of each staircase's railings. Situated in between a couple large apartment buildings, the spot itself is intimidating with it's uneven concrete and is typically littered with debris (broken glass, feces, trash, etc.) Many people use the stairs and the entire neighborhood gets curious to see what's going down, especially the kids. Some things have been done there, but as far as doing tricks in a line, not so much. Milton set it off trying a kickflip over the first rail into the bank, ollie over the second and frontside flipping the third set. As the day got later more the crowd of onlookers grew, kids were getting out of school and people were getting home from work, making the session that much more hectic.
After a while Milton pretty much made the line and Simon wanted to step up to the spot. The last stair set is massive and the bank on the side of it is gnarly cobblestone, it was ollied into recently but no one has ever done it in a line. Simon wanted to go for all 4 over the rail into the banks and Milton wanted him to do it as well. By the third bank Simon would have so much speed that he would almost be landing too flat so he had to power slide to slow himself down. On a couple tries he was doing an ollie over the rail out of a power slide, which is insane! By this time a good sized crowd from the neighborhood was watching. When Simon did finally make it the entire neighborhood erupted with cheers and ran down the stairs to congratulate him. It was truly a magical moment.
Milton Martinez FS Flip to end the line
Simon taking down the last cobblestone bank after going over the first three
What's up Washington Heights!
On one of the nicer days of our NYC visit we took a trip up to Washington Heights to meet Gene who runs the only skate shop uptown, Terminal Skateshop. Unlike the rest of Manhattan, Washington Heights has a lot more hills and with elevators in the subways that will take you to the top, it made for a fun day of bombing hills to get around from spot to spot. Through the skate shop, word got around the scene that we were coming uptown and a couple dozen kids cruised with us on the sessions.
The first spot was the Tyshawn bump to bar, Jackson and Simon really wanted to skate it after looking at photos of it. In real life it's a lot bigger, respect Tyshawn! Our favorite bus driver Jarrod 'Road Rage' Pimental was with us that day as he lives a few hours from the city. Stoked on Jarrod's presence and to give perspective on how huge the spot is, Simon only wanted to try a frontside 180 melon if Jarrod was standing under him. After a couple tries it worked out.
How'd that selfie angle look Road Rage?!
"I got $100 on it if you boardslide it!"
Simon boardslides an untouched rail uptown
This was Jhanca's first kinked rail, that's a gnarly one!
Outside of one of the subway stations there was a 8-flat-7 double set out of the park. The locals that were showing us around claimed that no one has ever done it. The kink in the middle was pretty gnarly and since it had never been grinded, it didn't slide too well. Simon was eyeing up a boardslide to christen it and our master lensman Lannie Rhoades shouted "I got $100 on it if you boardslide it!". Simon was down, and as the crowd gathered at the top of the rail in the park, Jhanca decided he was going to 50-50 it too. As the crowd grew there were all sorts of people watching, kids with squirt guns at the top were shooting Simon and Jhanca. After about a half an hour of trying, both of them were rolling away to cheers of passerby's. A group of old ladies even took their time to tell Jhanca how scared they were to watch, but on how impressed they were with his talent. They even wanted to watch the footage after too!
Keep cruisin'
Related content