Finals Day Highlights From The 2018 Volcom Pipe Pro
JOSHUA MONIZ DEFEATS JAMIE O'BRIEN, WESLLEY DANTAS AND CAM RICHARDS TO WIN THE 2018 VOLCOM PIPE PRO!
Finals Day at the 2018 Volcom Pipe Pro welcomed everyone with pumping 8-12 foot Pipeline and Backdoor with light offshore winds. The swell backed off a bit from the day before, which was a good thing, and competitors were eager to hit the lineup as countless epic Pipeline barrels graced the lineup all morning.
We started off Finals Day with Round 5 and saw multiple 7 and 8-point rides drop without hesitation. Cam Richards nabbed an amazing 8.10 barrel at Pipe where he stood up comfortably and got blown out with the spit. In the same heat, Joan Duru was behind in the count until the last few seconds when a solid wave came in and scored a 7.70 to advance into the Quarterfinals along with Cam.
Noa Deane and Joshua Moniz each solidified their spot in the Quarterfinals with high 7-point rides, and Alvaro Malpartida had two excellent 7-point rides to advance along with fellow Peruvian Joaquin Del Castillo. As the round continued, Marco Giorgi bagged an impressive 9.50 and 8.50 to hold the highest heat score for Round 5, while Carlos Munoz received a perfect 10-point ride for a freight-train right at Backdoor.
The Quarterfinals were set and the field was stacked with some of Pipeline's finest barrel riders. Cam Richards continued to amaze everyone with his exceptional barrel riding, dropping an 8.87 on a heavy Pipeline bomb, while Noa Deane secured his advancement in the Semifinals with a 8.17. Heat 2 of the Quarterfinals featured Jack Robinson who was destined to make the finals, but came up short after breaking two of his boards in the heat. That left Joan Duru and Joshua Moniz into advancing positions after each grabbing two solid scores in the 8 and 6-point ranges, respectively. Finishing out the Quarters saw Weslley Dantas, Alvaro Malpartida, Jamie O'Brien, and Mitch Parkinson into advancing positions as the waves continued to fire on all cylinders. While Weslley and Alvaro each had one good score under their belts, Jamie O'Brien was able to find a 7.50 and 8.50 to complete his Quarterfinal heat with a comfortable 16-point total.
The Semifinals saw a fury of waves as Pipeline continued to deliver. Picked up right where he left off, Cam Richards dropped a 9.0 on a deep Pipeline left, and also grabbed a 8.80 to solidify his spot in the finals. Joshua Moniz was also able to find two lefts at Pipe to slingshot himself into the final four. Semifinal two included Pipeline specialist Jamie O'Brien who, to no surprise, found a gem of a wave with a 9.17 at Pipeline, and followed it up with a last minute 4.50 to secure his advancement. While Mitch Parkinson nearly matched Jamie's excellent score, he was unable to find a backup which left the door open for Weslley Dantas who had a 6.0 and 7.27, marking his name in the prestigious final.
With an amazing week of great Pipeline and Backdoor, we were set for the finals of the 2018 Volcom Pipe Pro, and what a final it was. Joshua Moniz, Jamie O'Brien, Weslley Dantas and Cam Richards hit the lineup to non-stop firing Pipeline. Jamie got a quick start with a 7.43, but it wasn't until a few waves later when he dropped a perfect 10-point ride on a gem of a Pipeline wave. With a solid two-wave total already, it seemed like he had the final in his bag. Waslley Dantas and Cam Richards snagged a couple mid-range scores, but it was Joshua Moniz who opened up with an 8.83 and ended up finding a 8.73 towards the end of the final to secure the win. Congratulations to all finalists and competitors throughout the event for their hard-charging efforts and spectacular showing for the 2018 Volcom Pipe Pro!
Winner of the 2018 Volcom Pipe Pro – Joshua Moniz!
FINALS:
(1) Joshua Moniz – 2018 Volcom Pipe Pro Champion
(2) Jamie O'Brien
(3) Weslley Dantas
(4) Cam Richards
SEMIFINALS:
H1: (1) Cam Richards, (2) Joshua Moniz, (3) Noa Deane, (4) Joan Duru
H2: (1) Jamie O'Brien, (2) Weslley Dantas, (3) Mitch Parkinson, (4) Alvaro Malpartida
QUARTERFINALS:
H1: (1) Cam Richards, (2) Noa Deane, (3) Evan Valiere, (4) Koa Smith
H2: (1) Joan Duru, (2) Joshua Moniz, (3) Aritz Aranburu, (4) Jack Robinson
H3: (1) Weslley Dantas, (2) Alvaro Malpartida, (3) Finn McGill, (4) Carlos Munoz
H4: (1) Jamie O'Brien, (2) Mitch Parkinson, (3) Marco Giorgi, (4) Joaquin Del Castill
ROUND 5:
H1: (1) Koa Smith, (2) Aritz Aranburu, (3) Billy Kemper, (4) Noa Mizuno
H2: (1) Cam Richards, (2) Joan Duru, (3) Ian Gouveia, (4) Ian Crane
H3: (1) Jack Robinson, (2) Evan Vaiere, (3) Mason Ho, (4) Robson Santos
H4: (1) Joshua Moniz, (2) Noa Deane, (3) Soli Bailey, (4) Masatoshi Ohno
H5: (1) Alvaro Malpartida, (2) Joaquin Del Castillo, (3) Tanner Hendrickson, (4) Mikey Wright
H6: (1) Finn McGill, (2) Mitch Parkinson, (3) Ian Walsh, (4) Cristobal De Col
H7: (1) Marco Giorgi, (2) Carlos Munoz, (3) Ezekiel Lau, (4) Takayuki Wakita
H8: (1) Jamie O'Brien, (2) Weslley Dantas, (3) Miguel Tudela, (4) Lahiki Minamishin
ROUND 4:
H1: (1) Koa Smith, (2) Joan Duru, (3) Kyle Ramey, (4) Josh Burke
H2: (1) Billy Kemper, (2) Ian Crane, (3) Kiron Jabour, (4) John Mel
H3: (1) Cam Richards, (2) Aritz Aranburu, (3) Manuel Selman, (4) Cody Young
H4: (1) Ian Gouveia, (2) Noa Mizuno, (3) Dwight Pastrana, (4) Raoni Monteiro
H5: (1) Evan Valiere, (2) Masatoshi Ohno, (3) Tomas Tudela, (4) Elijah Gates
H6: (1) Jack Robinson, (2) Joshua Moniz, (3) Hank Gaskell, (4) Imaikalani Devault
H7: (1) Soli Bailey, (2) Mason Ho, (3) Barron Mamiya, (4) Jacome Correia
H8: (1) Noa Deane, (2) Robson Santos, (3) John John Florence (4) Nomme Mignot
H9: (1) Joaquin Del Castillo, (2) Ian Walsh, (3) Sebastian Zietz, (4) Balaram Stack
H10: (1) Alvaro Malpartida, (2) Mitch Parkinson, (3) Lucas Silveira, (4) Mitch Coleborn
H11: (1) Cristobal De Col, (2) Tanner Hendrickson, (3) Leonardo Fioravanti, (4) Brent Dorrington
H12: (1) Finn McGill, (2) Mikey Wright, (3) Koa Rothman, (4) Hizunome Bettero
H13: (1) Ezekiel Lau, (2) Lahiki Minamishin, (3) Riley Laing, (4) Seth Moniz
H14: (1) Carlos Munoz, (2) Jamie O'Brien, (3) Benji Brand, (4) Jeronimo Vargas
H15: (1) Miguel Tudela, (2) Marco Giorgi, (3) Kalani David, (4) Jordy Collins
H16: (1) Weslley Dantas, (2) Takayuki Wakita, (3) Nic von Rupp, (4) Parker Coffin
ROUND 3:
H1: (1) Josh Burke, (2) John Mel, (3) Kaito Kino, (4) Matthew Macgillivray
H2: (1) Billy Kemper, (2) Kyle Ramey, (3) Liam O'Brien, (4) Love Hodel
H3: (1) Cody Young, (2) Noa Mizuno, (3) Makuakai Rothman, (4) Skip McCulough
H4: (1) Dwight Pastrana, (2) Manuel Selman, (3) Ryland Rubens, (4) Facundo Arreyes
H5: (1) Evan Valiere, (2) Hank Gaskell, (3) Diego Mignot, (4) Dylan Goodale
H6: (1) Jack Robinson, (2) Elijah Gates, (3) Alonso Correa, (4) Olamana Eleogram
H7: (1) Mason Ho, (2) Nomme Mignot, (3) Ulualoha Napeahi, (4) Luke Gordon
H8: (1) Robson Santos, (2) Jacome Correia, (3) Makai McNamara, (4) Yage Araujo
H9: (1) Ian Walsh, (2) Alvaro Malpartida, (3) Reef Heazlewood, (4) Sunny Garcia
H10: (1) Mitch Parkinson, (2) Joaquin Del Castillo, (3) Harley Ross, (4) Kaito Ohashi
H11: (1) Brent Dorrington, (2) Finn McGill, (3) Torrey Meister, (4) Reo Inaba
H12: (1) Koa Rothman, (2) Cristobal De Col, (3) Anthony Walsh, (4) Shun Murakami
H13: (1) Riley Laing, (2) Jeronimo Vargas, (3) Gatien Delahaye, (4) Keijiro Nishi
H14: (1) Jamie O'Brien, (2) Lahiki Minamishin, (3) Lucca Mesinas, (4) Ethan Osborne
H15: (1) Kalani David, (2) Nic von Rupp, (3) David do Carmo, (4) Danny Fuller
H16: (1) Weslley Dantas, (2) Jordy Collins, (3) Noah Beschen, (4) O'Neill Massin
VLCQ WINNER: JAMIE O'BRIEN
ROUND 2:
H1: (1) Matthew McGillivray, (2) Kyle Ramey, (3) Shayden Pacarro, (4) Wyatt McHale
H2: (1) Love Hodel, (2) John Mel, (3) Cole Houshmand, (4) Kala Willard
H3: (1) Makuakai Rothman, (2) Ryland Rubens, (3) Miguel Blanco, (4) Sean Woods
H4: (1) Facundo Arreyes, (2) Noa Mizuno, (3) Jhonny Corzo, (4) Christopher Kervin
H5: (1) Evan Valiere, (2) Alonso Correa, (3) Jason Shibata, (4) Colt Ward
H6: (1) Olamana Eleogram, (2) Hank Gaskell, (3) Kai Lenny, (4) Kaimana Jaquias
H7: (1) Ulualoha Napeahi, (2) Jacome Correia, (3) Martin Jeri, (4) Tristan Guilbaud
H8: (1) Yage Araujo, (2) Luke Gordon, (3) Kainehe Hunt, (4) Logan Bediamol
H9: (1) Sunny Garcia, (2) Harley Ross, (3) Luke Shepardson, (4) Kekoa Cazimero
H10: (1) Joaquin Del Castillo, (2) Ian Walsh, (3) Andrew Jacobson, (4) Joh Azuchi
H11: (1) Finn McGill, (2) Anthony Walsh, (3) Charly Quivront, (4) Gabriel Morvil
H12: (1) Koa Rothman, (2) Brent Dorrington, (3) Ezra Sitt, (4) Kade Matson
H13: (1) Keijiro Nishi, (2) Lahiki Minamishin, (3) Jake Kelley, (4) Bruce Irons
H14: (1) Ethan Osborne, (2) Riley Laing, (3) Eliott Napias, (4) Eli Olson
H15: (1) Kalani David, (2) Noah Beschen, (3) Keoni Yan, (4) Cory Arrambide
H16: (1) O'Neill Massin, (2) Danny Fuller, (3) Adrian Garcia, (4) Shaun Burns
ROUND 1:
H1: (1) Kyle Ramey, (2) Kala Willard, (3) Isaac Stant, (4) Ian Gentil
H2: (1) Makuakai Rothman, (2) Noa Mizuno, (3) Sheldon Paishon, (4) Tom Dosland
H3: (1) Jason Shibata, (2) Kai Lenny, (3) Ryder Guest, (4) Edrick Baldwin
H4: (1) Ulualoha Napeahi, (2) Kainehe Hunt, (3) Chris Foster, (4) Cole Alves
H5: (1) Sunny Garcia, (2) Ian Walsh, (3) Michael O'Shaughnessy, (4) Nathan Florence
H6: (1) Anthony Walsh, (2) Ezra Sitt, (3) Kai Mana Henry, (4) Kelson Lau
H7: (1) Lahiki Minamishin, (2) Eliott Napias, (3) Luke Adolfson, (4) Eala Stewart
H8: (1) Kalani David, (2) Danny Fuller, (3) Mikey Bruneau, (4) Dante Silva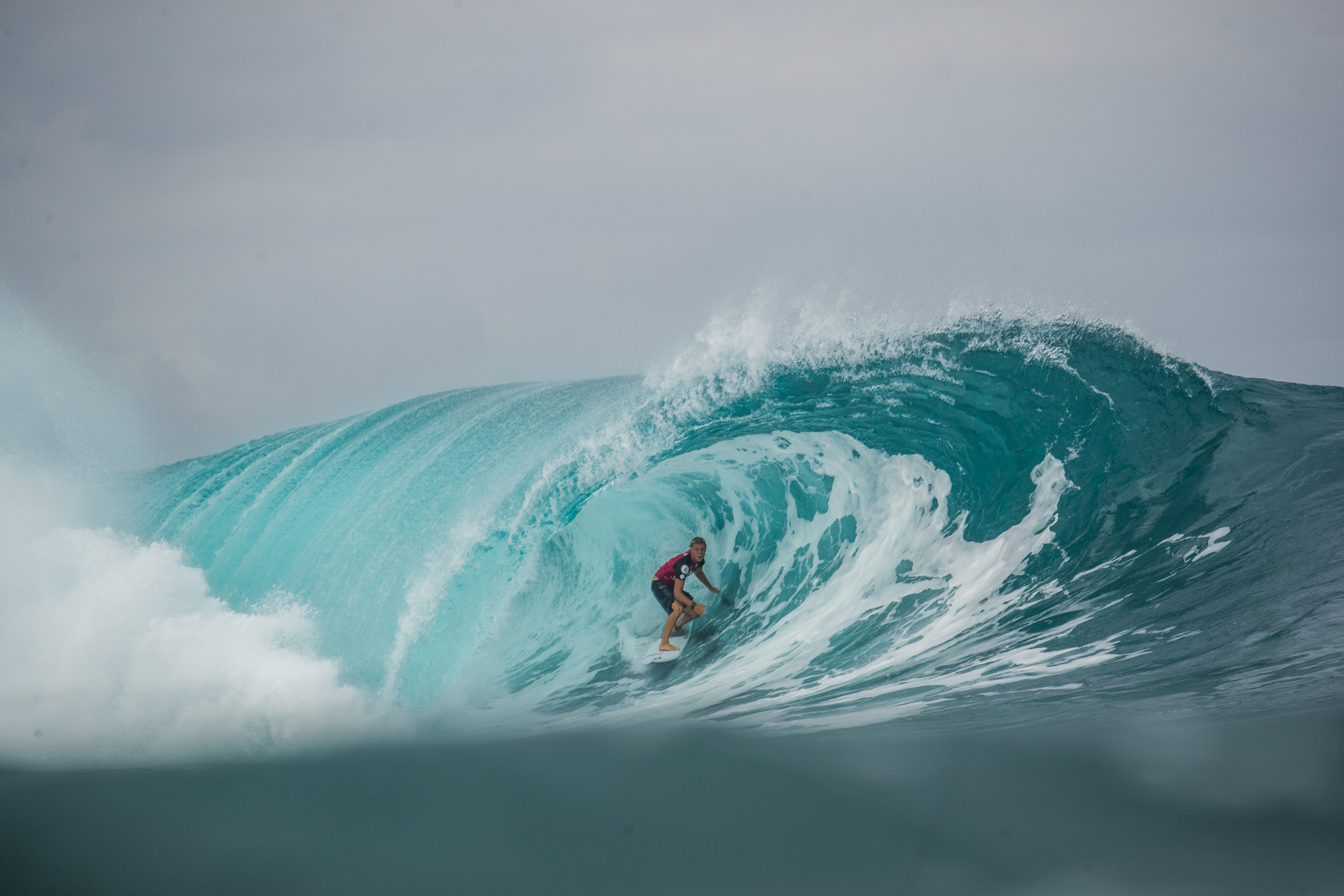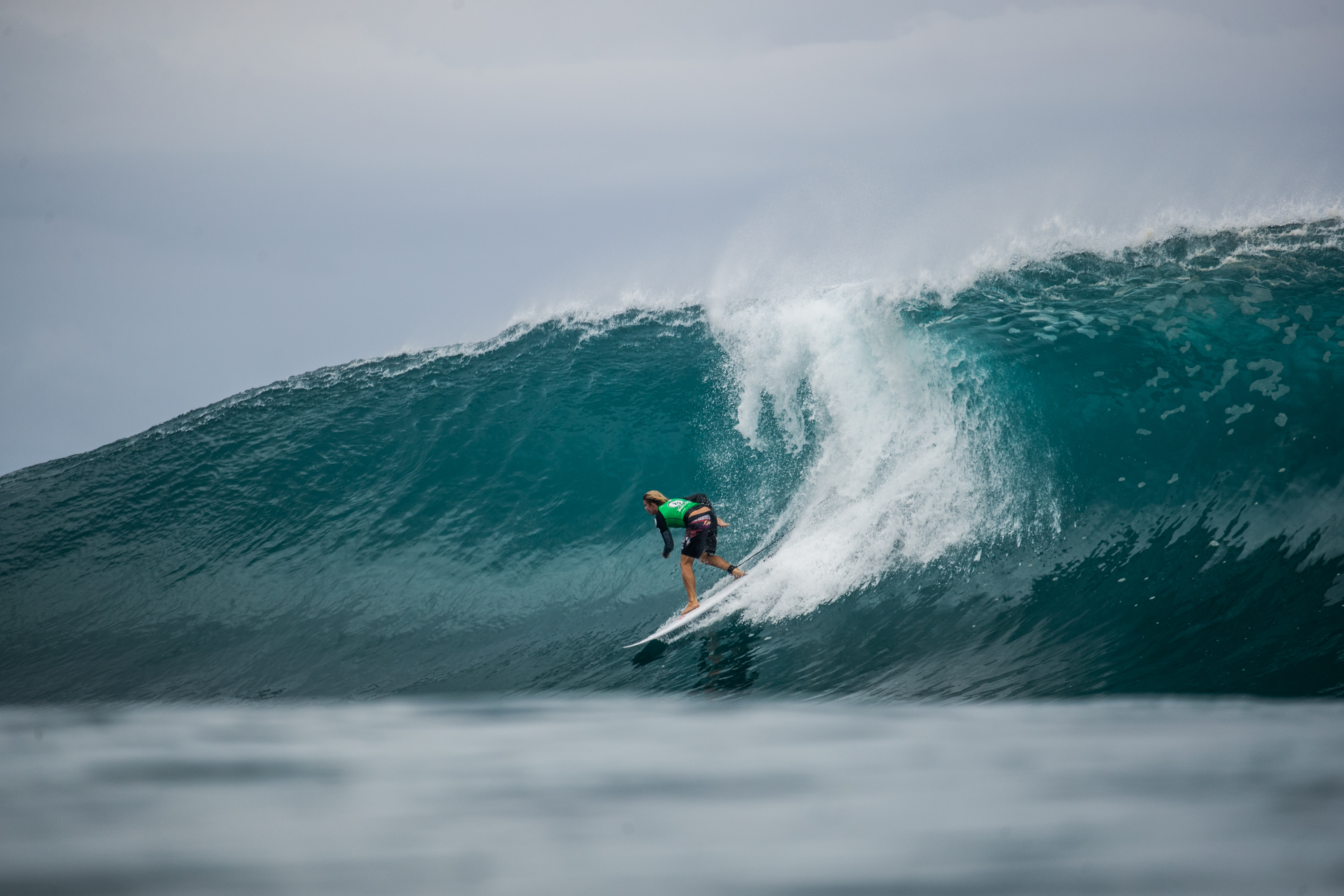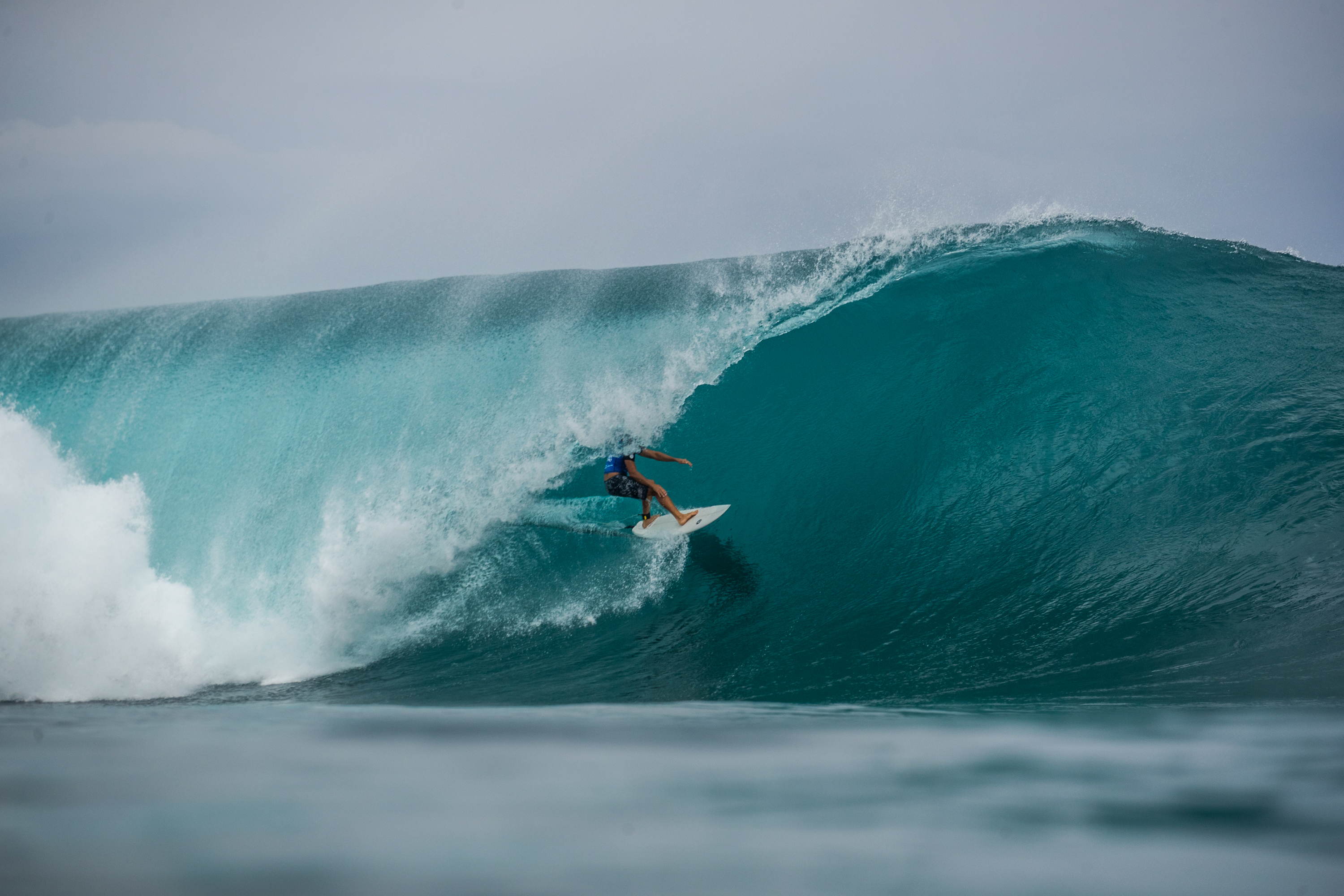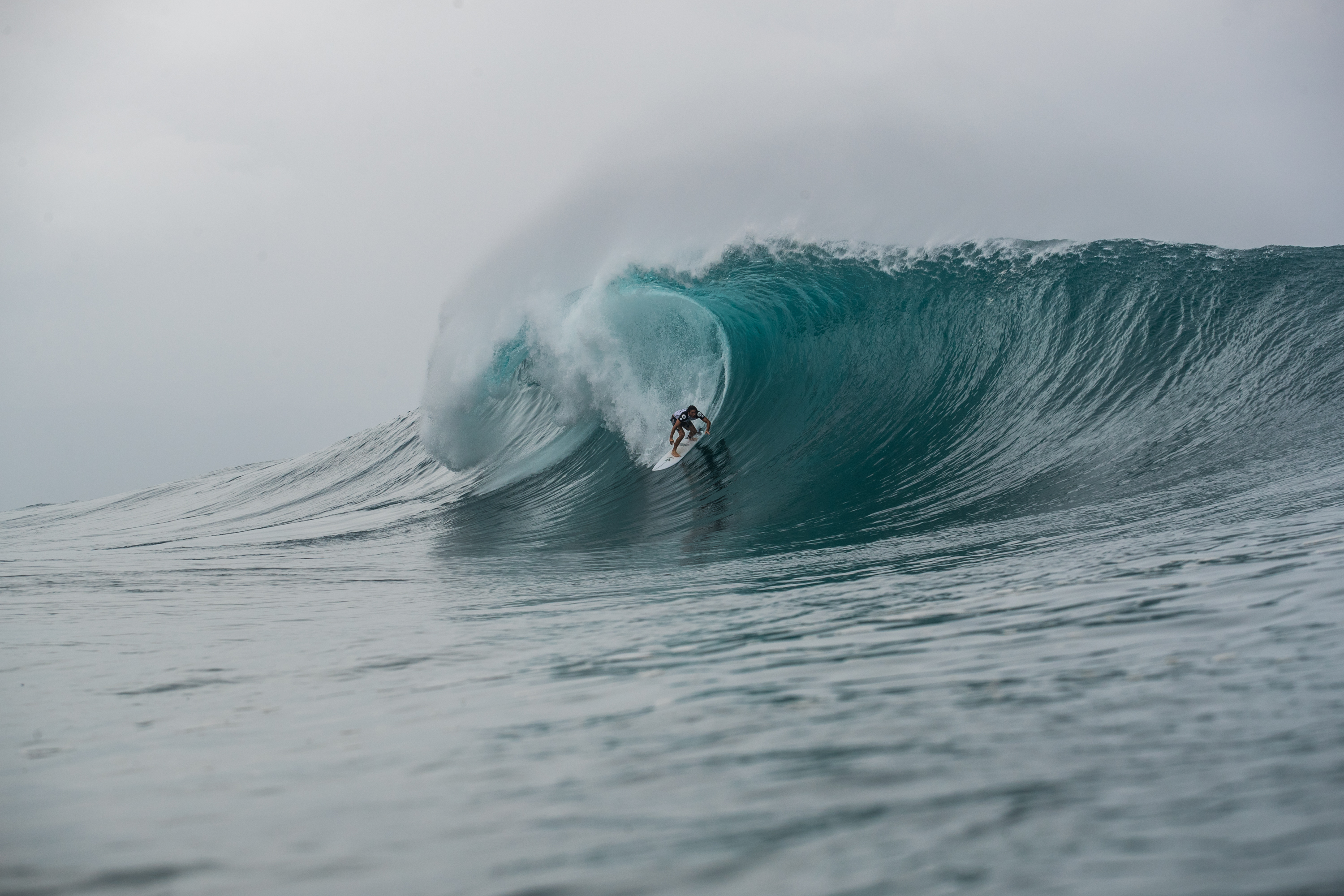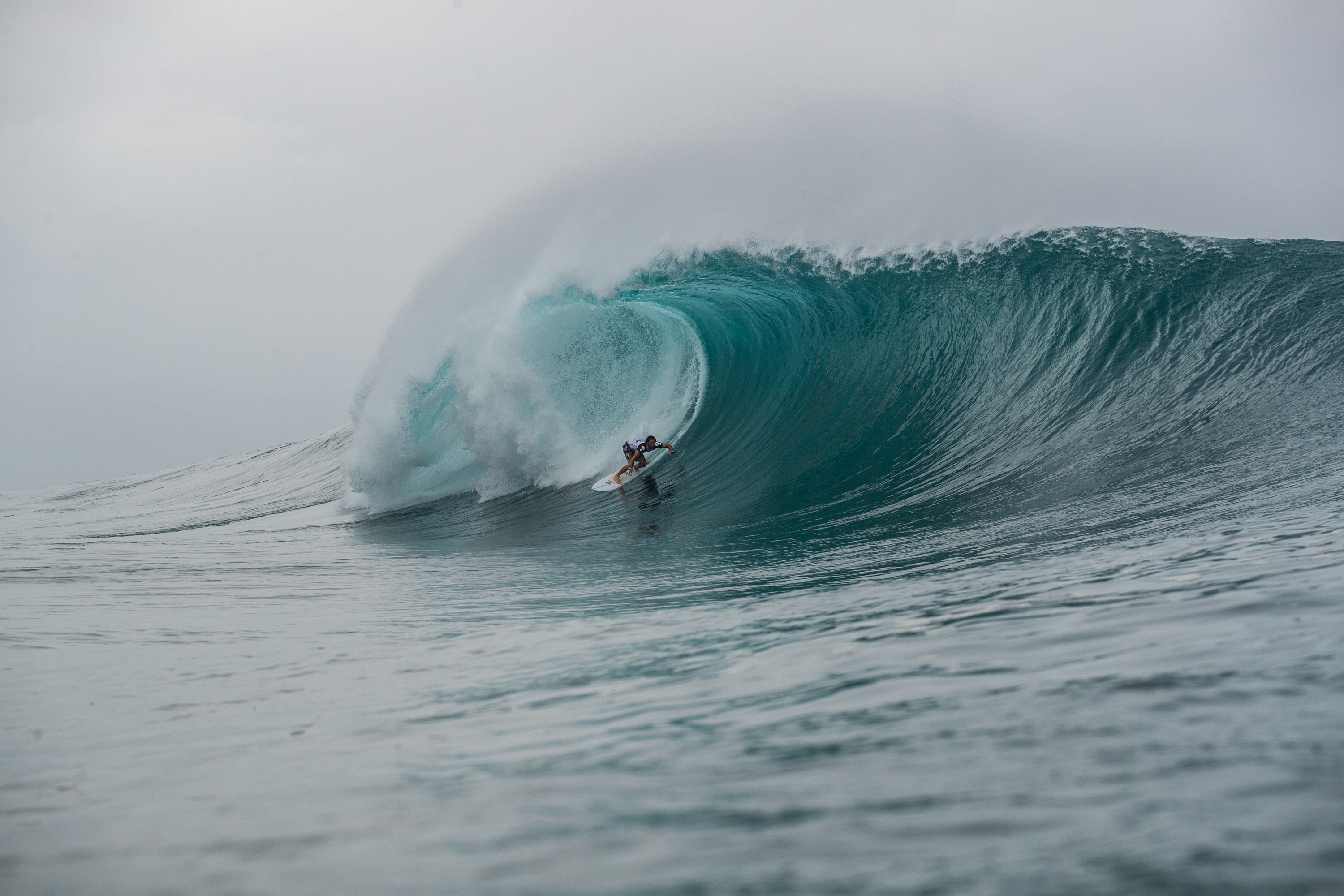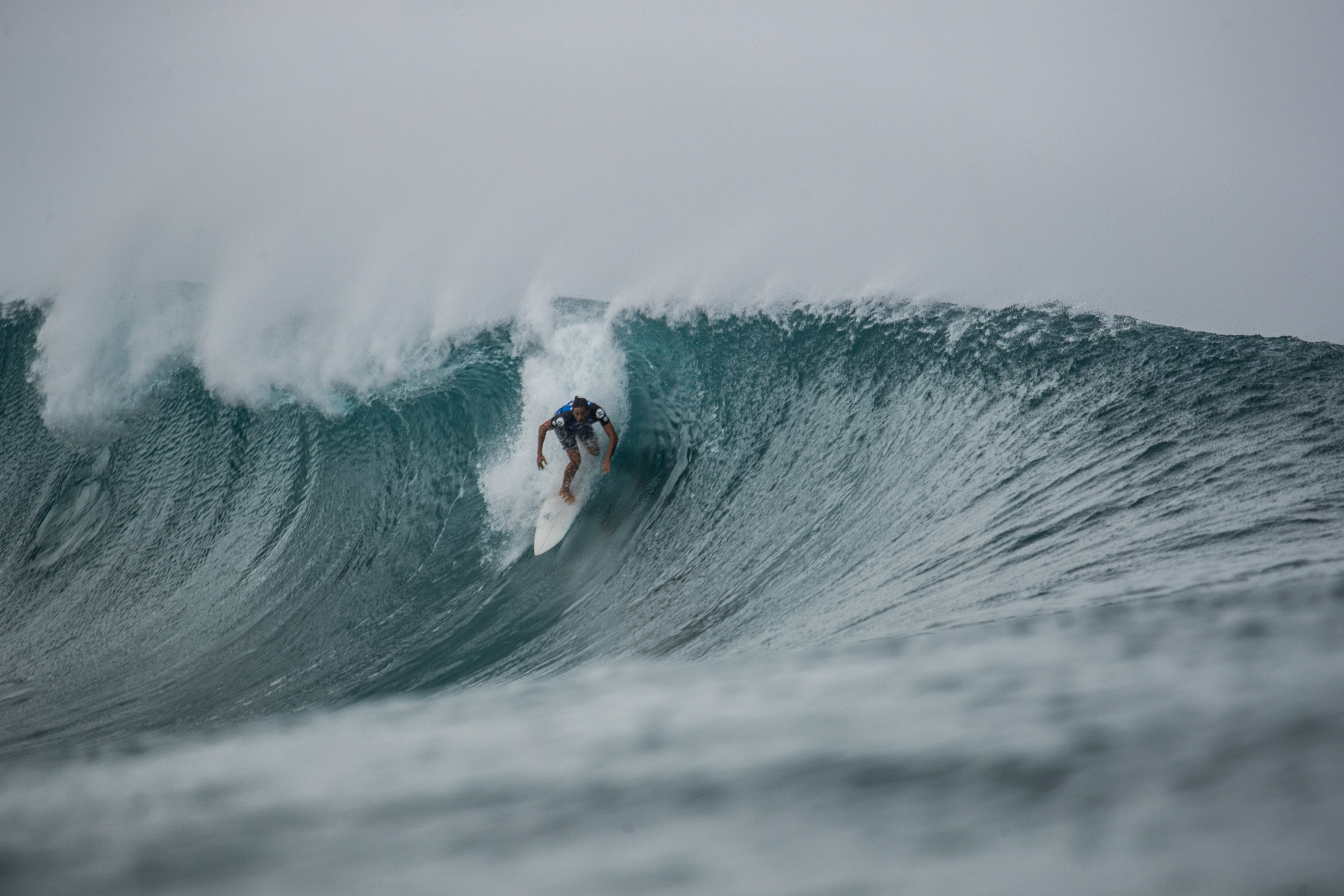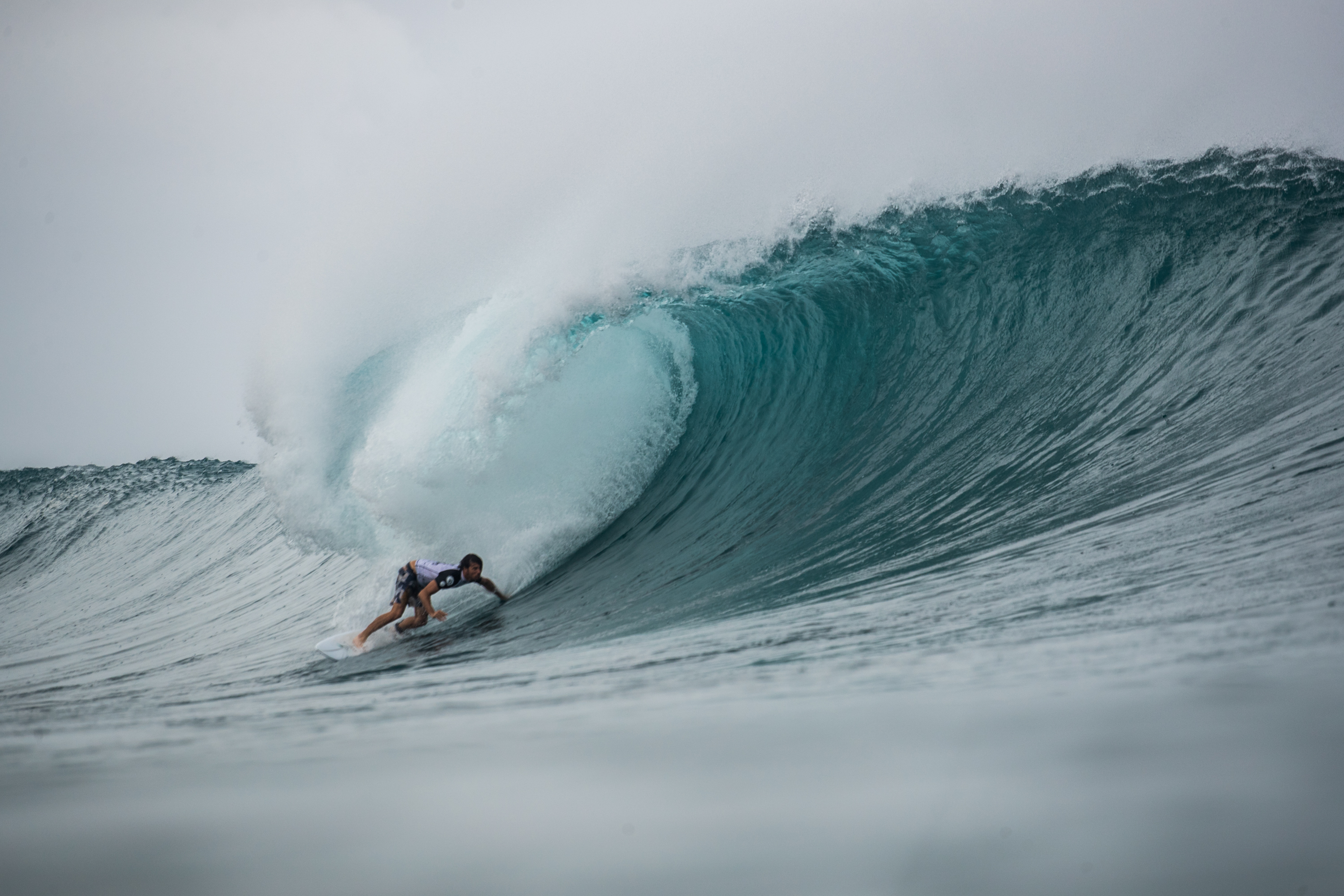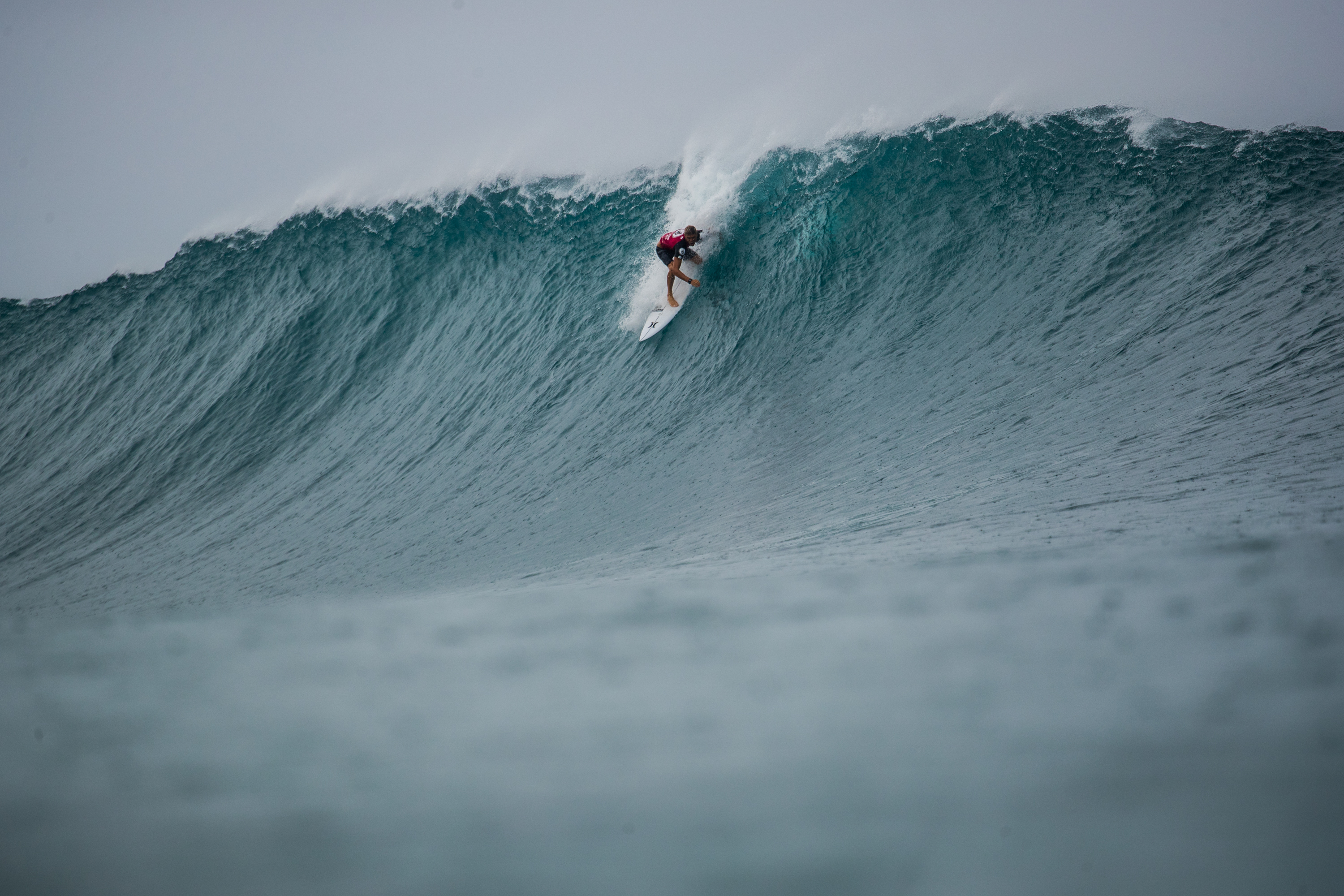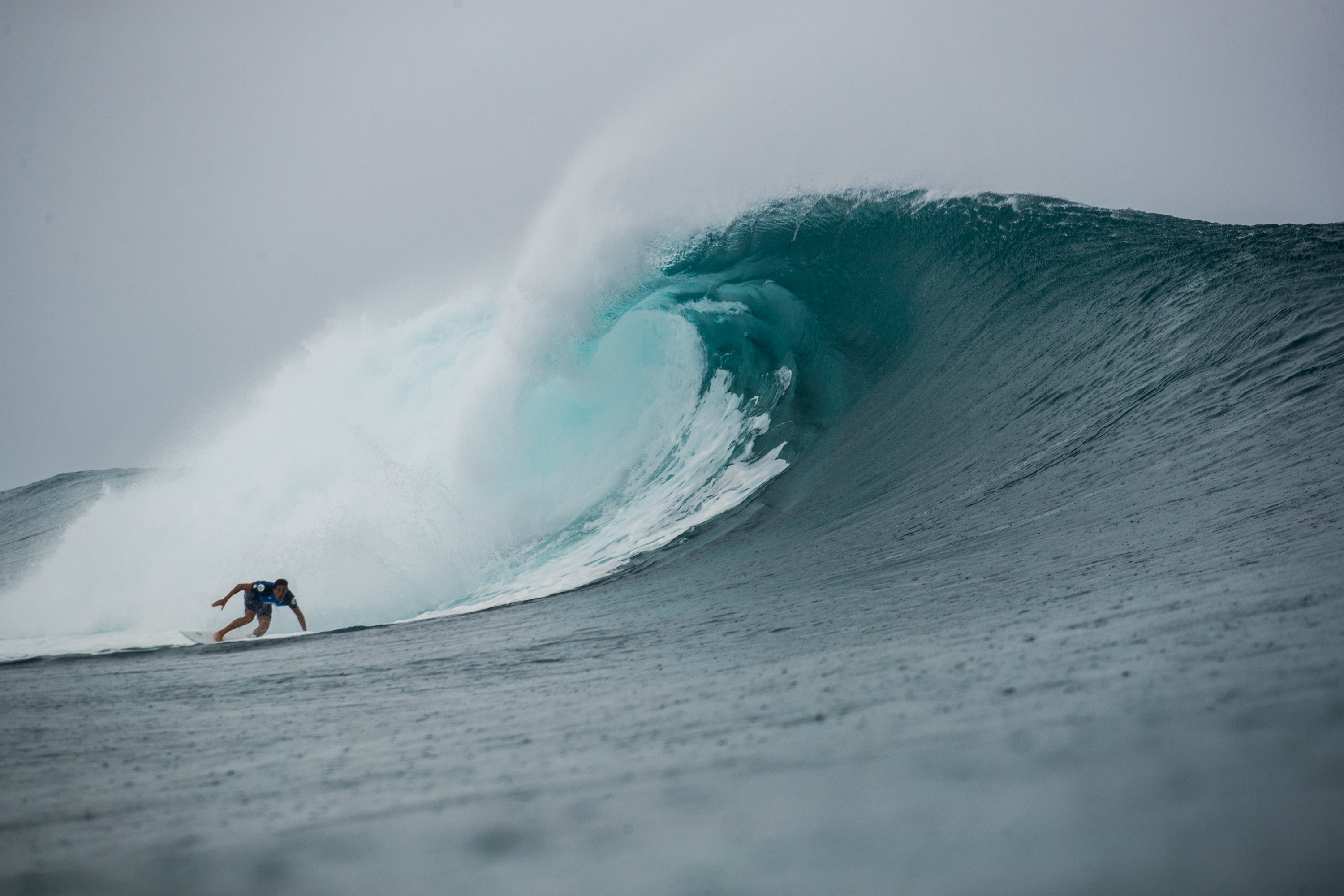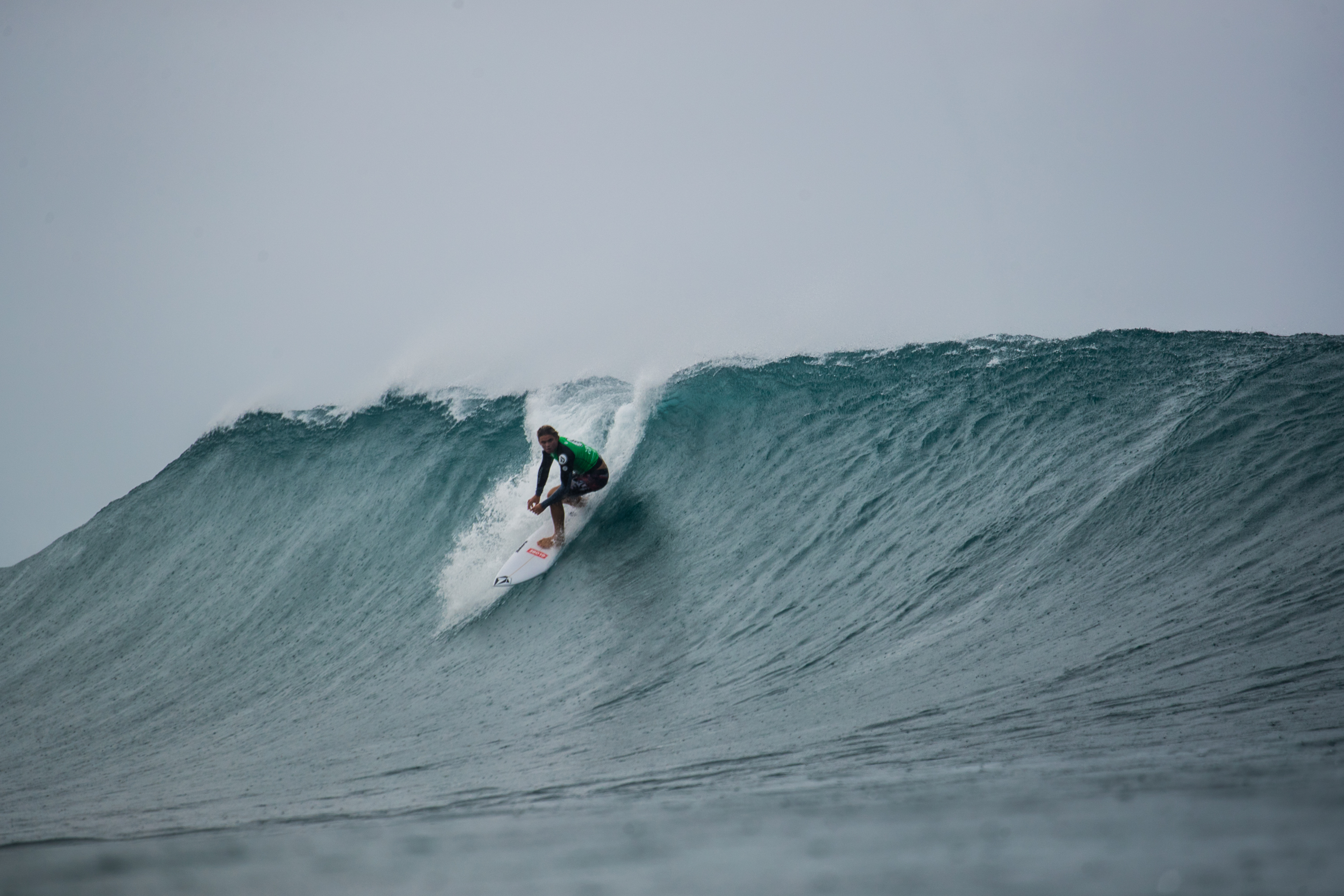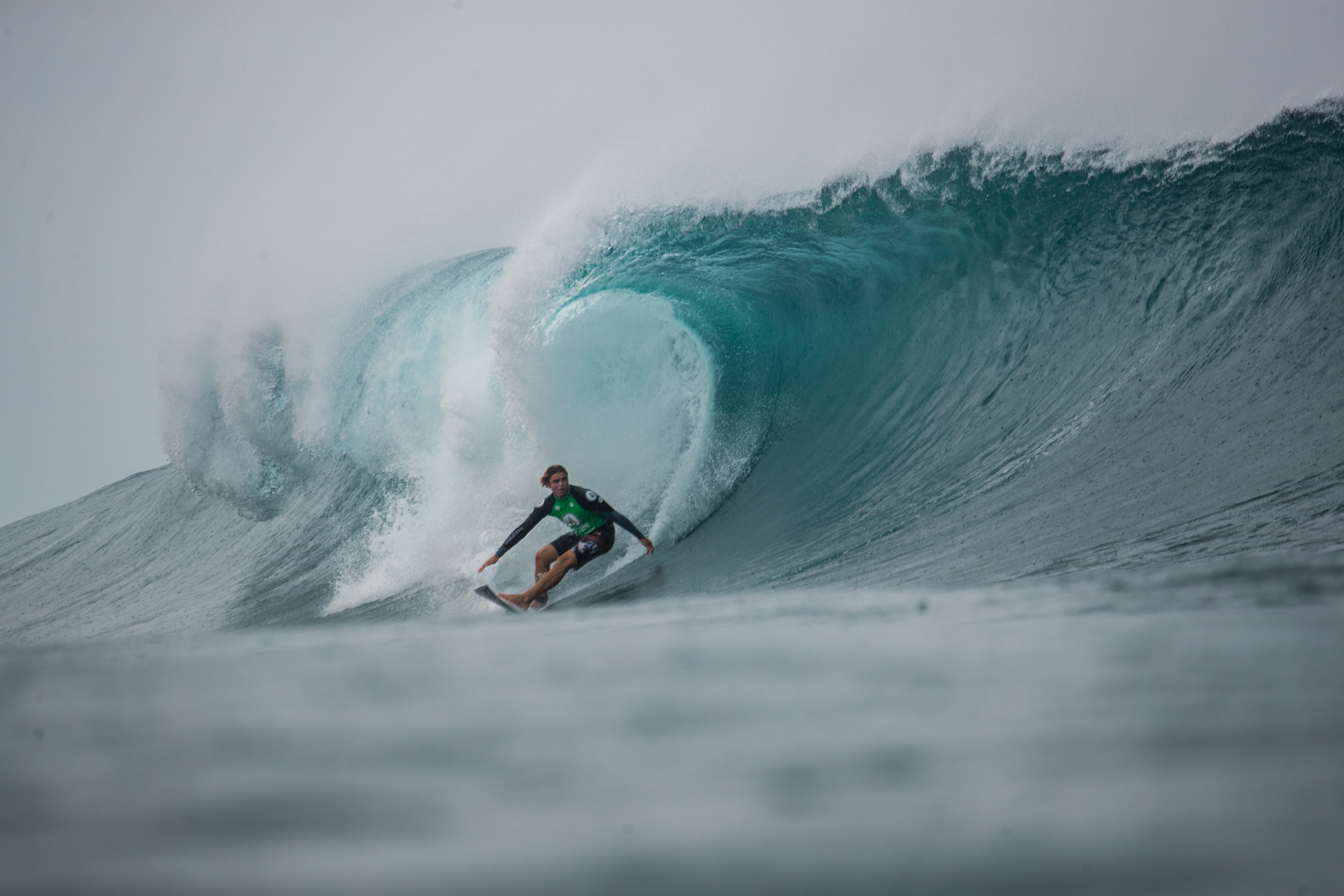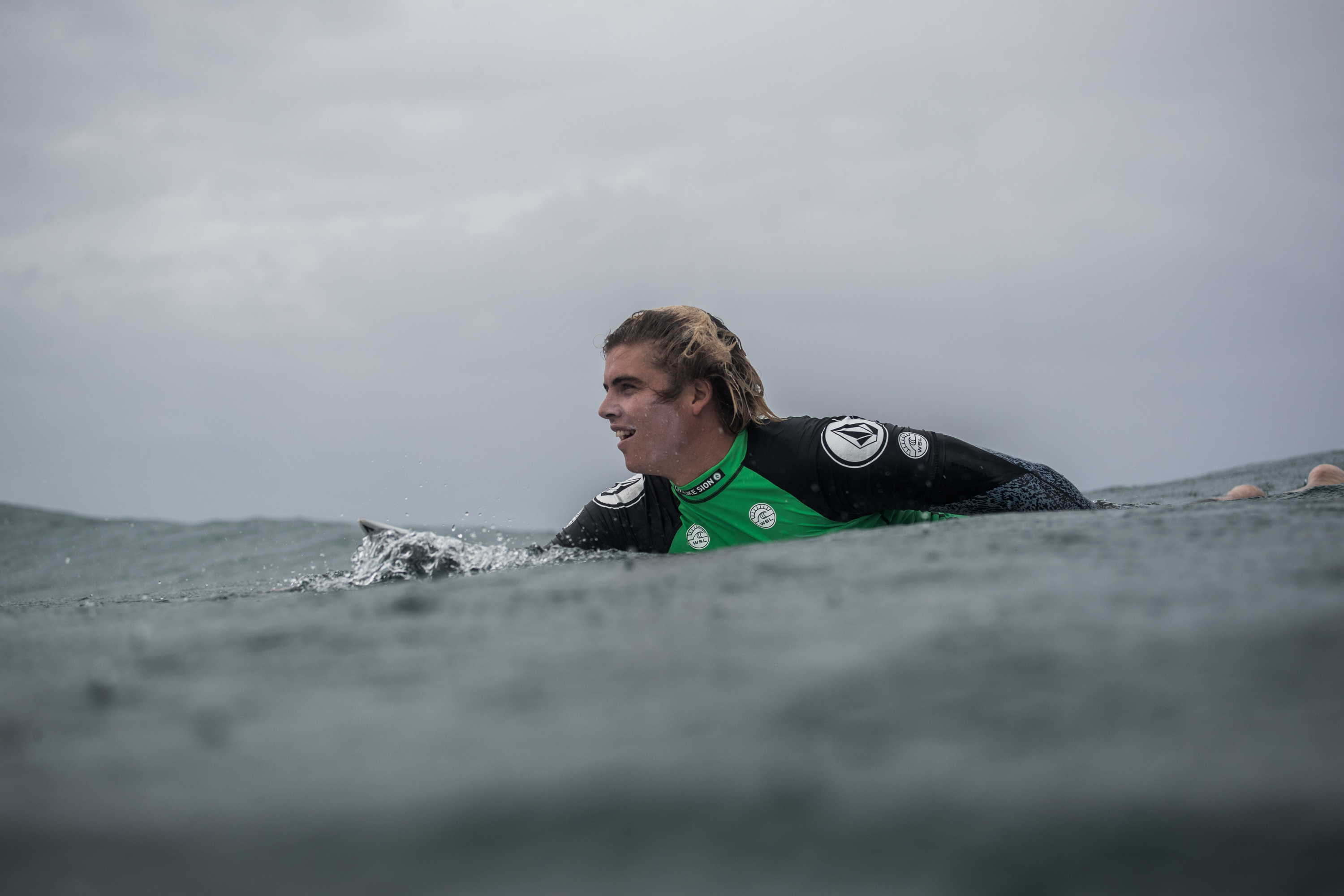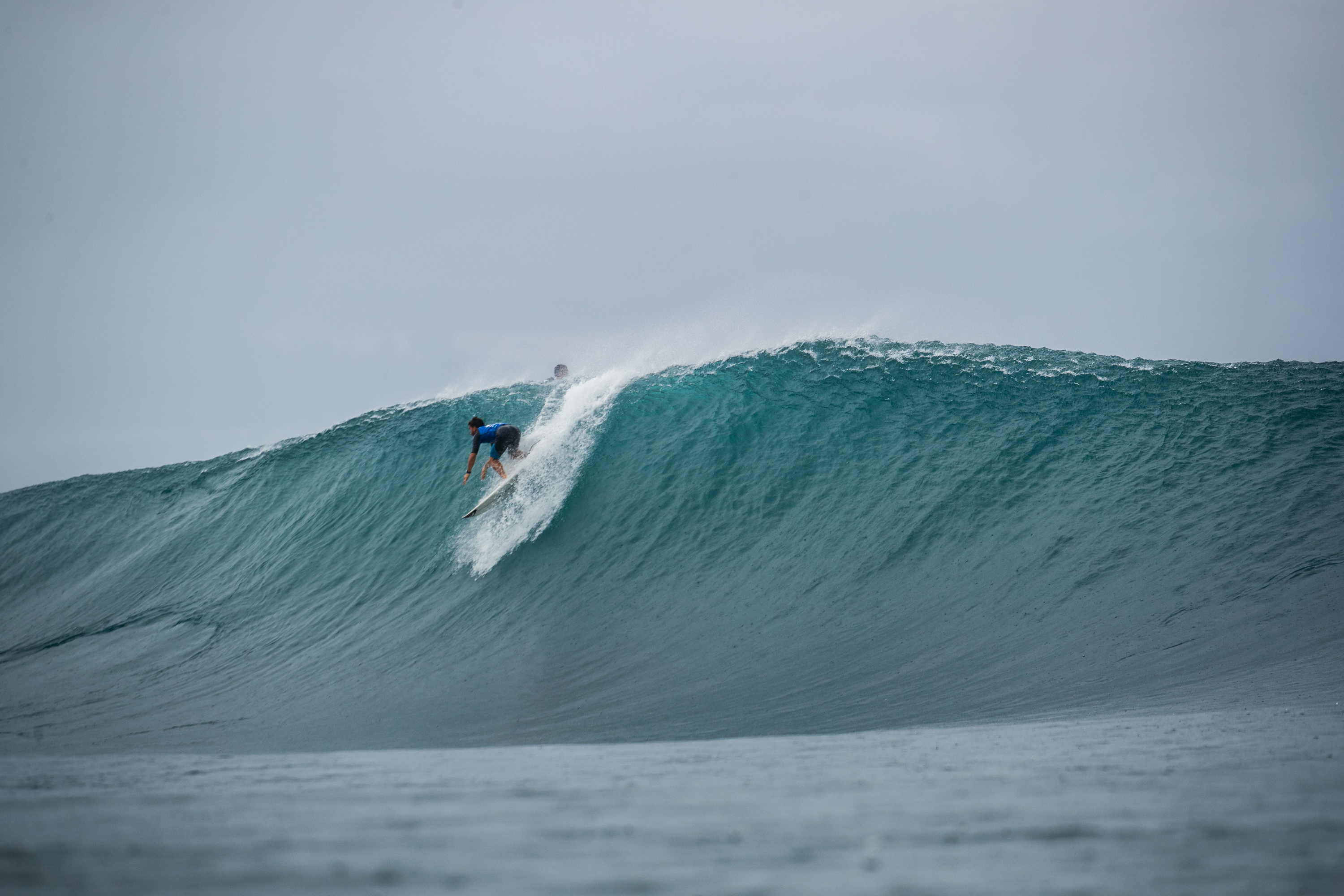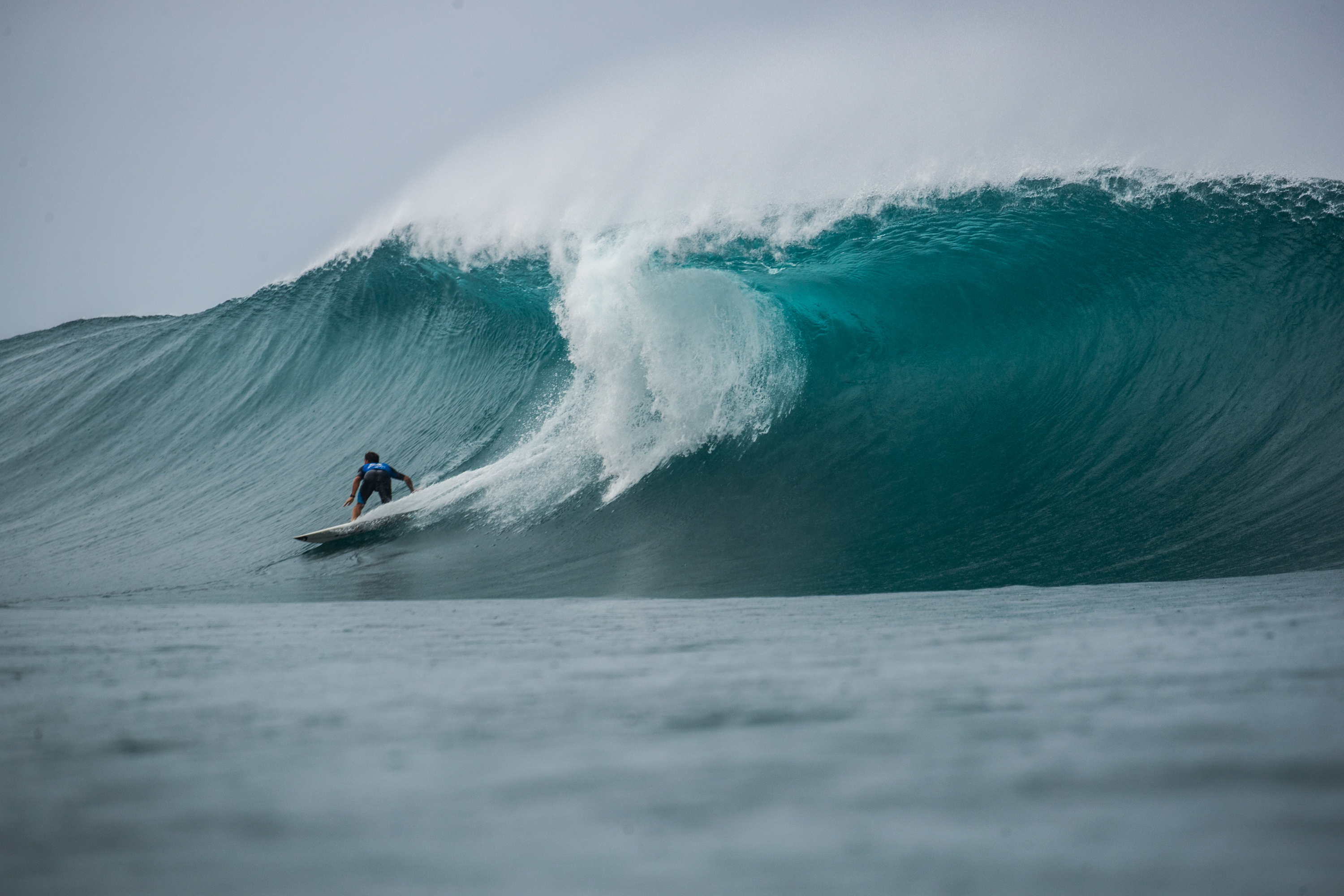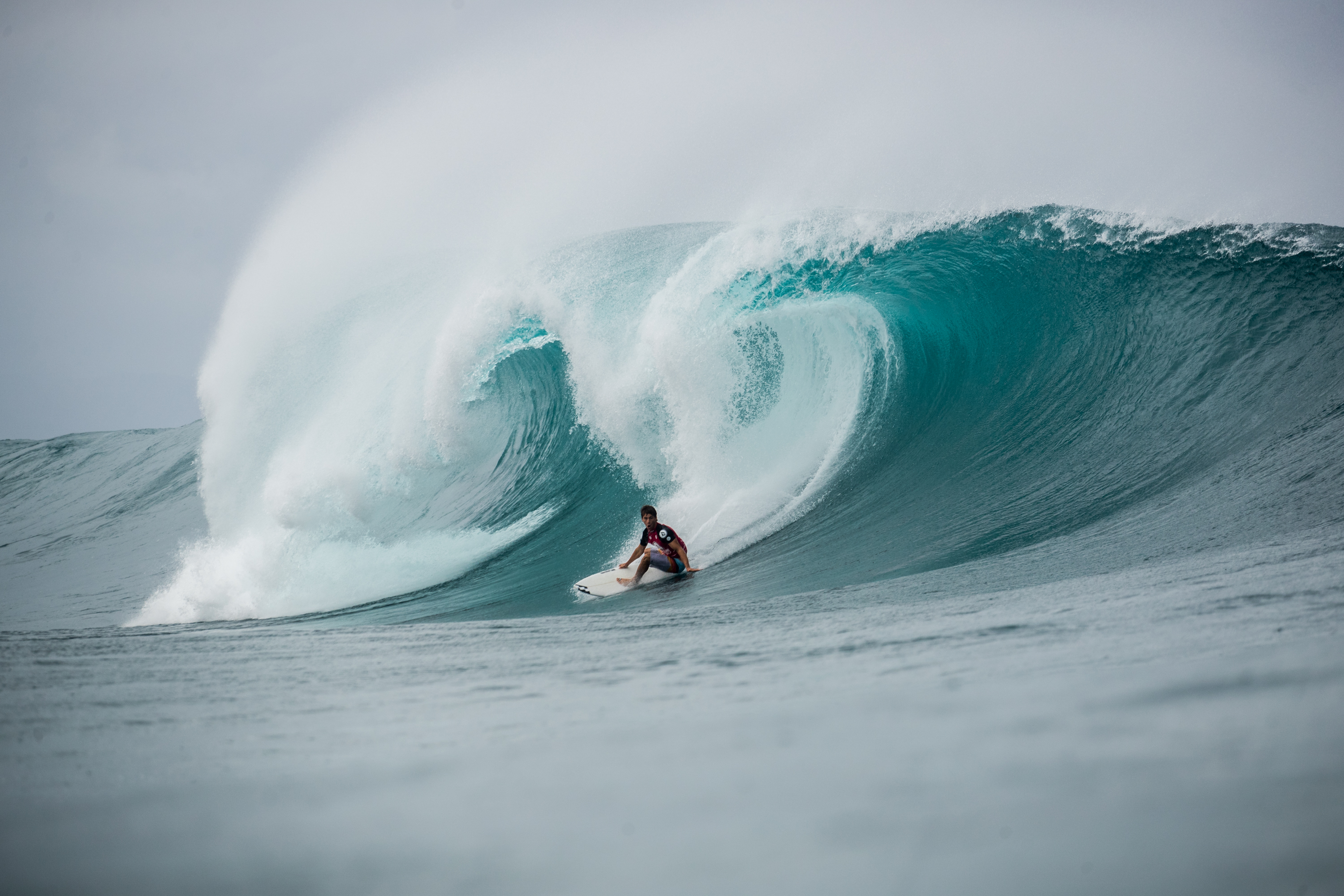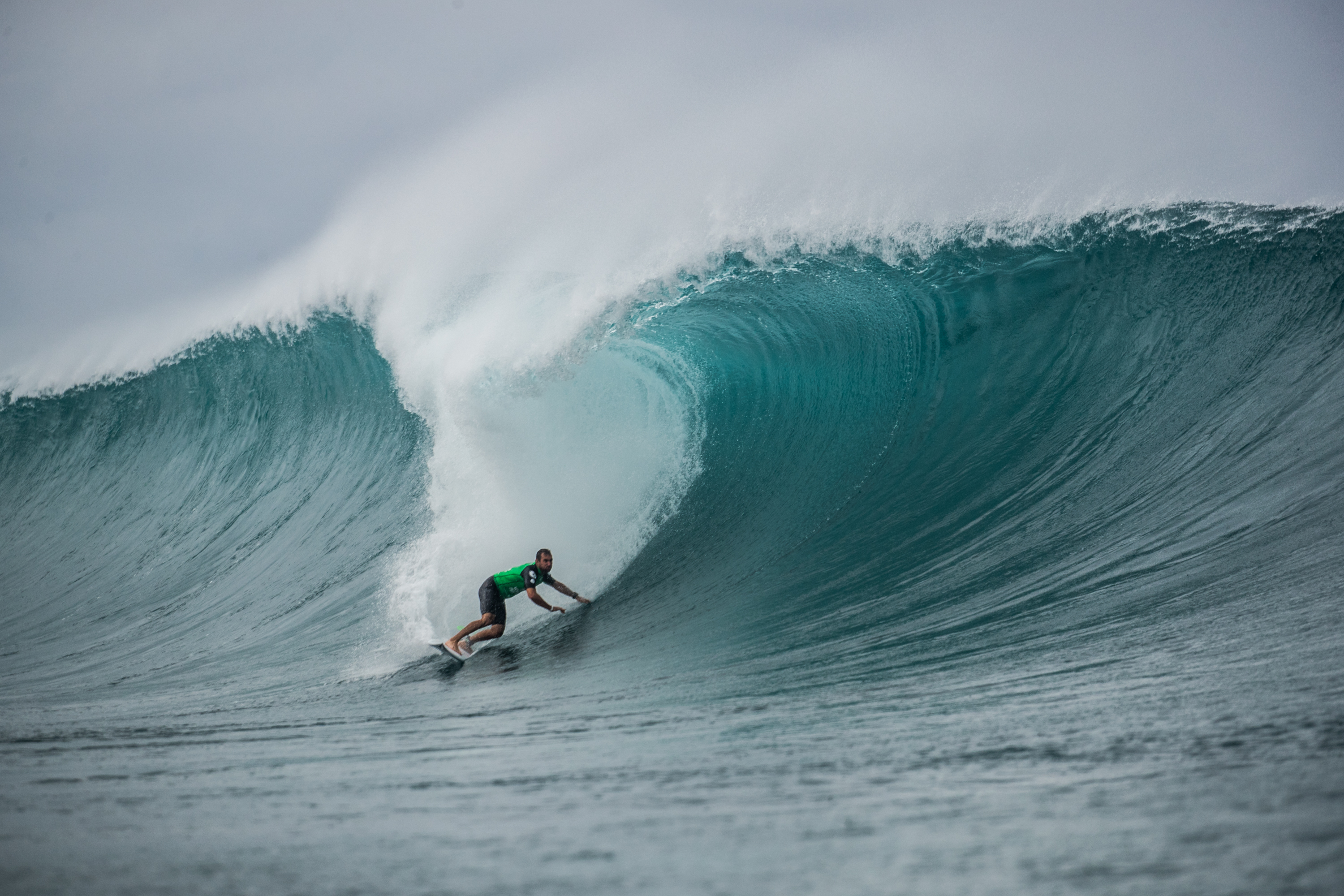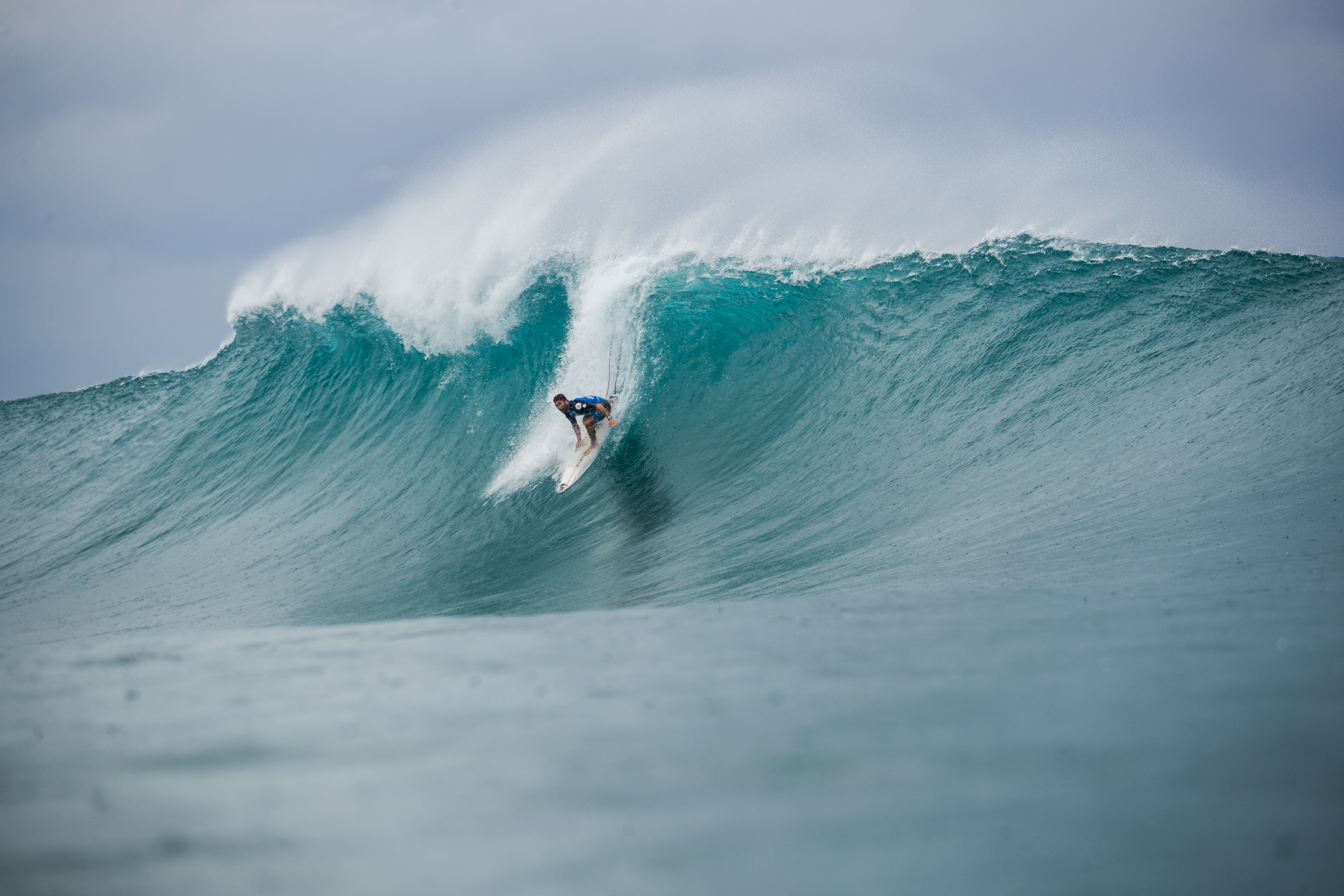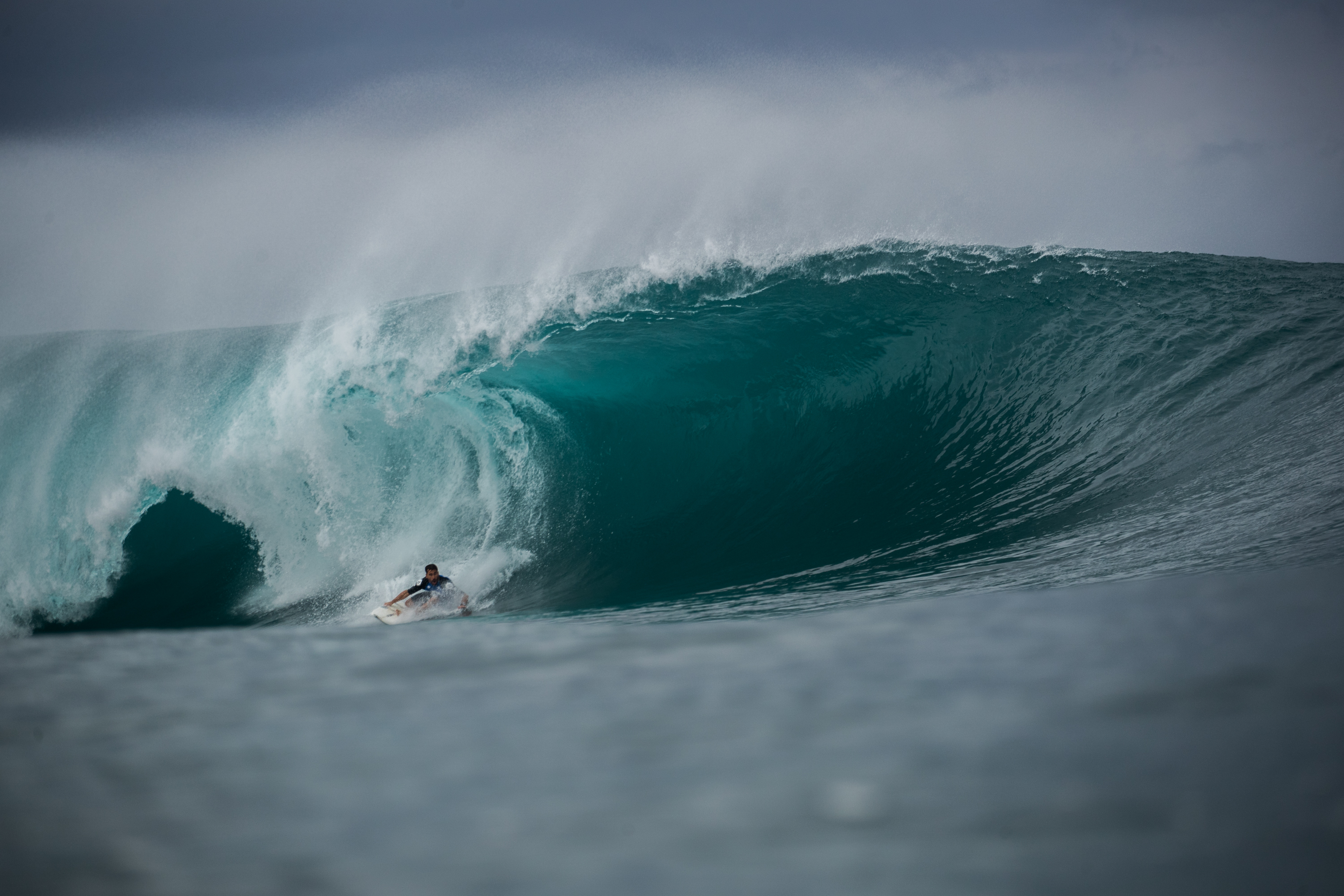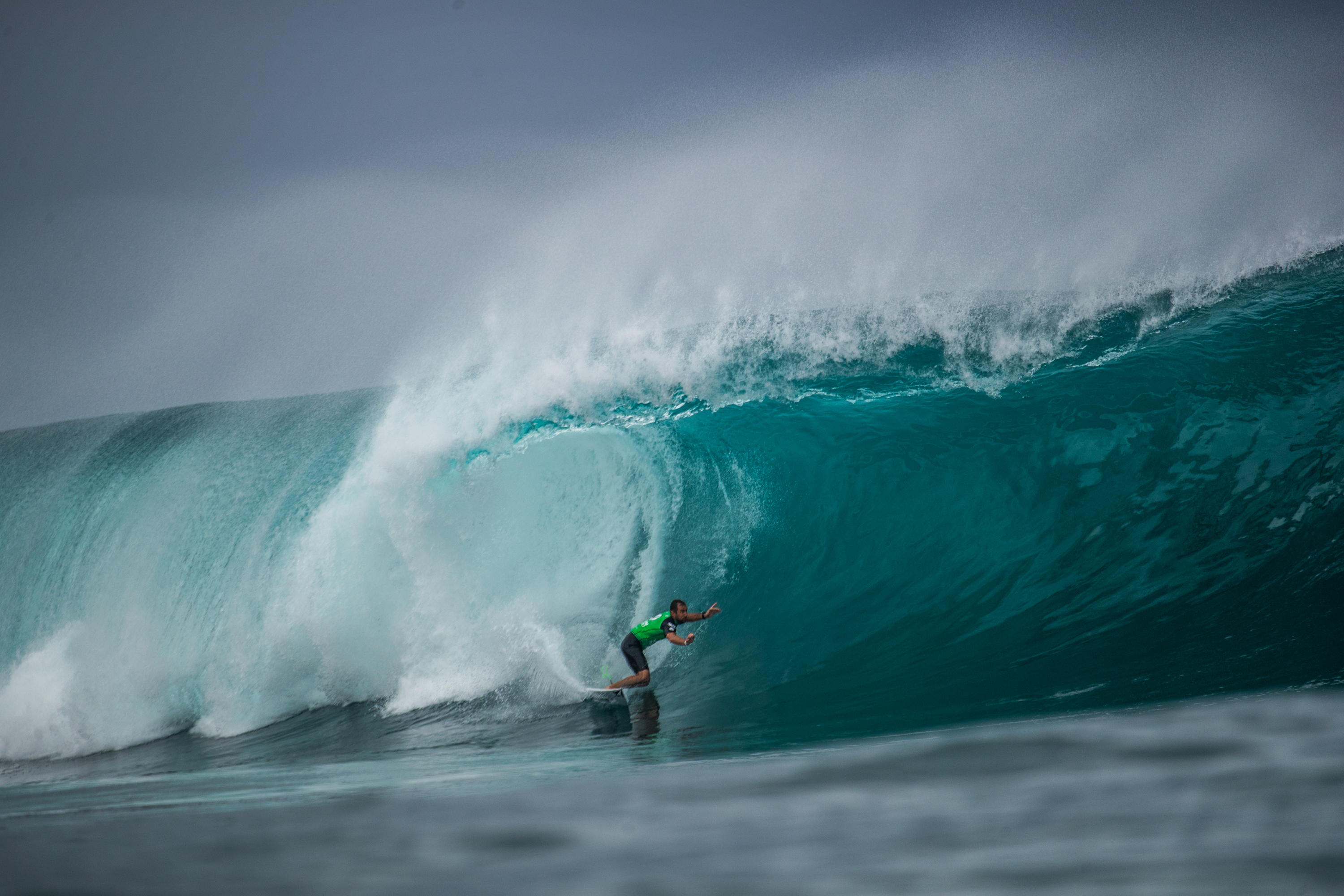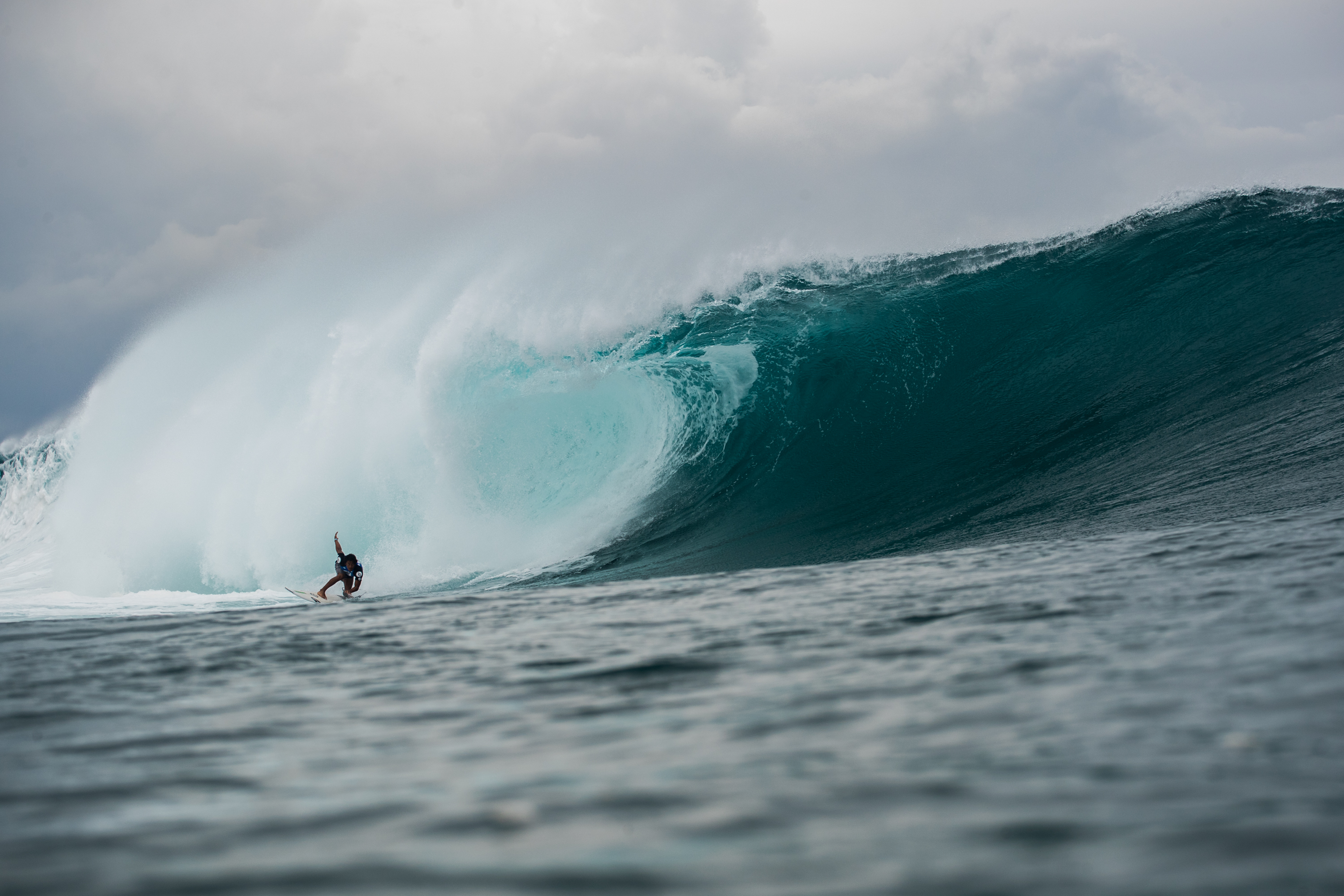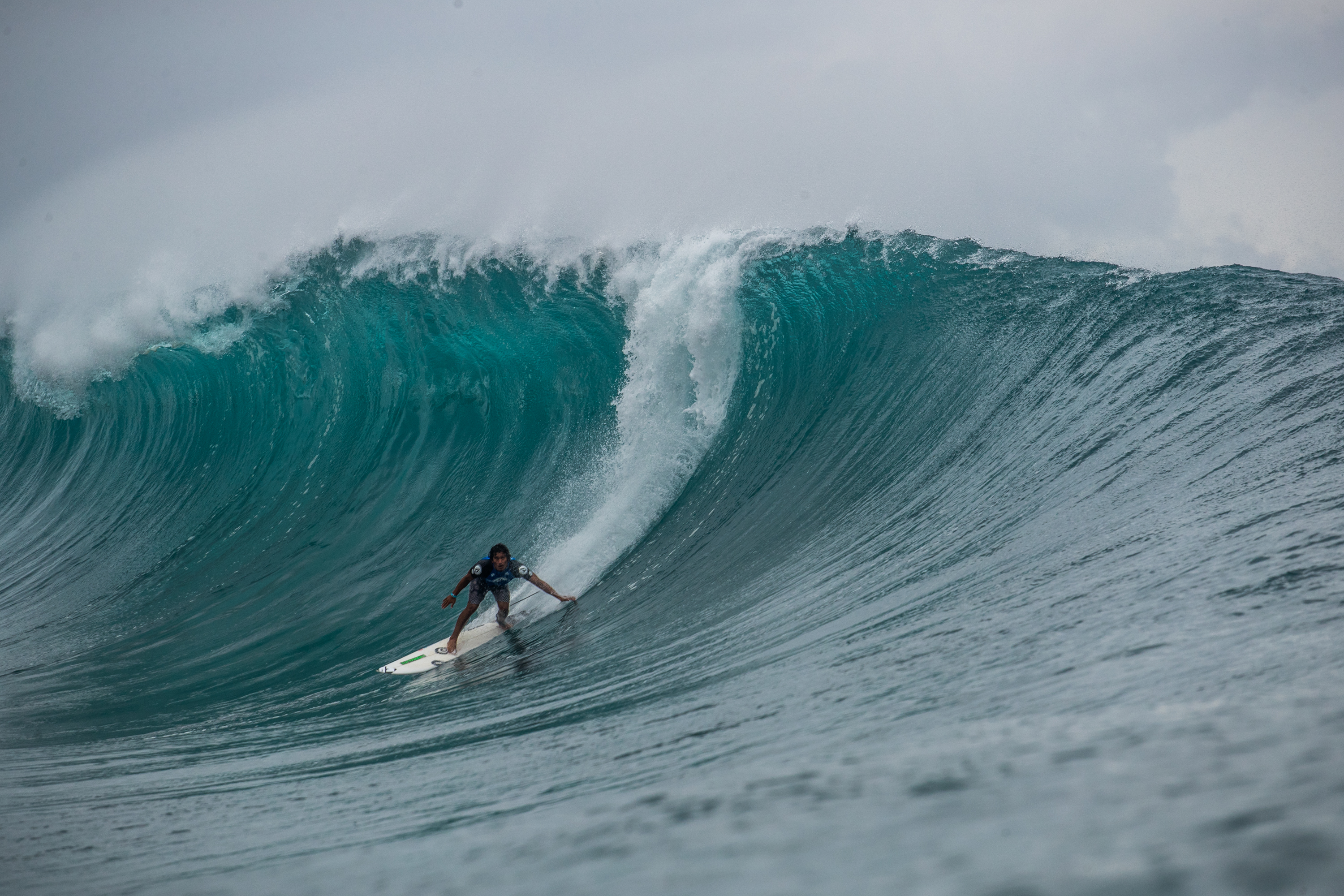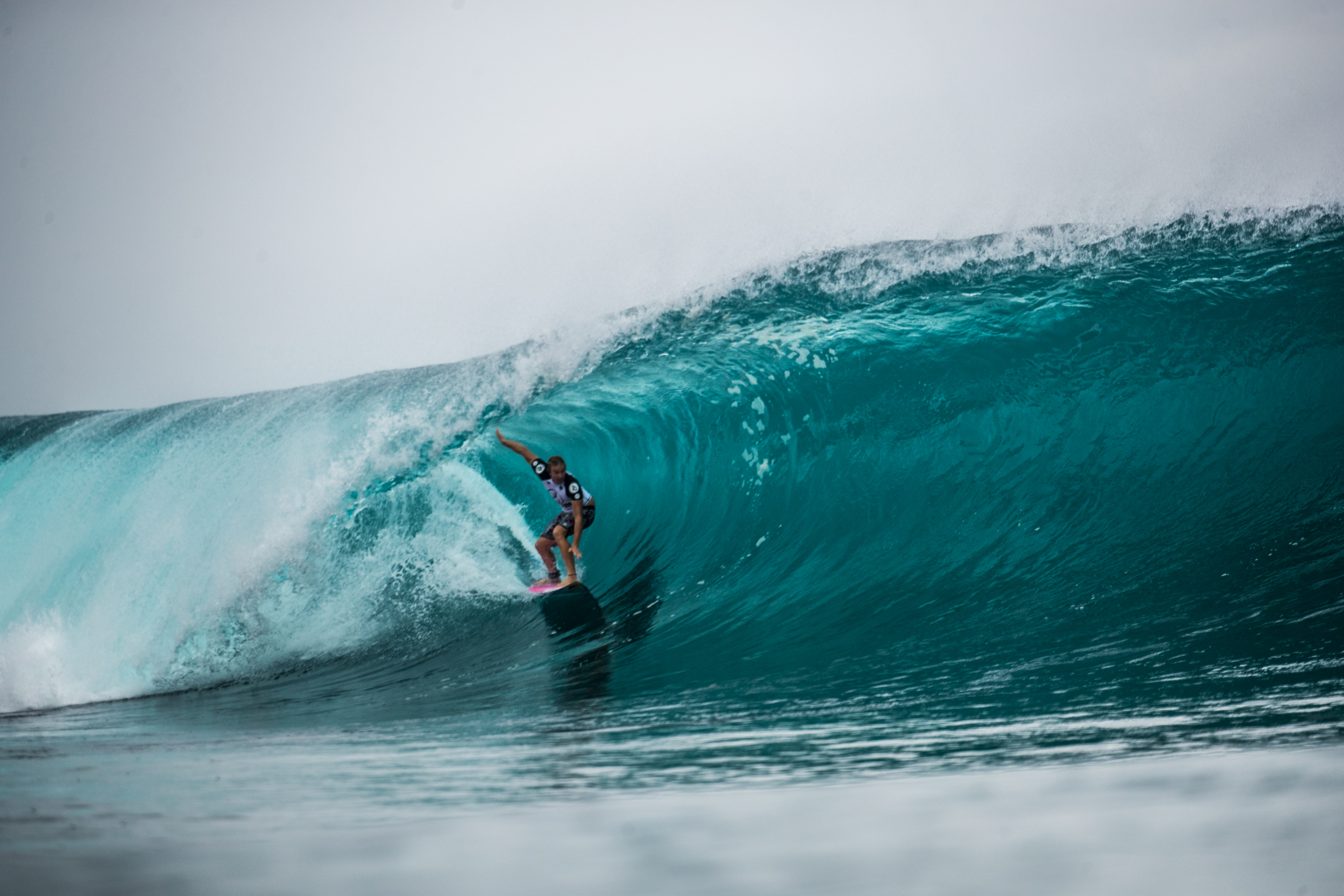 Keep cruisin'
Related content