Day 1 Highlights from the 2020 Volcom Pipe Pro
Teenagers dominated the opening day of the 2020 Volcom Pipe Pro in firing conditions, led by Kauai's Ryder Guest and Sammy Grey with Eala Stewart earning the day's best 8.93
The Volcom Pipe Pro fired off on opening day of the holding period to deliver pristine conditions at both Pipeline and Backdoor for the World Surf League (WSL) Men's Qualifying Series (QS) 5,000 event. Ryder Guest (HAW), 19, led the pack of young guns as they took control of the lineup today, signaling a changing of the guard as over thirty percent of the 144-man field is under 20 years old.
Guest tied two others, Nathan Florence (HAW) and Sammy Gray (HAW), for the second highest single wave score of the day, a 7.33 (out of a possible 10) during Round 1 for a steep Pipeline left that saw him stand tall in the first barrel section and then gain speed to make it out of the second section successfully. He went on to advance in first place again out of his Round 2 heat after finding a 6.67 under priority at Pipe and backing this up with a 5.43.
"The waves are pretty much my favorite conditions at Pipeline, eight-feet, couple bigger ones, west direction, super nice conditions and a beautiful sunny day, so it's a dream come true to surf out here with only three other guys out," said Guest. "It's been really good this year, there's been a lot of good days, but it's really different when all the big boys are out and you're kind of just getting scraps from them, paying your dues, which is how you do it. It's a really, really big opportunity to surf in this event in these conditions, I can't wait to surf against the big boys, I'm excited."
Ryder Guest on his way to a double Pipe barrel. – photo: Keoki
The goofy-footer from Kauai is best known for his barrel-riding prowess and is one of the leading up-and-coming Pipe surfers in his age range. However, he remains humble and is staying focused on his ultimate goal of year-end qualification into the Pipe Invitational and hunting the best swells around the world. He will go against a stacked Round 3 heat once competition resumes, competing alongside Tanner Hendrickson (HAW), Torrey Meister (HAW) and Mason Ho (HAW) in Heat 7.
Meanwhile, Florence advanced out of two rounds today and set the standard for scores in the first heat of the event. He earned a 7.33 for a frontside Backdoor barrel and went on to nail a buzzer-beater in Round 2 Heat 1 after dropping into another right-handed tube with less than thirty seconds remaining in the 25-minute heat.
"I was the first heat of the morning, there was a little morning sickness early on but as always, as soon as the sun came up over the mountain and groomed everything out, it ended up being as clean and glassy and as good at Pipe gets," said Florence. "We've had a couple bad years in the first round so to start like this and with the forecast throughout the next week, it's looking like it's going to be one of the best Volcom's yet."
Florence, along with Derek Ho (HAW) who competed in Round 1 Heat 3, have perhaps the most experience at this wave of any of today's competitors and demonstrated this with expert positioning and barrel-riding technique. Despite clocking in countless hours of time in the lineup, Florence still talked about the rare advantage that the Volcom Pipe Pro offers local athletes, and the excitement that this event brings.
"We surf Pipeline all year long so we have a lot of time out there, but it's always with 50 other guys and it's such rarity to get it with three other guys out," said Florence. "We have our own priority systems but the way the crowd sits in the lineup, it puts people in the way and gives you other things to think about versus just where you want to position yourself on the wave. So you're out there in a heat all of sudden, just four guys, and you can literally sit wherever you want, no one's going to be in your way. That feeling is what we look forward to all year long."
Derek Ho, timeless. – photo: Heff
Coming up against third-generation dynasty surfer Mason Ho (HAW) in Round 2 Heat 8, Eala Stewart (HAW) put on an excellent performance after finding the wave of the day for an extremely long, deep Pipeline barrel that judges awarded an 8.93. Not only did Stewart collect the highest single wave score of the event, he also clocked in the best heat total as well, a 16.10 (out of a possible 20).
"I'm over the moon right now, I'm really stoked that wave came to me," said Stewart. "I was surfing with one of my good friends, Mason Ho, and the waves just turned on, I knew we were going to have a fun heat. Thanks Liam (McNamara) for helping me learn Pipeline and all the advice you give me. That's where Liam likes to sit, we call it the Wakita Peak, really deep. I was thinking, 'this is the moment to sit right there.' That wave came, I was pretty deep when I pumped into it, it had a long wall and I was just going and going. I hit a foam ball; I usually get bucked off right there, but everything worked out and I came flying out of the barrel and I had to claim it, sorry guys."
Eala Stewart earned the highest single wave score of the day with this Pipe wave, a 8.93. – photo: Bielmann
Stewart honed his positioning today, which he credits to mentor Liam McNamara (HAW), and with seemingly effortless style pulled into two of the best waves of the day on a 7'0 Arakawa board, which came from Liam's son, Makai McNamara (HAW).
"Being goofy-foot I like to ride bigger boards and sit a little farther out and deeper, but I just like big boards for stability in the barrel and just for the paddling, you can get in easy," Stewart continued. "Liam definitely helped me with that one. This is a 7'0 Pipe gun, it's Makai McNamara's old board. He got a 10 in the Semifinals when he had an interference here a few years ago and so he's dialed down his Pipe boards and I'm just learning, watching and getting in on the benefits."
Sammy Gray (HAW), 17, found a rare high-scoring gem in the afternoon after dropping in late from the air, then engaging the fins to fly through a deep Backdoor barrel. He went for a frontside turn to finish off the wave but all the work had already been done and judges awarded the ride a 7.33 for the tube alone. Gray surfed through two Rounds today and won both heats, opening the door on another coveted opportunity to surf Pipe with only three others out.
16-year-old Jackson Bunch (HAW) dropped into one of the best barrels of his life at Pipeline with just ten seconds left in Round 1 Heat 7 for first-advancing position ahead of Luke Swanson (HAW), 15. The two teenagers took down Pipeline legends Ezra Sitt (HAW) and Takayuki Wakita (HAW) by staying busy in the water and taking advantage of the double-up opportunities on the inside.
"That was kind of my strategy (staying on the inside), but I wanted to go outside and get a little bigger of a wave," said Bunch. "The two waves I got the scores on were more of insider double-ups that hit the sandbar better, so I'm stoked to get those two waves but I had to really adapt in that heat."
Bunch echoed the sentiment of every surfer today, expressing that this event allows the rare occasion for local, non-Championship Tour (CT) surfers to enjoy Pipeline with only a few others in the lineup.
"It's pretty awesome surfing with only three other guys out because the crowd is just next level," Bunch continued. "It's pretty unbelievable to get such good waves, I surfed this contest last year and Round 1 wasn't any good, but this is pretty much as good as it gets so I'm super stoked. It's pretty exciting, I just can't wait to get more days at Pipe and get better out here, at Sunset, Haleiwa, just everywhere."
The Volcom Pipe Pro completed one of four days today and is targeting tomorrow, Thursday, January 30, to resume competition. The Surfline forecast sees an easing WNW swell which will maintain fairly solid size all day and a good mix of Pipe and Backdoor waves but still favoring Pipe, with light and variable wind in the morning trending to light NE in the afternoon. Contest organizers will reconvene in the morning to assess conditions and make a decision whether to call the competition back on or decide a lay day. Check out WorldSurfLeague.com for the official call tomorrow at 7:00 a.m. Hawaii Standard Time (HST).
When Gray competes again, he will match up against Skip McCullough (USA), Gavin Gillette (HAW) and Shion Crawford (HAW) in Round 3 Heat 3.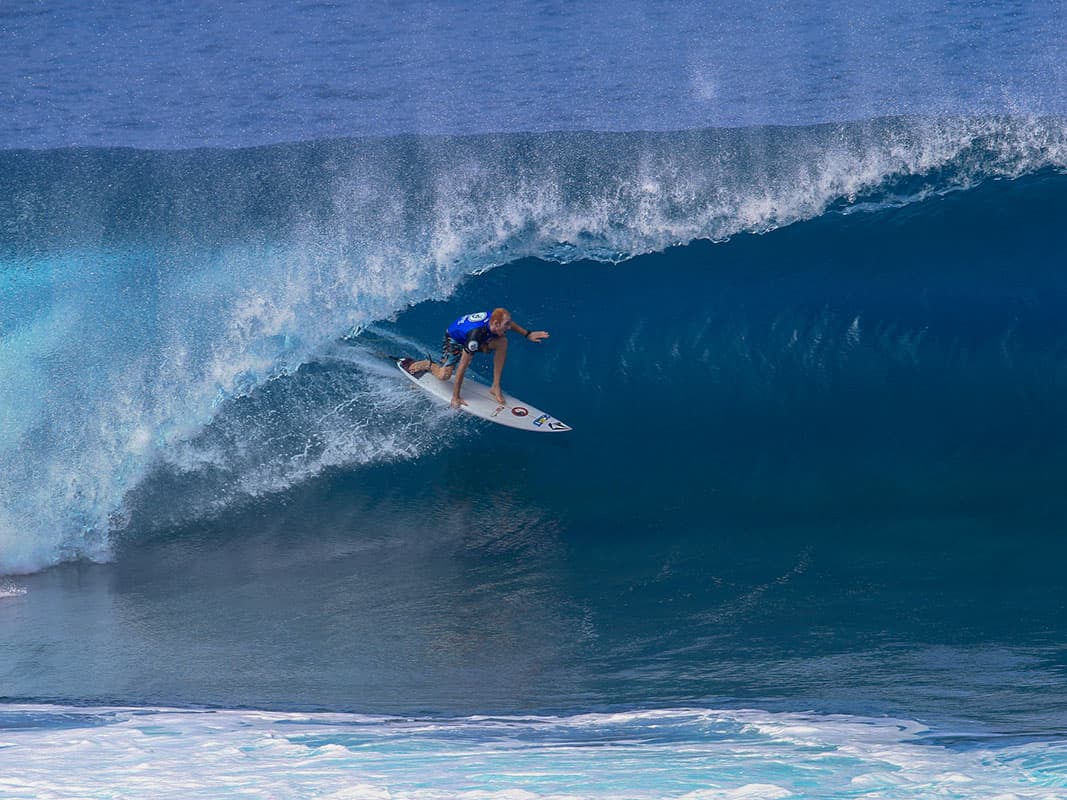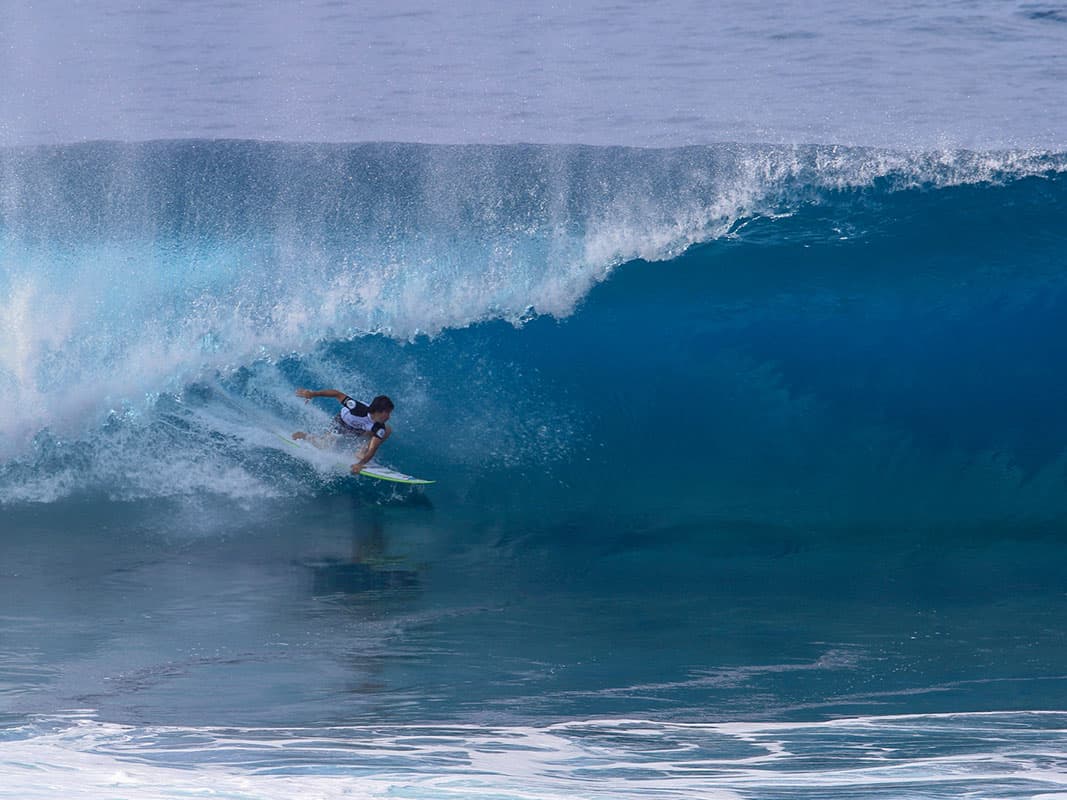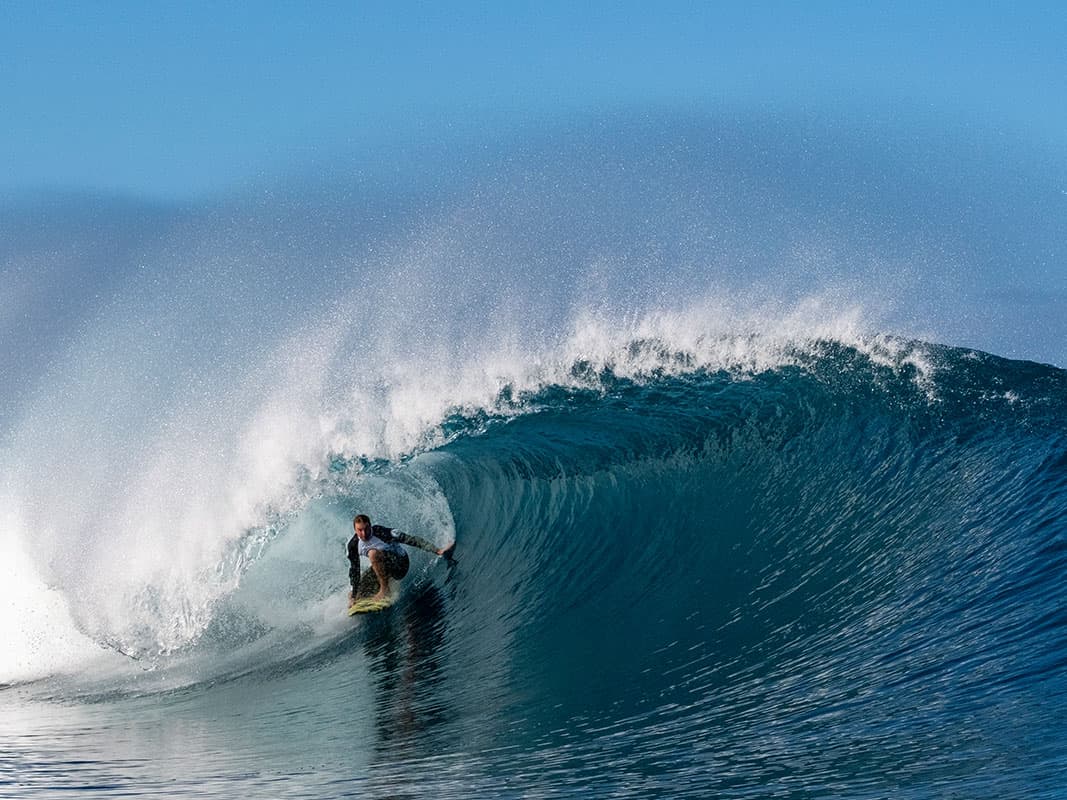 Mikey Redd, Mason Ho, Riley Morgan & Cristolbal de Col. – photos: Bielmann. Rantell hard off the bottom. – photo: Heff. Jamie O'Brien in his backyard. – photo: Keoki