Day 2 Highlights from the 2020 Volcom Pipe Pro
Jeronimo Vargas (BRA) Claims Best Heat Total of Event while Kalani Chapman (HAW) Wins Wildcard into Round 3 in All Day Perfection for 2020 Volcom Pipe Pro
The Volcom Pipe Pro continued today and not a drop of water appeared out of place as iconic Pipeline delivered clean, six-to-eight-foot surf with wave face heights reaching ten-foot for the World Surf League (WSL) Men's Qualifying Series (QS) 5,000 event.
Scores have yet to hit the 9-point range this year, but Jeronimo Vargas (BRA) got dramatically close during Round 3 Heat 5. The perennial North Shore charger opened up his 2020 competitive year with an excellent 8.33 at Backdoor then wrapped the heat with an 8.93 – the best single wave score of the competition so far – after a late drop into another right-handed barrel.
Vargas stalled in the pit, perfectly positioned, and powered out a bottom turn to pull under the lip of the wave and navigate a heavy section. He kept traveling in the tube and finally emerged with calm confidence in the channel to the cheers of beach fans.
Jeronimo Vargas now has the best single wave score of the competition, 8.93! – photo: Heff
The Brazilian has been out of the water for six months due to a chest injury but was determined to come to Hawaii for the winter season after spending the last fifteen years on the North Shore. This is Vargas' fifth time competing in the Volcom Pipe Pro and he is now only one of four Brazilians remaining in the 144-man draw.
The Volcom Last Chance Qualifier Heat saw a mashup of eight Volcom team riders go head-to-head in a no-priority heat with North Shore fixture Kalani Chapman (HAW) earning the final wildcard spot into the Round of 96 (Round 3) after scoring the best ride. He went against Mikey Bruneau (HAW), Tom Dosland (HAW), Jonah Morgan (HAW), Jesse Johnson (HAW), Kai Mana Henry (HAW), Ryan Burch (USA) and Mauro Diaz (PRI) and found two good waves in the 40-minute heat.
Chapman took the lead after pulling into a big, open frontside barrel at Pipeline in the first few minutes, then solidified the win after being spit out of another left-handed tube. A goofy-footer, Chapman was looking for the standout lefts and positioned himself for deep takeoffs, a true professional when it comes to Pipe.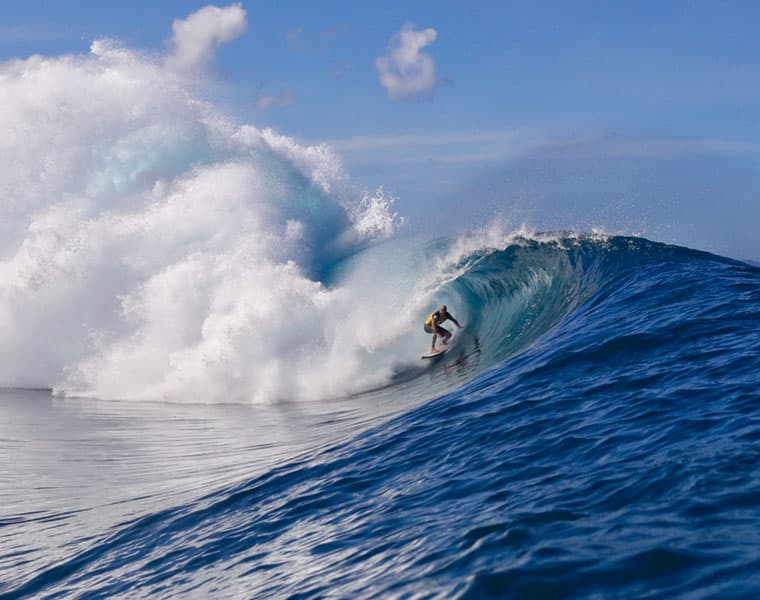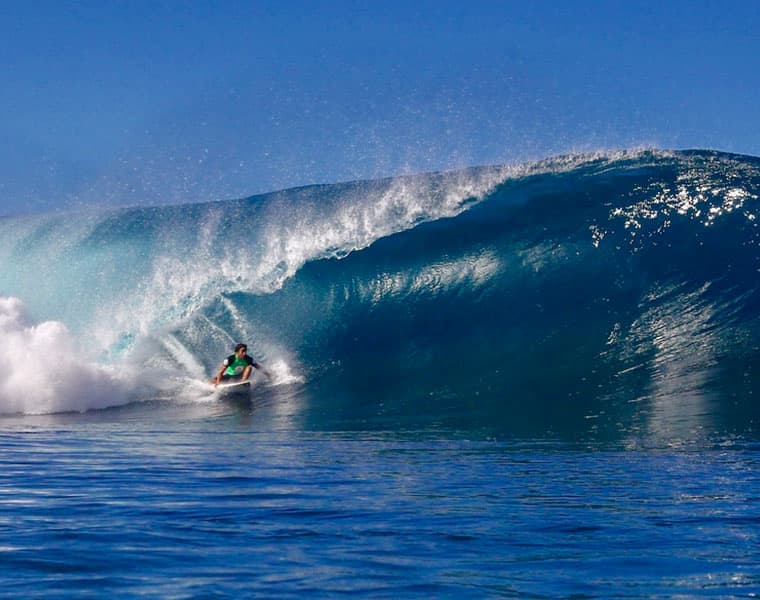 Mikey Bruno, Mauro Diaz & Kalani Chapman in the Volcom Last Chance Qualifier. – photos: Scott Sullivan
"It was a difficult heat, there were seven of my friends and they're all Pipeline specialists," said Chapman. "Some of the guys had really good rides and if they would have made them, it's very possible it could have gone their way. But I'm lucky that it went my way, I'm really happy."
Chapman took a competitive hiatus after suffering a severe head injury in January 2017 here at Pipeline, but today he felt enthusiastic to be back in a jersey. Eager to test himself again in Round 3, Chapman will surf against Shun Murakami (JPN), Alvaro Malpartida (PER) and Keito Matsuoka (JPN) once the Volcom Pipe Pro is called back on in the first heat on Day 3.
Kalani Chapman took the Volcom Last Chance Qualifier win and earns the wildcard into the round of 96! – photo: Heff
Makai McNamara (HAW) was the first to bring scores into the excellent range today during Round 3 as he and Roi Kanazawa (JPN) advanced ahead of Nick Marshall (USA) and Dusty Payne (HAW) in the opening heat. McNamara scored two beautiful rides, the first one a deep barrel on his backhand that earned an 8.60, then followed up with an 8.17 for a Backdoor barrel. He now holds the second-highest two-wave heat total of the event thus far behind Vargas.
"My first one was a perfect Pipe wave and I just knew that I had to pump to get through it," said McNamara. "A lot of times I won't pump and you get caught right at the end so I had to make sure to get over that foam ball. And then a right came out of nowhere, just a big teepee, it was a late drop and it had a dramatic foam ball on it so that's how I got my other eight."
Goofy-footer from San Clemente, Max Beach (USA) showed great technique and form in his Round 3 heat and dropped a 6.67 for a set wave on his frontside that stood out against competitors' rides. He exalted the wave, and yesterday's epic barrels, as his best ever at Pipe and will be looking to secure his best result in a QS event of this magnitude. Meanwhile, Eli Hanneman (HAW) got the score he needed within the last ten seconds of the heat to move into Round 4 behind Beach.
Contest organizers are eyeing the fresh push of North West swell for tomorrow to resume the Volcom Pipe Pro Top-seeded athletes will take to the water, including two-time World Champion and four-time Volcom Pipe Pro winner John John Florence (HAW) in Round 4 Heat 8 and defending event winner Jack Robinson (AUS) in Round 4 Heat 13.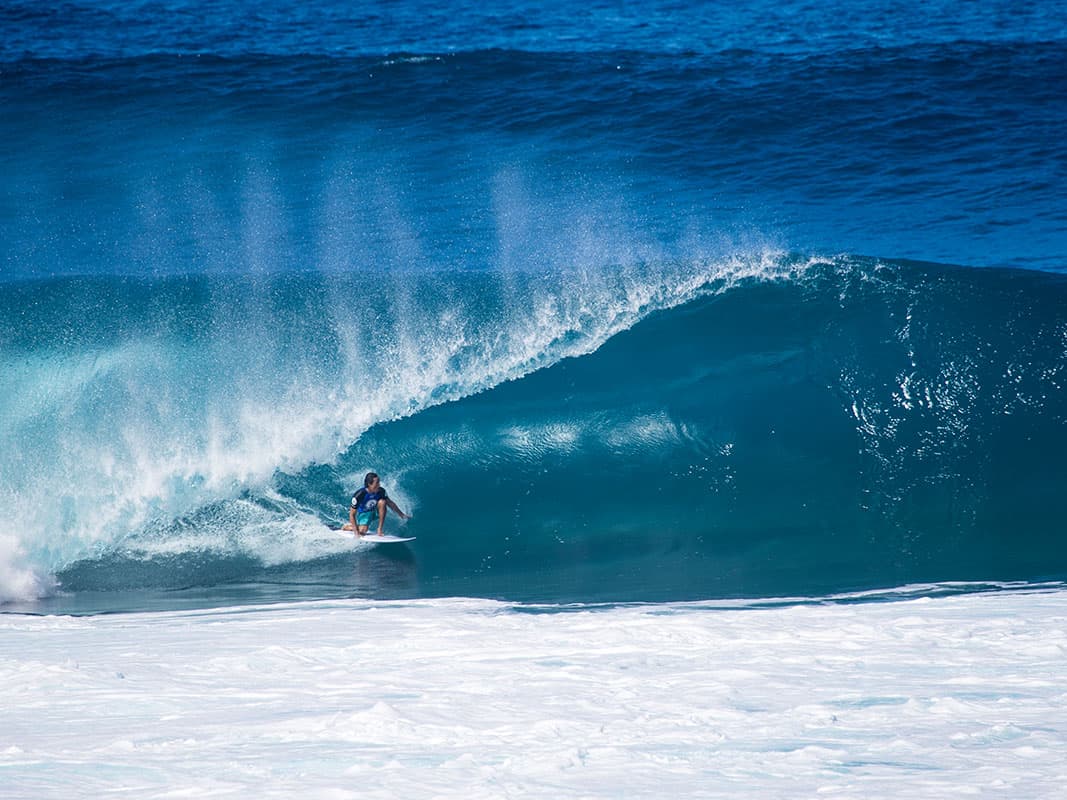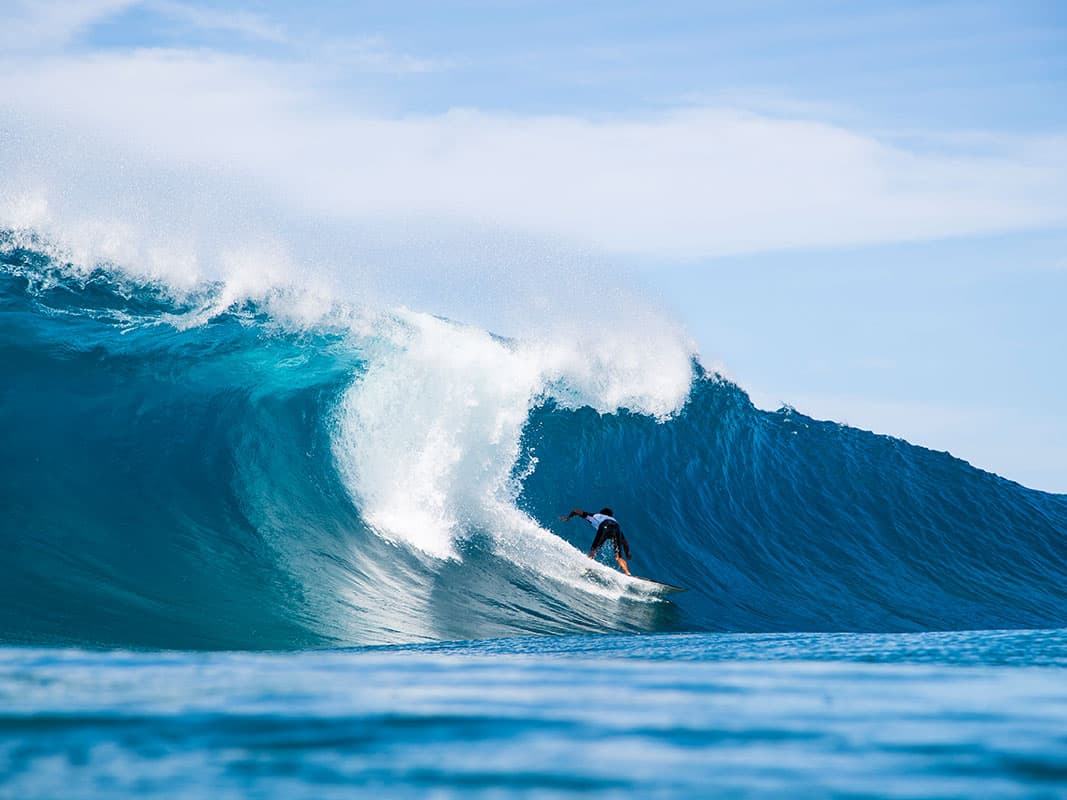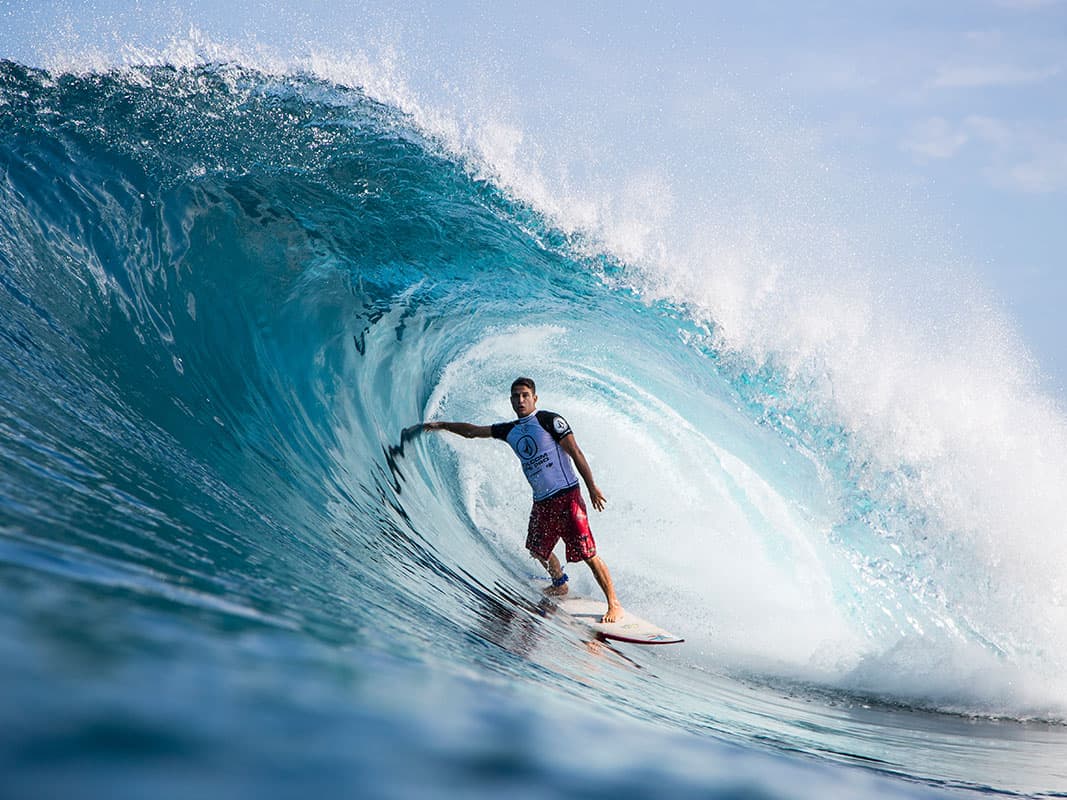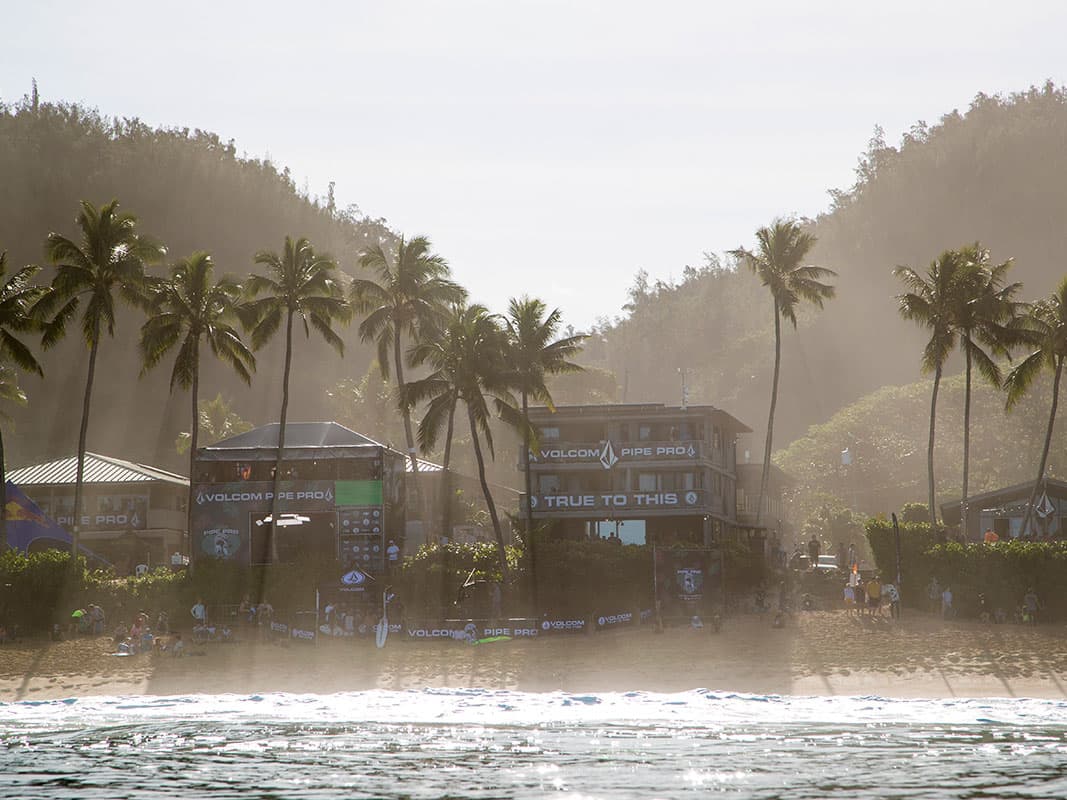 Gavin Gillette, Eala Stewart, Sheldon Pasihon & a view of Volcom Pipe House from the water. – photos: Heff