Day 3 Highlights from the 2020 Volcom Pipe Pro
The Contest Sees Its First Perfect 10 Plus Past Winners Robinson, Moniz, Bailey Poised for Final Day at Volcom Pipe Pro
The Volcom Pipe Pro was all systems go today as Day 3 pumped more beautiful barrels into the lineup for the World Surf League (WSL) Men's Qualifying Series (QS) 5,000 event. Rounds 3 and 4 were completed today with athlete standouts including Conner Coffin (USA), who scored the first perfect 10 of the event, Billy Kemper (HAW), who was the first to crack into the 9-point range on the scoreboard, defending event winner Jack Robinson (HAW) and 2017 Volcom Pipe Pro winner Soli Bailey (AUS).
With machine-like consistency, Pipeline seemed to take on the description as Eighth Wonder in the World. Both Backdoor and Pipe continued to build and produce waves in the eight-to-ten-foot-plus range with winds staying uncharacteristically light and offshore, all day.
Coffin ended the day with fireworks as he posted a perfect 10 for unbelievable tube riding on his backhand that saw him power through a critical drop and technical Pipe barrel. His impressive performance continued as he wove through a Backdoor gem for a 7.17 to maintain the margin throughout the 25-minute heat.
Fellow advancing athlete, Joh Azuchi (JPN) scored the second-best result of the heat, an 8.33 for a Backdoor barrel that he narrowly escaped. He and Coffin eliminated former Championship Tour (CT) surfer, Sebastian Zietz (HAW) and Sunset Open finalist Koa Smith (HAW) en route to Round 5.
It keeps getting better for North Shore's Kemper, as he came into the 2020 Volcom Pipe Pro already holding a win from the recent Sunset Open and scoring the wave of his life at Pe'ahi on Maui a few days prior. Riding a high, Kemper opened Round 4 Heat 10 with a near-perfect 9.00 for an incredibly long, deep Backdoor barrel that saw him pump through multiple sections. A fierce competitor, Kemper has made his intentions known; he wants to win it all.
"At this point, it's just trying to win everything I can," said Kemper. "I truly am addicted to that feeling, that adrenaline of overcoming adversity and just winning. It's something I get off on, I truly love that feeling, I've been chasing it my whole life. I've struggled for years and years and years and after figuring it out, it's just something I love doing, I'm a competitor at heart."
Billy Kemper on his way to the first 9 of the contest! – photo: Keoki
Defending event winner Robinson scored back-to-back 5-point rides out of the gates during his Round 4 heat, which featured an international mixup including Aritz Aranburu (ESP), Keijiro Nishi (JPN) and Alvaro Malpartida (PER). The shifting conditions saw the scale lower as competitors worked to get a rhythm in the lineup.
Last year, Robinson commanded the competition with a 9.43 in Round 4, a 10 and 9.57 in Round 5, and heat wins from start to finish. He earned 3,000 points to start off 2019 and then sealed his maiden run on the 2020 Championship Tour (CT) with a 10,000-point win at the Vans World Cup of Surfing at Sunset Beach. Now he competes pressure-free ahead of the first CT event of the year in March.
Aranburu took cues from Kemper and sat at Backdoor, eventually finding his own excellent 8.37 for a beastly barrel that he maneuvered with finesse. His backup score was a 1.93 which gave Robinson the heat win after the Australian posted a 6.23 and 5.83.
2017 Volcom Pipe Pro winner Bailey scored two keeper waves, an 8.53 and 8.00, in the first few minutes of Heat 3 and locked into the lead early on. The new NW swell continued to build all morning and seemed to jump feet during the heat to deliver clean barrels that pushed wave face heights into the 15-plus-foot range.
Yago Dora on his way to a Round 4 heat win! – photo: Keoki
Eli Hanneman (HAW), 17, owned his heat with a breakthrough backhand performance in Round 4, advancing in second with a 13.17 heat total to Bailey's 16.53. One of the younger athletes in the draw, Hanneman came into the event with the intent to score good Pipe.
"I just wanted to surf, I had no pressure," said Hanneman about going against a stacked heat. "These guys probably had more pressure than I did, I was just the underdog wanting to get waves out at Pipe, but it worked out in my favor. Somehow I got three good waves in a row."
Hanneman's youth has nothing on his status along the North Shore as he is becoming a household name through skilled surfing and strong competitive results. Earlier this week, the Maui athlete finaled at the Sunset Open Men's QS 1,000 alongside veterans Koa Smith (HAW) and Kemper, and Tahiti's best up-and-comer Kauli Vaast (PYF).
Nathan Florence trying to make it a party wave. – photo: Keoki
Drama filled the lineup as Round 4 kicked off with an interference call after Nathan Florence (HAW) unintentionally dropped in on Makai McNamara's (HAW) Backdoor barrel that could have given McNamara the score he needed to advance. Both athletes fell out of the competition while Yago Dora (BRA) and Finn McGill (HAW) punched their ticket into Round 5, with Dora earning an excellent 8.00 for a lengthy barrel ride at Pipe that saw him completely disappear from view.
Contest organizers will be scrutinizing conditions as the NW swell is forecast to hold and slowly shift to the NNW direction. The run of light offshore winds that graced Pipeline is predicted to change tomorrow, with moderate ENE trades in the morning becoming moderate to breezy in the afternoon. A call will be made around 7:00 a.m. Hawaii Standard Time (HST) and when the competition is called back on, Dora, Marco Giorgi (URY), Hanneman and Callum Robson (AUS) will be first in the water for Round 5 Heat 1.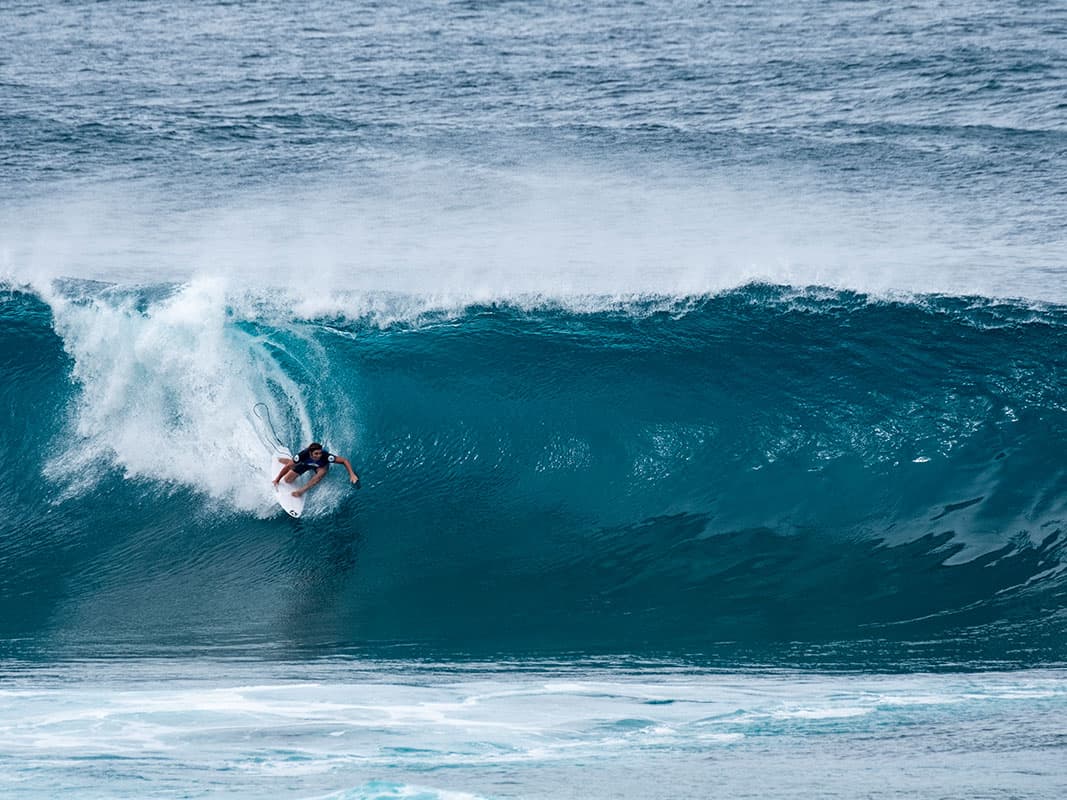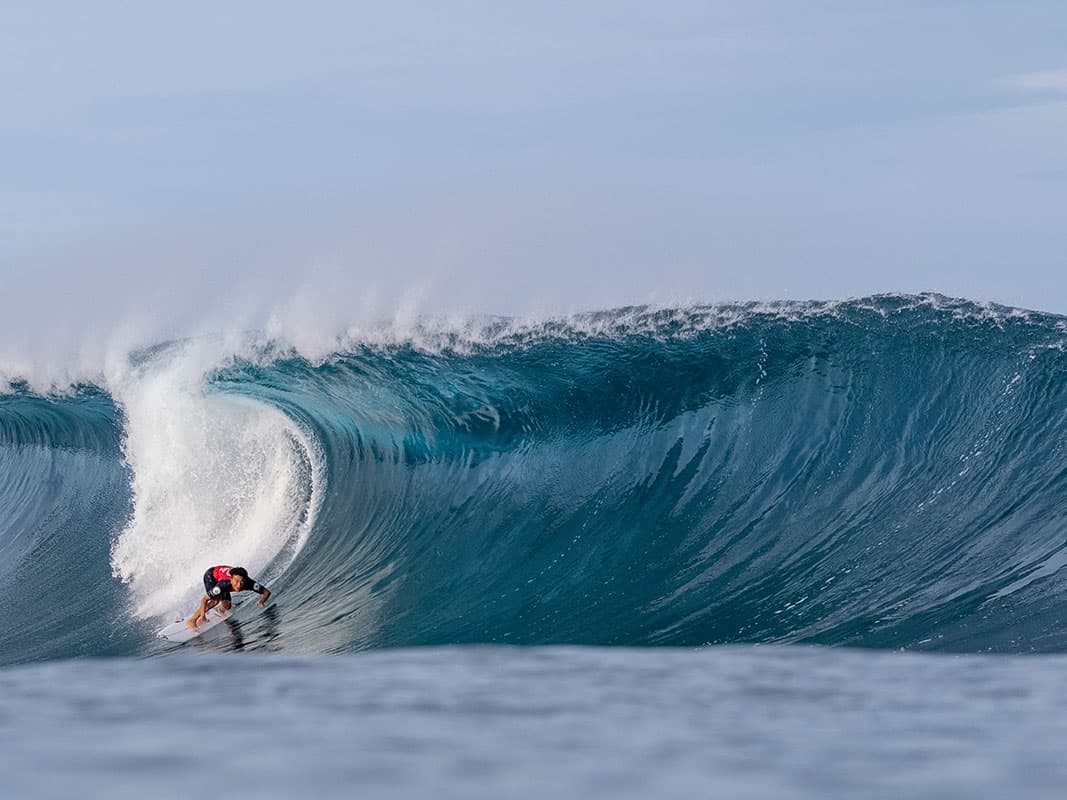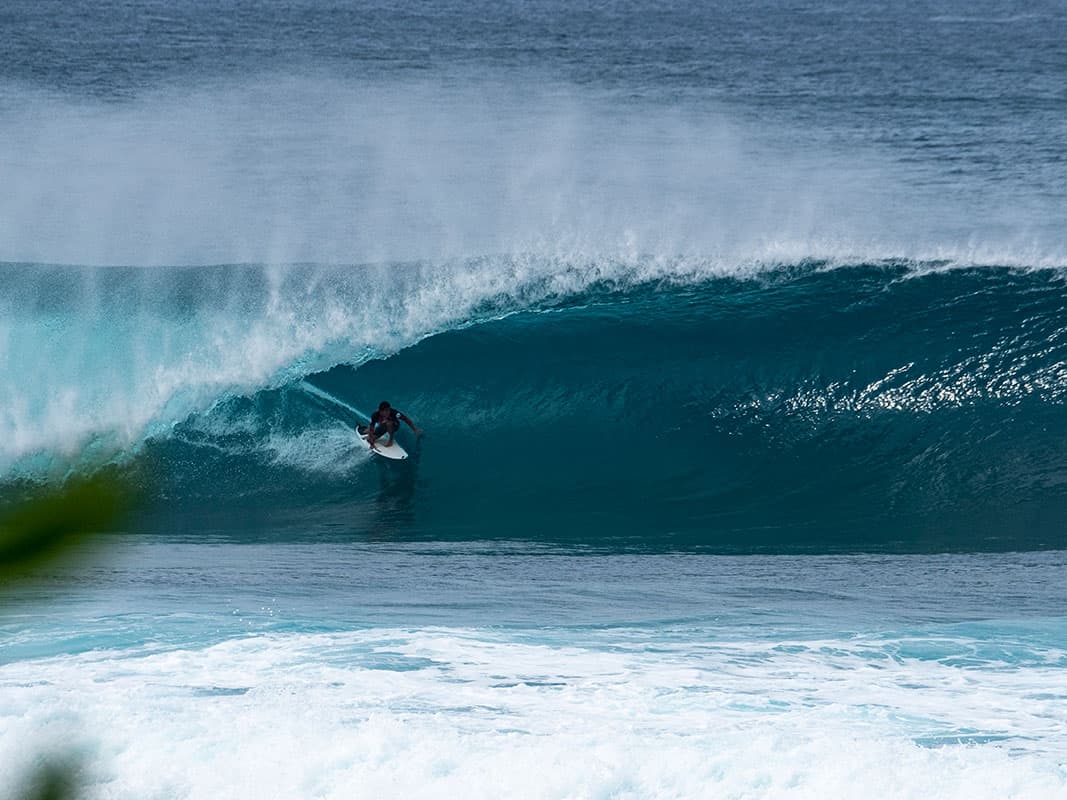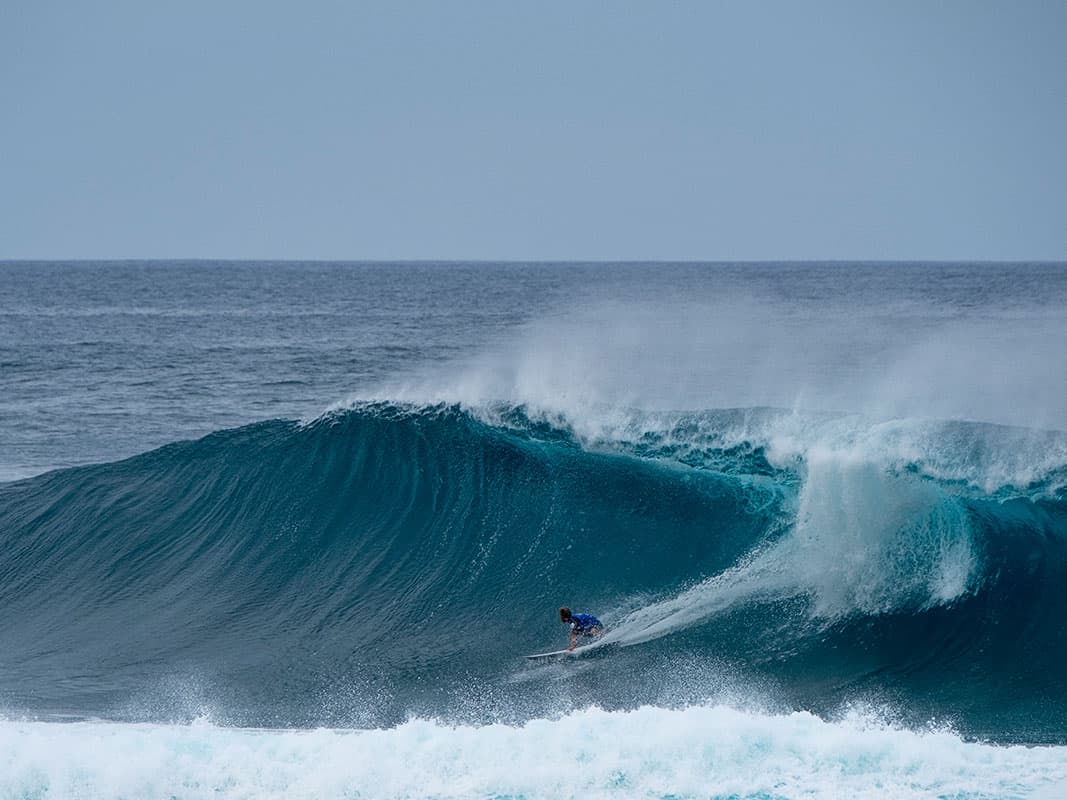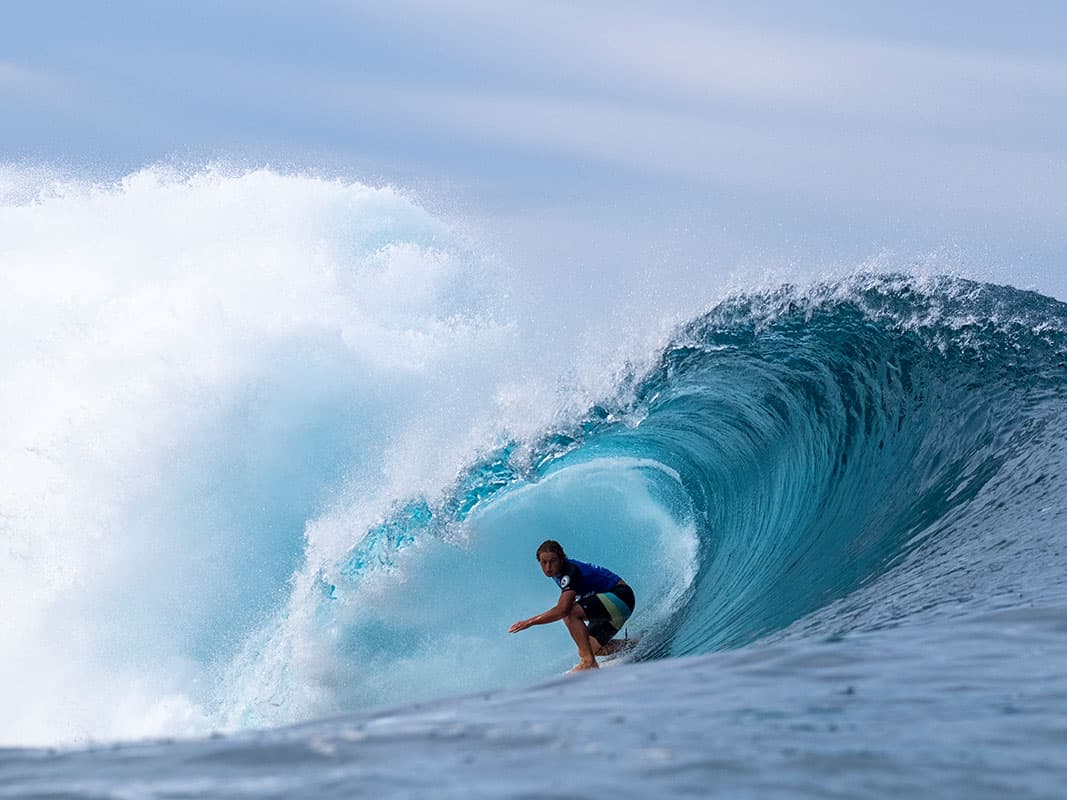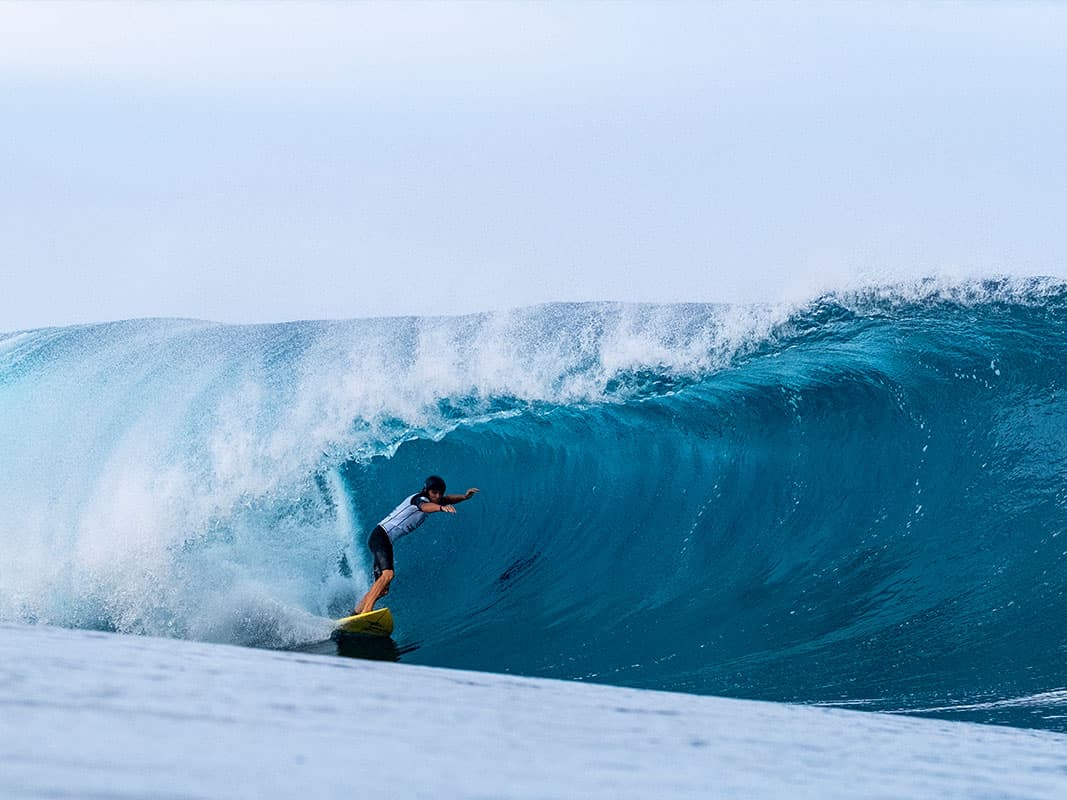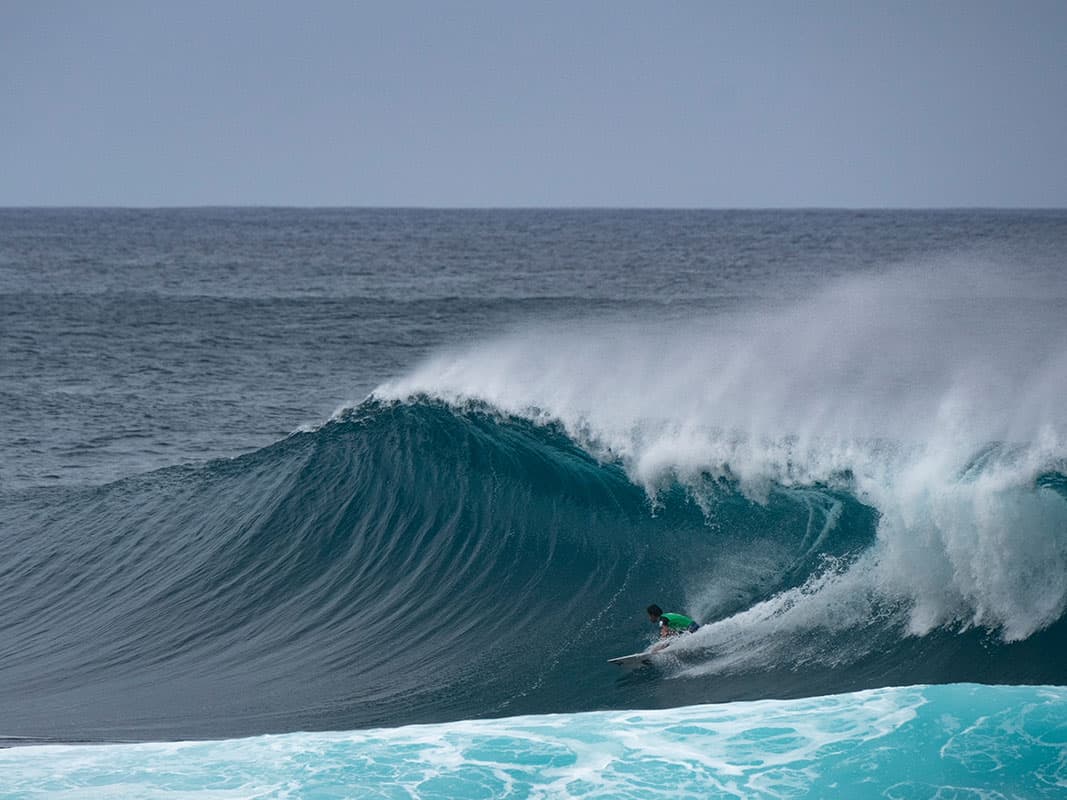 Deane, Murakami, Moniz, Tudela, Mcgill, Smith & Cristobal De Col – photos: Keoki