Volcom Flow Team Goes to 2017 Phoenix AM
Every year legendary Arizona skateshop, Cowtown, holds one of the largest amateur contests of the year, with over 200+ young skateboarders descending on Phoenix, Arizona's Desert West Skatepark. This year we decided to fill the van with a few of our flow riders, Simon Bannerot, Henry Gartland, Jayden Bono as well as two of our biggest am's Axel Cruysberghs and CJ Collins. We also met up with a few other flow riders who made it out to Phoenix like Canada's Mikey Ray and Utah ripper Deng Tear. If you were under a rock all weekend or just off the grid check out what you missed on the @VolcomSkate insta stories to get a feel of our trip out!
With our flow riders coming from all over the country, meeting up and leaving all at the same time took a little coordination. Henry Gartland flew out from Minnesota, while Jayden Bono made it all the way out from Toronto. Coming from the north, they were stoked to be in the southern California weather. They met up at Volcom HQ and had a little sesh in the park before we hit the road. Axel Cruysberghs and his Belgian friend Switn also met up with us and hopped in the van. On the way out to Phoenix we had to pick up Simon Bannerot, who you may remember as "Caswell's Pick" at the third stop of our Wild in the Parks series a couple years back, from the Girl Skateboards headquarters. Not only did Simon buy a one-way ticket down to southern California to film for Lakai's upcoming video, but he also just graduated high school literally a few days before his flight! Lastly we had to pick up CJ Collins who met us at the Active HQ on the way out, so we decided to have a little session while we were there to wait out traffic.
We skated at the Active HQ park for about an hour and a half and all the dudes were hyped to skate knowing there was about a 4 hour drive ahead of us. They put down some heavy tricks on the biggest quarter pipe in the park. Around 7pm we got a quick dinner across the street and started our journey to Arizona. The van ride was long but mellow and it gave the guys some time to chill while DJ Crusher played all his favorite Belgian hits. At a gas station just over the border in Phoenix the boys were obviously a little restless as Simon put on a handstand demo and Henry was doing backflips off of the van. Eventually we made it to our hotel in Phoenix right before midnight.
Axel's Belgian friend Switn was visiting Axel for a couple weeks and was in the van for the trip, he is also a very talented photographer and captured some epic photos from the trip. Here's Henry backflipping off of the van at a gas station just over the border.
The next day was PHXam practice and all the dudes were psyched to skate. Jayden Bono learned frontside heelflips right before the trip and was putting them down with ease. Henry Gartland was ripping too, backside noseblunting the hubba every try and piecing together his run. Another flow ripper from Vancouver, Mikey Ray, also flew in and met us at practice. He was also in school and flew out for the weekend even though he had midterms on the Thursday before and Monday after. Towards the middle of the afternoon Desert West Skatepark was filling up under the dry intense desert heat as more and more skaters started to get into town. Simon had friend, Chris Livingston, who had a nice 10 foot backyard vert ramp so we decided to cruise over there for a quick sesh.
Jayden Bono FS heel on the bank to bank
Henry Gartland BS Noseblunt every try!
On the vert ramp everyone was ripping. CJ and Simon were blasting airs while Jayden, Mikey and Axel were just trying to figure it out. Jayden and Mikey have never skated a proper vert ramp but figured it out pretty quick, Jayden was even getting some airs over the coping.
After our little sesh on the vert ramp we decided to head to the Tempe Skatepark before the Vans X Cowtown art show and party. At the Tempe Skatepark Jayden, Mikey and Henry had quite the sesh on the big 11 stair throwing down trick after trick with ease! Meanwhile CJ and Simon casually cruised around the bowl in the back but still ripped every part of the park. A little after 8pm we made our way to Cowtown Skateshop where Vans was having an art show / shoe release party for Cowtown's 20th anniversary. Cowtown was packed and local artist JJ Horner had some art displayed including the original painting that's featured on the official Volcom X Cowtown Pheonix Am 2017 shirt that was being given away to the first 500 people at the contest each day.
Give JJ Horner a follow on instagram @jojamhorner
The next day was qualifiers day with over 50 heats of 4 skaters in each. Most of our guys had heats later in the day so it was a long one waiting for our guys to go and keeping them warmed up without being too burnt out. In the end Axel made it to the semi finals the next day and we all went back to our hotel to recharge and get ready for the official Volcom X Cowtown after party at The Pressroom with Denzel Curry.
Denzel Curry at the after party
The next morning was the day of finals and Axel Cruysberghs was the only one who made it to the finals. Axel was looking strong, landing a bunch of difficult tricks in his heat and run. He even pulled off a switch feeble on the A-frame and a wallie blunt on the hubba even though he only did a few in practice. In the end Axel placed 9th out of 200+ competitors which is rather impressive.
Axel Backside Lipslide in his run
Axel with his 9th place trophy
Back at the hotel we met up with Chris Pfanner, Collin Provost and Jackson Pilz along with the Volcom filming crew as they stopped by while on their Volcom X Harley Davidson motorcycle trip through the southwest. We had a little curb sesh with all of the flow riders and pros out front of the hotel. Collin pulled some wizardry making a kickflip off of the curb. While the flow dudes hit the hotel pool to cool off, Simon and CJ went on a separate backyard pool mission with Remy and Independent TM and Thrasher photographer Rhino. It was Simons first time skating a backyard pool and claimed it was one of the best sessions of his life!
Ant Travis capturing Collin pretending the curb is a quarter pipe
Since none of our riders had anywhere they needed to be, we decided to hang in AZ for the night and hit a ditch spot with the guys on the Harley trip. While the ditch was a little crusty everyone got a trick and some epic footage was captured. You're going to have to wait to see most of it but here is just a taste of what went down.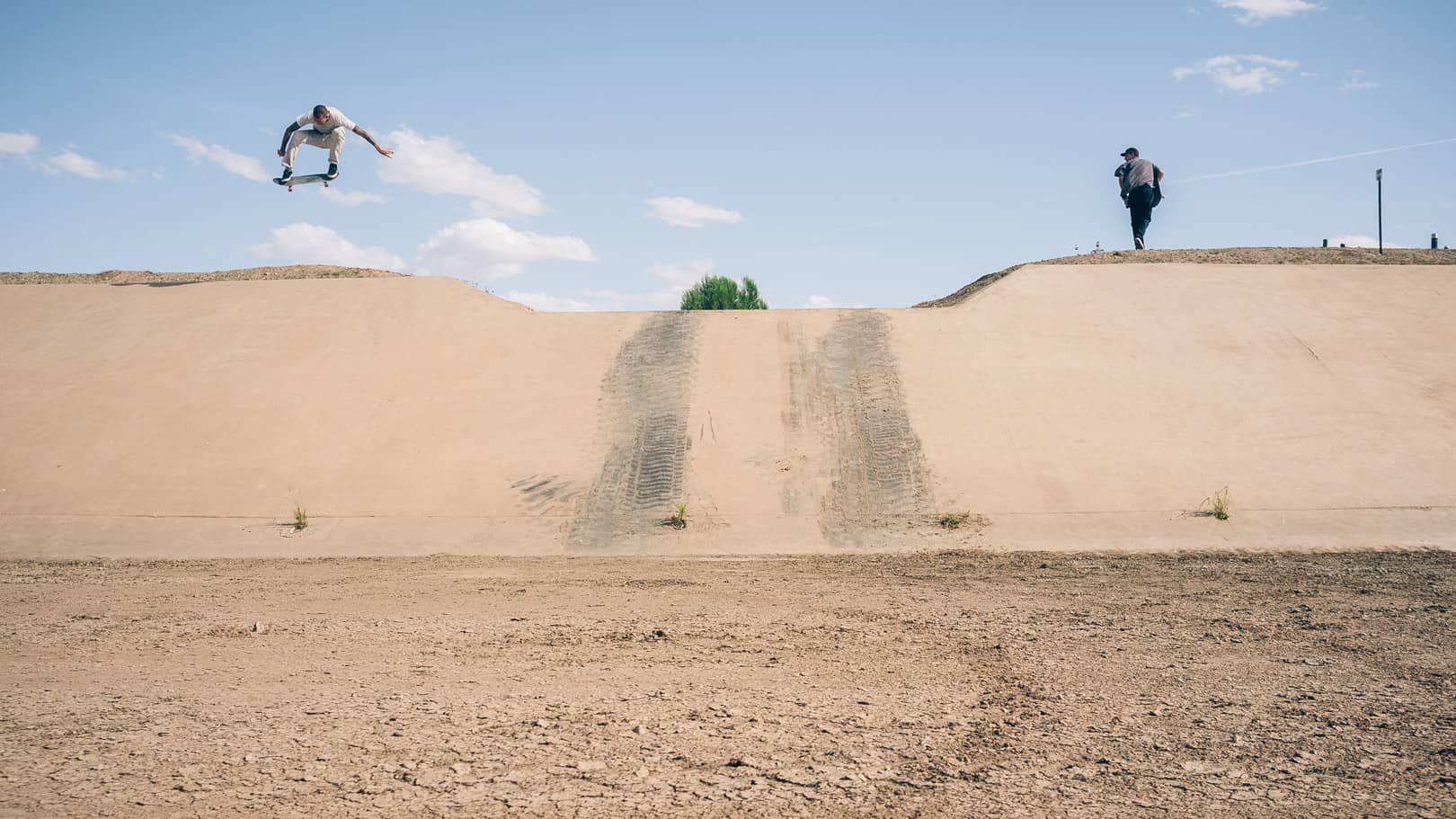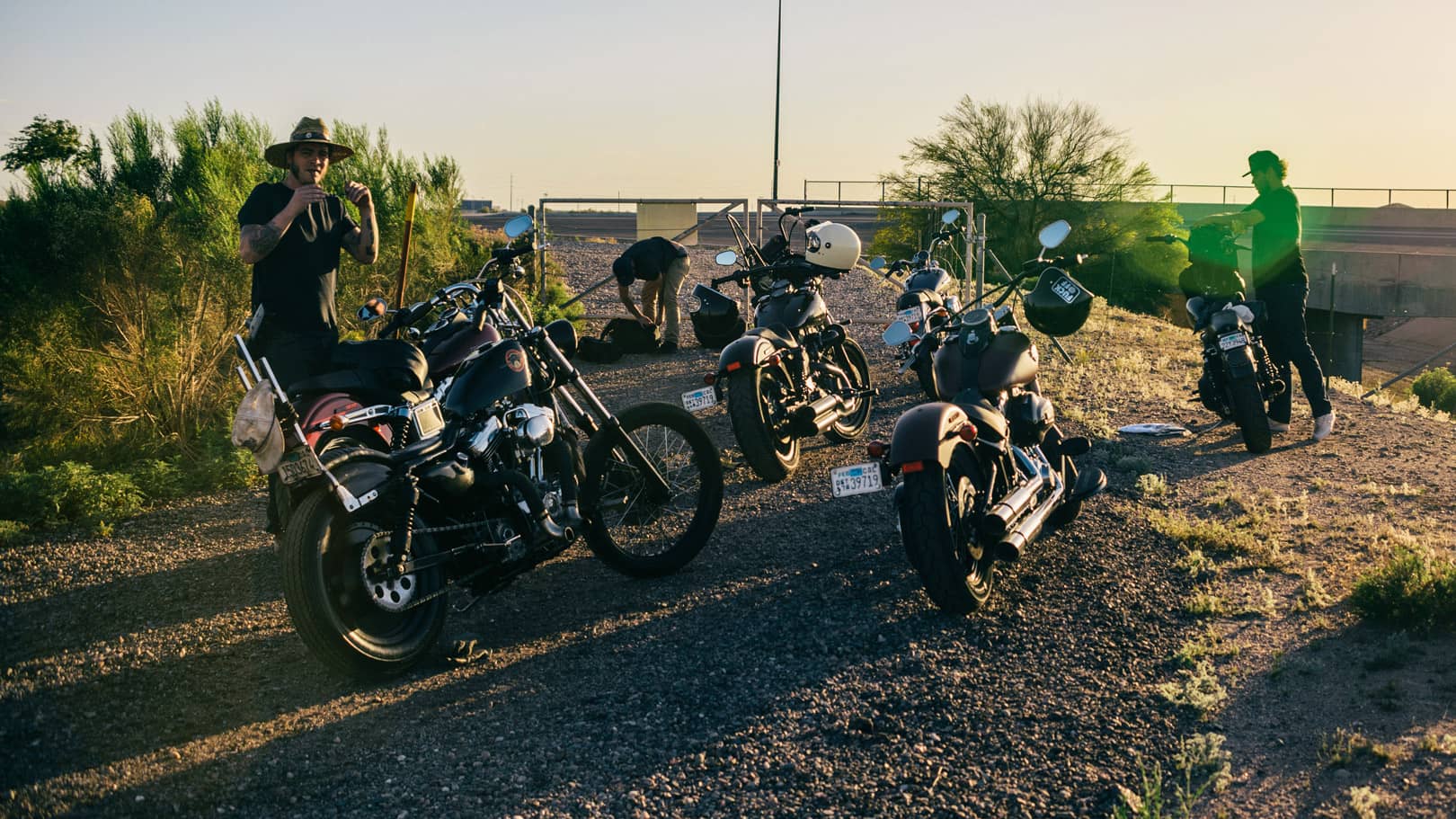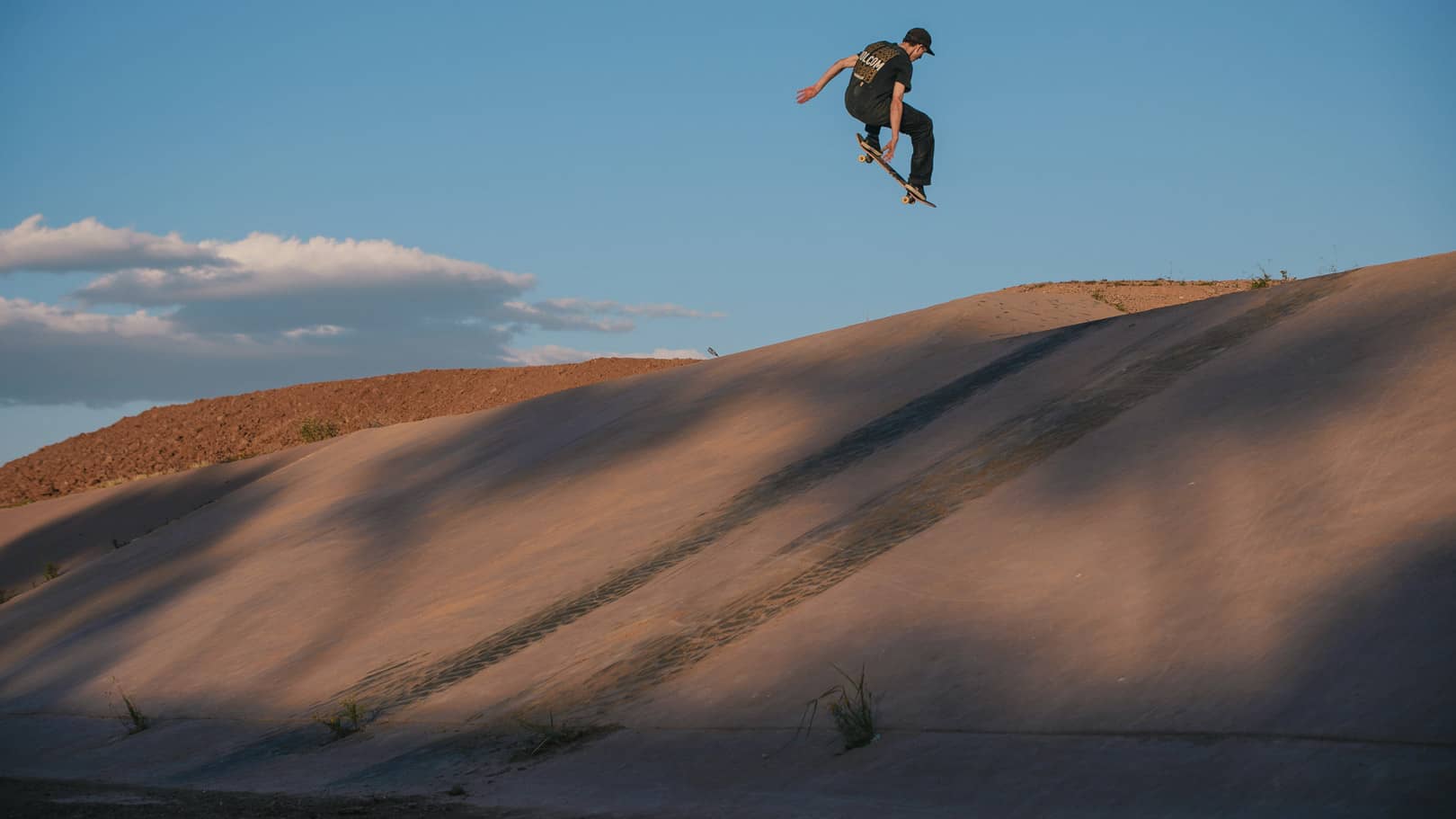 After the sesh at the ditch we high fived the guys on the Harley trip, wished them luck and then hit the road home. We dropped Henry off with some friends in AZ so he could hang out and film while CJ stuck around with the Harley dudes. Staring at the road to home is always a downer as the feeling of all the good times are coming to an end sets in. Overall it was a very productive and super fun trip. Huge thanks to all the riders who came out and especially Trent, Laura, Ed and the entire Cowtown crew for putting on such an epic event for skateboarding!
Thank you Trent, Laura and Ed for everything they do for skateboarding in Arizona!